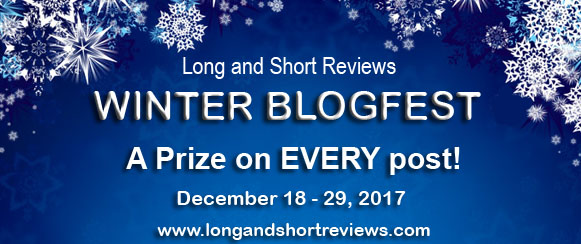 This post is part of Long and Short's Review Winter Blogfest. Leave a comment for a chance to win one Digital Copy of Holiday Heat (any format, please specify).
 Holiday Heat
With an extended family spread across the United States, the week from Christmas to New Years is a time for us to reunite, relax, and reconnect. I love sharing different traditions. For example, my aunt lives in New Mexico. Each year, she sends us pictures of luminarias—small paper lanterns made with a candle set in sand inside a paper bag—outside her home. When she visits, we put them out in the deep Wisconsin snow.
I lived in New York City for fifteen years, and my husband and I would take visiting family to see the shop windows along 5th Avenue. (Bergdorf Goodman has the best creations. [Link:  http://blog.bergdorfgoodman.com/video/bg-holiday-window-reveal/ ]) And no matter how small our apartment, every year, we've had a tree to decorate at Christmas.
After the gifts are open, the week before New Year is a time for visiting and catching up with loved ones near and far. It's this time away from work and school that I look forward to each year. Which is why I chose this time to set my first Christmas-themed book, Holiday Heat.
Where better to recover from the heartbreak of a broken engagement than with family?
Though she's terrified that her family will "lose it" over the engagement that didn't happen, they're the supportive rock Alyssa needs. Her own mother plots to hook her up with the hot guy who lives next door. And it's her sister, Janelle, who sets in motion the dating contest that forces Alyssa and Marc to work through their lack of trust, and find a way forward. Without family, Alyssa and Marc wouldn't find their New Year happily ever after. Here's an excerpt:
"Alyssa. I wondered if you were coming home for the holidays." 
"You did? I mean, of course. I always come back for Christmas." She felt faint. What fresh hell was this speaking words business? If she did fall over she'd blame it on the balmy weather. Marc never spoke to her, except to tease.
"You didn't last year."
"I can't believe you noticed," Alyssa blurted. She'd been in Connecticut with Zach's family.
"I've always noticed," Marc replied with a half-grin that hit her like a tractor-trailer.
This holiday season, I hope you'll find joy in reconnecting with the people you love, whether you're celebrating with family or finding a community far from home.
One Unforgettable Christmas Week
A broken engagement.
An ill-advised fling.
A reality-TV-inspired dating contest.

A competition between one woman's heart and her head — with her future on the line.

The Bachelorette
Alyssa Carlisle arrives home for the holidays nursing a fresh Christmas Eve heartbreak. A hookup with her hot neighbor seems like the perfect rebound. He's never looked her way, but Marc De Luna's just what she needs: a no-strings attached, super sexy vacation fling.

She never thought he'd want more. She'd be a fool to believe it. Setting aside her ambition is out of the question.

The (Play) Boy Next Door
Marc's had it bad for his aloof, ambitious neighbor ever since her family moved in. Her engagement to a rich boyfriend was enough to send him packing for an extended trip — anywhere — as long as it's far away from any reminder of Alyssa. Now that he's is out of the picture, Marc 's not about to pass up his chance to claim her as his own.

When her ex makes an unexpected appearance, Marc's got a fight on his hands — and he'll do whatever it takes to win.
About the Author: Carrie Lomax grew up in the Midwest before moving to New York City for 15 years. She lives in Maryland with two budding readers and her real-life romantic hero.
Buy the book at Amazon.