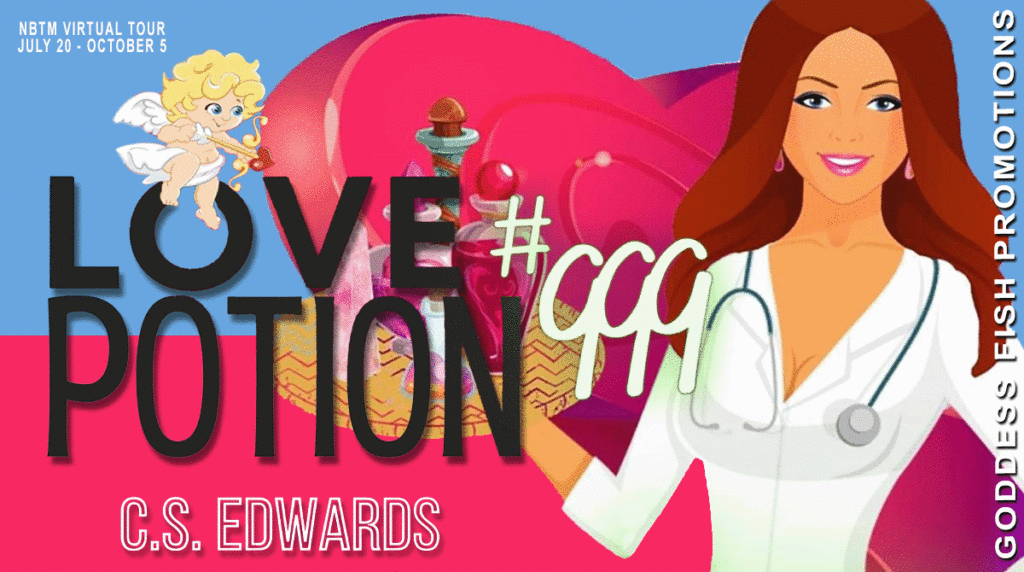 This post is part of a virtual book tour organized by Goddeess Fish Promotions. C.S. Edwards will be awarding a $25 Amazon/BN GC to a randomly drawn winner via rafflecopter during the tour. Click on the tour banner to see the other stops on the tour.
The Background of the Book
Love Potion #999 is a fun romp with a sassy cast of characters; a whole lot like my twenties. You see, Betsy Babington hales from a famous witch doctor family, and has risen to the height of success and fame. She's the brains and name behind the famous Babington's Best brand of potions, which are more like beauty products than life altering magical mixtures. Together with a circle of misfit friends that are also her co-workers and a couple of troublesome cupids, Betsy seems to be headed for nothing but trouble. The bigger problem is she's bored, single and lonely. Being a good witch, Betsy has never stepped out of line. She's followed every recipe in her father's master potions book to a tee… until she finds a forbidden love potion and can't resist the thought of adding it to her collection; and testing it out for herself. That my friends, was a bad idea and causes all sorts of mayhem; including not knowing if she is really in love with the hunky witchologist she met in Arnold's Bar! Thinking her rogue potion has possessed the man she may or may not love, Betsy and her band of wacky tag-a-longs go on a journey to set things straight!
Well, my twenties weren't exactly like Betsy's adventure, but the background of this book really took me back to my younger years. I lived in New York City in my twenties with a bunch of my college buddies and we couldn't help but get into trouble – even when we weren't looking for it. Our antics were always like a domino of errors, where everyone tried to pick up the pieces for everyone else, and that effort just kept knocking other things over. We had a lot of fun! Our intentions were mostly always good, and more importantly, we were there for each other through thick and thin. That is the basis for Betsy and her friends' story.
However, the second layer of this backdrop and foundation of this book is where it takes place! While I lived in NYC during my crazy years, Betsy and her crew live in Cincinnati, Ohio and travel around in Northern Kentucky, ending up in the tiny town of Rabbit Hash— I Iive on the Kentucky side of Cincinnati today; not in Rabbit Hash, but pretty close! I love to ground my stories with something very tangible from my life. In this series, the characters live where I live and go places I go. For example, there really is an Arnold's Bar and Grill in Cincinnati and I love it! Rabbit Hash, Kentucky sits on a famous stretch of road that draws a ton of bikers to the General Store every summer. All of those details in this book, and the Witch Doctor's Series are all real!
Lastly, I was drawn into the paranormal genre by first a love of the fantastical worlds, but second by my best friend and fellow author Robyn Peterman. She is the mastermind behind the Magic and Mayhem Universe that connects this story and series to so many other amazing tales of paranormal romance. Thus, this Witch Doctor's series always has a strong theme of friendship and how important friends are in the lives of the characters! Because without my best friend, I might not have told these tales!
Now, I hope you have a better sense of the background of Love Potion #999, and all the Witch Doctor books in this series. It's a dream to share my stories with you! Thank you for reading and supporting!
Did you hear what happened when a witch doctor met a witchologist in a bar? Well, mayhem ensued! What else did you expect? It's all because everyone had too many Gnome Island Iced Teas, not to mention the cloud of intoxicating glitter that put everyone under the table even if they didn't drink a drop. But the real punch line in that fateful tale were the two potion-filled arrow toting cupids. For one witch, after that night, stuff got real.

You see, the witch doctor was none other than the famous apothecary and alchemist, Betsy Babington. She's a celebrity! Famous, successful, single, and… bored. Before she walked into that bar, Betsy was itching to change things up. So, she enlisted her coven of misfits and two mischievous cherubs to make a rogue love potion recipe — destined to be the next big thing in her famous potions brand. She never once thought about making Love Potion#999 for herself! Definitely not! Well, maybe she did, just a little…

For the whole truth, you'll have to read the story. All I can really say is some magical historians have said Betsy Babington's tangle with the trouble of Love Potion #999 was like opening Pandora's box. Now that was a little extreme. For the folks who were there, it was more like a weekend in Vegas.
Enjoy an Excerpt
She was tired of the same ole same ole. The truth was, Betsy Babington was tired of a lot of things in her life. She was tired of working so hard. She was tired of being famous. Some days, she was tired of being a witch doctor. But most everyday Betsy was tired of being alone. Of course, she had her coven, Ron, Lola, April and Jessica—which she loved. Charles, her ogre bodyguard, was truly like family. Her baby boy cherubs were total stinkers, but she totally adored them. But that one true special someone in her life was missing. She was 135, and single. That fact, coupled with the news of her younger sister falling for a hunky, mysterious, mystic angel, made Betsy jealous. Jealously was not an emotion she was used to having or liked. She'd never been jealous of either of her siblings. Bart and Betty Babington were awesome witch doctors, in their own right. But she had the life to be jealous of—that's what she used to think. Lately, Betsy Babington felt green with envy at the mention of Betty and Gates, or any couple, and that icky feeling was stuck in her crawl.
A red blush crept across her face — brought on by envy and jealousy. She rubbed her cheek, desperate to temper the color before any member of her coven caught a glimpse of it. Ron, Lola, April and Jessica never noticed. They were oblivious, busy arguing about measurements.
"Not too much honey, that's the key." Ron measured the thick gooey liquid in a beaker.
"And just a drop of artemisia. We wouldn't want to poison anyone." April fussed. "It's only for the silver color, anyway."
Betsy strolled across the room to join her team as she gently folded the loose-leaf paper and tucked it in her lab coat pocket. "April's right. Artemisia can be dangerous. But not the way we use it to tint the potion. Just a drop and a quarter should be all you need to make the Mirror Me potion sparkle."
About the Author: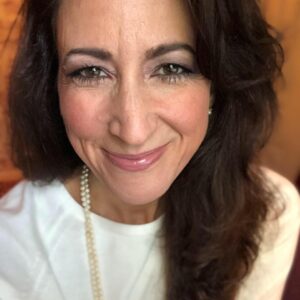 I was born in Ashland, Kentucky, the youngest of three children, and grew up in the small Eastern Kentucky town of Inez. I moved to Lexington to finish high school. Attending Transylvania University for two years, before graduating from Hollins University in Roanoke, Virginia – with a degree in Economics – go figure! After a stint in New York City, I moved back home to Kentucky and have since built my life around family.
Living just outside of Cincinnati with my husband, Sean, and our five amazing kids, and a precious goldendoodle, I work hard to find time to balance family, work, and writing.
My first passion is weaving mysteries and I'm working on several new fiction projects now. This past year, I also found great joy in creating useful journals, trackers, and planners. I have big plans for publishing more of these creative notebooks in the future! As always, I cannot wait to share my next novel with you. I hope you enjoy, and welcome hearing from you!
Website | Facebook | Instagram | Twitter | Facebook | Pinterest | Magic and Mayhem Universe | Amazon Author Page
Buy the book at your favorite online venue.