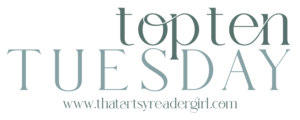 Hosted by That Artsy Reader Girl
Here are ten things that are currently getting in the way of me reading more.
1. The Outdoors
This is the time of year when I want to spend as many hours out in the nice weather as possible.
2. A Reading Slump
Spring is a common time of year for me to have a reading slump. I generally feel more interested in books again once the weather heats up and it's less fun to be outdoors all day.
3. Seasonal Allergies
4. Trouble Sleeping
My seasonal allergies are in full swing, and that can mean some sniffly nights if the pollen counts are really high or if I accidentally forget to take my medication for it.
5. A Little Bored with Many New Releases
This is something I'm saying with all of the kindness in the world and with the knowledge that it is a me problem just as much – and maybe even more – than it is a publishing or author problem. You see, I've been reading speculative fiction for so many years that it's pretty hard to surprise me these days. Maybe taking a break from this genre will help me be more excited about it in the future?
6. Documentaries
Lately, I've been much more interested in nonfiction than I have been in fiction. There are so many amazing documentaries out there!
7. Mental Health
I've been struggling with some anxiety and sadness this year. When I do want to read, I'm more interested in cheerful stories than I ever was before.
8. Films and TV Shows
There are so many interesting things out there to watch.
9. My Own Writing
On a more positive note, I've been trying to spend more time writing my own stories. Sometimes it can be hard to find a balance there, but I have high hopes.
10. Long Walks
One of the things that helps lift my mood is taking a long walk. The neighborhood I live in has a lot of advantages, but it can be a little rough around the edges. Since I am a woman, I don't feel comfortable listening to audiobooks while I walk in that area. I'd rather know exactly what's going on around me at all times even though it's pretty safe here most of the time.