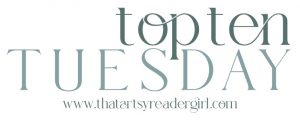 Hosted by That Artsy Reader Girl
I'm a big-time mood reader so, often, when I finally get a book that I've been waiting ages for, it doesn't get read immediately.  More often than not, it gets forgotten completely until I see a bazillion people posting about it and I think, "Hmm, I should get that – wait, I HAVE IT."
Yeah, it's a problem.
So, here are ten books I was thrilled to finally have and… haven't managed to read yet.  Oops.
The Witcher series by Andrzej Sapkowski.  I bought the entire set in July 2019.  I wanted to read at least the first before the Netflix series started and gifted them to myself for my birthday.  To date, I've read two out of the eight books.
The Golden Couple by Greer Hendricks and Sarah Pekkanen.  I love these two authors and devour every book of theirs I get.  And yet, I haven't cracked this one open yet.  BOTM selection for February 2022.
The Love Hypothesis by Ali Hazelwood.  Another BOTM selection (as most of these are!) from October 2021.
A Flicker in the Dark by Stacy Willingham.  This book drew me to it like a moth to a flame.  And now it's residing on my nightstand, waiting.  BOTM selection for February 2022.  I really need to start resisting those dang add ons!
Fangirl by Rainbow Rowell.  I bought this book back in um… June 2014 in preparation for a trip to Huntington Beach, CA.  I was eager to read it, but I thought my daughters would enjoy it as well.  They did – one read it on the trip down, one on the way back.  Me?  Not yet.
Not a Happy Family by Shari Lapena.  I got excited when I saw this was one of the BOTM selections in August 2021.  I'd read her book, The Couple Next Door, and was so eager to read this new one.  Hah.
Razorblade Tears by S. A. Cosby.  This at least wasn't an ignored Book of the Month choice.  I grabbed it quickly when the ebook was on sale.  Cheap… in July 2021.
Malibu Rising by Taylor Jenkins Reid.  This was my first BOTM choice because of all the hype I'd seen in regards to both the book and the author.  I'd had good intentions with this, but the minute I took it out of the box, my kid grabbed it and said, "Oooh, I've been hearing about this book.  Thanks."  By the time she'd finished it, I was eyeball deep in something else.  BOTM for June 2021.
Mexican Gothic by Silvia Moreno-Garcia.  Another ebook deal that I couldn't pass up but couldn't be bothered to read either.  June 2021.
Imaginary Friends by Stephen Chbosky.  Yet another ebook deal that suckered me in and then was soon forgotten.  February 2021.  What I really need help with is my addiction to one-click buying!