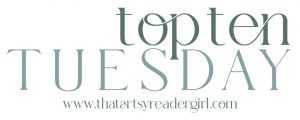 Hosted by That Artsy Reader Girl
I'd like to tweak this week's theme a little bit. While all of these items certainly caught my eye, they were also things I'd happily buy for someone else if they asked for a bookish present and trusted my judgement.
I am not entirely sure what the copyright laws say about posting images of gifts that are being sold by small businesses, so I'll share links to these Etsy accounts and briefly describe them only with words in this post. In a few cases, I'll expound on why I chose that item.
3. Just One More Chapter tote bag
4. Never Too Many Books tote bag
My city has slowly been phasing out plastic bags. Stores have charged for them for a long time now, and now more of them aren't offering them at all with each passing year. I've learned to always have a reusable bag in my pocket when I go out shopping.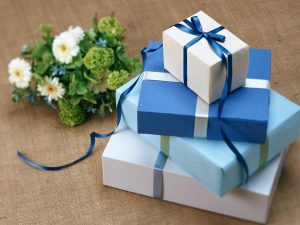 5. I'd Rather Be Reading t-shirt 
7.   Never-EndingTBR zippered pouch
This could hold anything from pencils to makeup to first-aid supplies if, say, you're going on a camping trip or hike!
8. Hitchhiker's Guide to the Galaxy stickers
10. Book beat Toque
A toque is a type of knitted hat that is quite warm and durable. Traditionally, they was made of wool, but there are synthetic options available now for people who are allergic to wool or who prefer not to use it for other reasons. Toques can be knitted by hand or by machines depending on your preference and budget.
I look forward to seeing how all of you have answered this week's prompt!