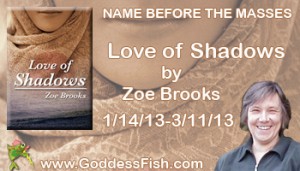 This post is part of a virtual book tour organized by Goddess Fish Promotions. Zoe will be awarding a $25 Amazon gift card to a randomly drawn commenter during the tour. Click on the banner to see the other stops on the tour.
We welcome Zoe Brooks to our website.
Tell us something about yourself
I am a British writer who spends approximately half her life in a semi-restored farmhouse in the Czech Republic, where I write my books. I have three novels out – Mother of Wolves (a fantasy adventure), Girl in the Glass (magic realism fantasy) and Love of Shadows, my new book and sequel to Girl in the Glass. All three books have strong if very different heroines. I like to write popular books that get under the skin of the reader. A number of reviewers have said that the books and the central characters have stayed with them after they finished reading, which is just what I want.
Do you have a regular/day job?
I have my own business – a travel company offering tours and holidays in the Czech Republic. This means I am very busy in the summer, but have time in the winter to write.
Did you always want to be a writer?
I have always known that I was a poet. I was first published when I was thirteen and was regarded as one of the bright young things of British poetry, but poetry doesn't pay the bills and I had to focus on my career. It was only a few years ago that I decided to try my hand at writing novels. I had always made up stories but up until then they were for my enjoyment only.
Who are your influences?
I was blessed by being taught by two incredible women. The first was my creative English teacher at junior school who spotted the poet in me. The second was my very dear friend Hannah Kodicek. Hannah was a successful story editor in the film industry, (she worked on the Oscar winning The Counterfeiters). When I started to write novels she looked at them for me. I learned so much from her about how to tell stories which excite the reader.
In terms of writers – I am an admirer of Ursula Le Guin, who not only writes wonderful stories but also some of the best books on how to write. Hilary Mantel is another favourite of mine, she is able to turn her hand to so many genres. I have recently discovered Alice Hoffman.
What inspired you to write Love of Shadows?
My writing is very character driven. That is not to say the books don't have strong stories; thanks to Hannah they definitely do, but what inspires me to write are questions like: How would someone deal with this? What makes this sort of person tick? Judith, the central character of both Love of Shadows and Girl in the Glass, is a loveable, complex and at times frustrating young woman. In this book we see her choose to follow in her mother's footsteps and become a healer, even though traditional women healers are being persecuted. I was fascinated to read about the persecution of women healers in the 14th to 17th centuries; we don't know how many thousands were burned or hung as witches. What would you risk to follow your calling? The other theme in the book is Judith's relationships with others. She has been badly damaged emotionally, first by her upbringing and then by a particularly nasty relationship. As a result she is naturally scared of emotional attachment. What sort of man could get past her barriers?
How do you come up with your characters? Do you model them after someone in particular?
No, I don't model them on specific people (it would be rather dangerous for my relationships, don't you think?), but I do use aspects of different people. Until a few years ago I worked with disadvantaged people – homeless, refugees, abused women – and was honoured to hear their stories of courage and survival in the face of adversity. Judith is like them a survivor and like them has to live with the scars of her past. Bruno I must confess is to some extent influenced by my father. He has my father's charm and strong gentleness.
Have you ever experienced writer's block and how do/did you deal with it?
I have the usual writer's block which always happen about fifty pages in on the first draft of every novel. I start full of ideas and excited but by page fifty it's not exciting any more and I realise any plotting problems I've got. My usual answer is to take a break. It may just be that I take a basket and go mushroom hunting in the forest or it may mean several days off, doing something mindless, which frees up my imagination to work. I was very pleased to watch a BBC programme about Ian Rankin – he has the same block only his starts at page sixty-five.
Can you give us an idea of how your normal day is like?
I don't really have a normal day. The nature of my business is that in the summer I may be leading a tour or organising hotels or researching another tour. In the autumn/winter I spend a month or two in my Czech home intensively writing. I find I can only write the first draft there and not in the UK. When writing I get up and make a mug of tea, sit down and check my emails and then launch into writing. I aim to get 2000 words done a day; that usually takes me all day and sometimes into the evening. I write seven days a week. If it's going really well I can keep writing into the night.
What do you do when you're not writing?
As a indie writer I soon realised that if I wanted people to know about and read my books I had to publicise them. That takes as much of my time as writing the books. I have several blogs – my author's blog http://zoebrooks.blogspot.com, another reviewing magic realism books http://www.magic-realism.net, and my oldest blog which is about my adventures in the Czech Republic http://czechproperty.blogspot.com. I also produce a weekly online newspaper on the best articles about fiction by and for women http://www.womens-fiction.net. These together with my business keep me very busy.
What would you do with a million dollars?
The Czech farmhouse has a derelict barn with lovely brick vaulting, which I would love to convert into writers' retreats, but haven't the money. I would invest some in paying people to help me with publicity for the books. And I would set up a charitable trust, so I can support projects with disadvantaged people.
If you could have any super powers, what would it be and why?
I would love to be able to speak and read all languages. The school I went to was in Cheltenham which is where the British Government has its listening centre so I was surrounded by the children of linguists – it was a nightmare, I felt really stupid and slow. Czech is an extremely difficult language (it has seven declensions for each word) and I just can't get to grips with it. It would also mean of course that I could write my books in all sorts of languages and reach a much wider readership.
Any messages for your readers?
I hope you enjoy the book and fall in love with Judith the way I did.
About the Author: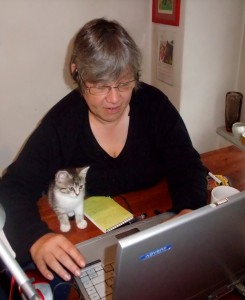 Zoe Brooks is a British writer and poet, who spends half her life in a partly restored old farmhouse in the Czech Republic, where she writes all her novels and poetry. She aims to write popular books, which have complex characters and themes that get under the reader's skin.
Zoe was a successful published poet in her teens and twenties, (featuring in the Grandchildren of Albion anthology). Girl In The Glass – the first novel in a trilogy about the woman and healer Anya was published on Amazon in March 2012, followed by Mother of Wolves and Love of Shadows. In May 2012 she published her long poem for voices Fool's Paradise as an ebook on Amazon.
Blog: http://zoebrooks.blogspot.com
Twitter http://twitter.com/ZoeBrooks2
Facebook: http://www.facebook.com/ZoeBrooksAuthor
Amazon author page http://www.amazon.com/-/e/B0034P3TDS
Goodreads: http://www.goodreads.com/author/show/5772880
"I had always felt most alive, when I was healing. Without healing I was a tin top spinning out of kilter soon to catch the ground. It took all my energy to hold myself from skidding into chaos."

But in the city of Pharsis traditional women healers are banned from practising and the penalty for breaking the law is death by hanging. After being arrested and interrogated twice Judith is careful to avoid suspicion, but then scarlet fever breaks over the city like a poisonous wave, leaving in its wake the small corpses of children. What will the young healer do?

Love of Shadows is the second novel in The Healer's Shadow trilogy, which began with Girl in the Glass, and follows the lives of Judith and her Shadow, Sarah. It is a study in grief, love and defiance.