Long and Short Reviews welcomes Ellen L. Ekstrom, whose newest release Scarborough is now available. Scarborough was originally designed to be a stand-alone volume, but the more Ellen wrote, the more it became obvious that the story was far from over.
"Quinn Radcliffe got under my skin," she admitted. "Right before its release we decided it would be part of series, which is called Midwinter Sonata. The title for the series came to me during a lunch hour back-and-forth exchange with the editor in e-mails. 'How about this?' 'What about this?' sort of thing. I thought, everything happens to these people in the winter – good and bad. We wanted something to do with music and it hit me. Also, the story is based on fact, even though it is a romantic fantasy and I use the structure of a sequence of dreams – events happen out of sequence but they all connect, just like in dreams. The operative word is 'based.' It came after a memorable night with friends that I hadn't seen in a long while. I went to sleep full of good wine, conversation, memories, and I thought, what if we were given the chance to start over? To say I love you when the opportunity is there and not be afraid to say it? To forgive? It's my take on It's a Wonderful Life and A Christmas Carol."
Leave a comment for a chance to win a signed digital copy in the format of the winner's choosing.
Ellen used to sit and watch her older sister, Kathy, write. It didn't matter if it was homework, greeting cards, or whatever—Ellen found it fascinating.
"She had amazing penmanship and I wanted to imitate her. She also wrote stories about girls like us – poor but full of hope and promise – and after reading something to me from the Lang Fairy Tale Books she'd share her own work," Ellen remembered. "By the time she was 13 she stopped writing because she discovered boys and I picked up where she left off. When it was my turn to discover boys it only fueled the writing. My stories were five page novels complete with illustrations and construction paper covers. My epic was ten pages and that was about the San Francisco Earthquake of 1906, in which a faery godmother helps a girl find her family when her house in North Beach is destroyed."
Ellen got serious about writing as a career when she was in her early twenties.
"It may sound trite or like a cliché to state that I went through struggle, doubt, disappointment before (and after) publication, but I did. It's not uncommon for writers," she told me. "I was found by an independent press in 2004, when my first book, The Legacy was published, and then in 2009, I signed on with Central Avenue Publishing after receiving a tweet from its founder/creative director. I wrote a short story about the Resurrection from Jesus' point of view and put it up on my writing blog. She saw it and here we are, almost four years later."
She admitted to me that sometimes she will have bouts of writer's block…and when she can't write, she does research.
"For example, this last Sunday I spent three hours learning about single malt scotch for a character in my new book – given the intelligence of many readers today, I wanted to be sure he was drinking the right Glenfiddich for the time. No, I didn't taste test. This is a better plan for me than my old cure for 'The Boulder in the Middle of the Road,' as I call The Block. For the longest time I pulled up to the refrigerator and tried to invoke the muse with pecan praline ice cream or macaroni and cheese but that proved unhealthy. Now I take rides on my bike or knit. I either get some exercise or someone gets something soft, warm and woolly by the time I'm ready to write again. When I was writing Armor of Light, my protagonist George, earl of Grasmere was stuck on a road somewhere in northern England for several months before I figured out what to do with him. If you want to know, I had him kill a dragon of sorts."
Ellen is currently working on the next book in the Midwinter Sonata series and when she's not working on that, she's editing one of her first titles from her backlist– The Legacy, an adventure/romance set in 14th century Florence and Tuscany.
"Like Tolkien and The Hobbit, I've never been happy with it," she confessed. "It's my first novel, the first written and published, and needs a bit of attention and tweaking. I'm also working on the prequel to Armor of Light, my retelling of the St. George and the Dragon Legend. My readers will get to find out why George Ascalon, earl of Grasmere is such a strange man."
The hardest part of writing for Ellen is finding enough time during the day, but she's managed to get into a routine that works for her: an hour in the morning and one in the evening during the commute and as much as she can on days off.
"I started doing this when my children were toddlers. I learned to work the writing around their schedules, now it just works, period," she said. "I don't buy into the belief that if I was a 'real writer' I would find the time and write all the time. If I did, I don't know how good the writing would or wouldn't be. Most likely it wouldn't be good. The biggest impact of doing that would be on my family – we wouldn't have a place to live or food to eat. Life and making a living necessarily get in the way and I've learned to make the two compatible. Fortunately, I preach once a month, so I get to write for my vocation, too. Writing sermons has improved my technique in that I've learned to say more with less."
"What did you want to be when you grew up?" I asked.
"What year are we talking about? I used to play church when I was a girl – I wanted to be behind the altar in the sanctuary saying the magic words and doing the magic hands. I wanted to be a clergy person. I used to marry and baptize my stuffed animals and the occasional doll. I'm at home in a church more than anywhere else. I also wanted to be a drummer in a rock band. Seriously. I did. I've always been a writer. For a short time I wanted to be a doctor because my mother wanted me to be a doctor, but being a clergy person is close, since it allows me to help heal souls and hearts."
About the Author: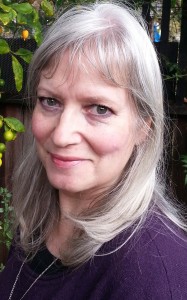 I'm a work in progress, but that process started a while ago. I've been fascinated by the Middle Ages since seeing Disney's "Sleeping Beauty" when it was first run. This started a flood of drawings about castles and princesses – the usual stuff of six year olds – but it's lasted longer than my mother had hoped. I stopped listening to the Tchaikowsky music about age nine and she was grateful for that, too. Now that I am in my own middle ages, the love of all things medieval is stronger than ever. To support the family, I work as a legal secretary. My real vocation is writing. And while I'm on vocations, I am a clergywoman in the Episcopal Church, the parish deacon at The Episcopal Church of the Good Shepherd, Berkeley, but that's a story for another day.
Find Ellen online at:
http://centralavenuepublishing.com/Books/Scarborough/
http://ladyelogos.com/
https://twitter.com/Reverendella
http://www.facebook.com/#!/LadyeLogos
Amazon
Barnes&Noble"
Kobo
Apple
When Quinn Radcliffe shows up in a village somewhere in the Cotswolds or Dorset, he knows he's been there before. It's a place out of a Thomas Hardy novel – or the imagination. There's the Curiosity Shop with The Proprietress and her famous guests, the church at the end of the lane, and unbelievable but necessary journeys that test and affirm. Now the conductor of a world-renowned orchestra, Quinn isn't surprised by his surroundings – the love of his life, Alice Martin, told him all about the village but he has always and secretly thought it was the best part of a dream she shared after her life-threatening illness.

Until now.

There are two sides to every love story. This is the other side of the haunting and poignant romance that began with "Tallis' Third Tune."