Long and Short Reviews welcomes Mary Behre, whose debut novel Spirited, the first book in the Tidewater Series, was released last week. May will be giving away an autographed copy of SpiritedSpirited, the main character Jules is a product of the foster care system. She lost her two younger sisters in it more than a decade earlier. She's determined to find them and reunite their family.
Mary has just turned in the second book in the series, Guarded, about Jules's second sister, Shelley who is a telepathic Dr. Dolittle. She's also a vet who's on a mission to solve the mystery of missing animals from a local zoo. When she's implicated in the murder of zoo's groundskeeper, she turns to an old friend, a cop named Dev from Tidewater. She's also writing the proposal for book 3, currently untitled.
"What books or authors have most influenced your own writing?" I asked.
"The authors that most influenced my writing are pretty diverse. Dr. Seuss was the first author I adored. He made me love the written word and believe in happily ever after. (Horton Hatches the Egg still sits on my bookshelf.) Agatha Christie gave me a love of mysteries. Stephen King taught me that we're only limited by our drive and imagination. And Suzanne Brockmann introduced me to modern romance novels."
It's not surprising that Suzanne Brockmann is on her list of favorite authors. Mary has several author she adores for different reasons.
"Suzanne Brockmann can spin a suspense that will cause you to lose sleep in your desperation to finish the book," she explained. "Valerie Bowman writes the wittiest banter I've read in years. Her racy regencies are always on my must buy list. And Lynsay Sands writes the best vampire stories I've read. Her books have it all humor, sexy vampires, a good mystery, and great storytelling."
I asked Mary which came first for her–plot or characters–and she told me neither one.
"I usually see a scene first. And it's not always in the beginning of the book. With SPIRITED, I saw the bedroom window scene first, so I wondered what kind of woman would dress like that and why would she sneak into a stranger's bedroom. The story grew from there."
Mary treats her writing career like a regular job–working Monday through Friday, 9-5.
"I try to keep most weekends free to spend with my children and husband," she said. "However, when I'm on deadline, I've been known to write for fourteen hours a day for weeks at a time. Then I sleep for a week after."
For every book she's written, Mary has something unique to the story herself. For Spirited, she has a toy purple platypus, and for the second book, Guarded, she has a toy ferret. When she's writing, the toys go with her–especially on writing retreats.
She is usually surprised at who the villain of the story is–she thinks she knows, and she's consistently wrong. However, by the time she reaches the end of the first draft, the real villain has surfaced and Mary knows that her revisions are going to be intense.
Many of Mary's characters are police officers or former police officers, so she likes to attend the Writers Police Academy in North CArolina.
"It's the busiest conference I've ever attended and worth every minute of lost sleep. There's so much to learn and do, that attending once isn't enough. I've already been twice and plan to go again<" she said. "For the paranormal aspects, I read everything from Hugh Lofting's Dr. Doolittle to Edgar Cayce's Auras and Colors."
"What are the best and worst pieces of writing advice you ever received?" I asked.
"The best piece of writing advice came from my critique partner after my sister died of breast cancer in 2012 and I was struggling to find the will to write again. 'Cancer took so much from you. Don't let it take your writing too,'" she said. "The worst piece of writing advice came from a craft book. I should have realized when I got it for a $1 that it probably wasn't reliable, but I young and new to the craft. Anyway, the book said to NEVER use dialogue.  Now, I'd already written my first manuscript and it was riddled with that pesky stuff. So I went through and re-wrote the entire thing, sans talking. Yikes! Bad, bad advice."
"What are your favorite TV shows?" I wondered.
"Ooh, I like this question. Do the shows need to be current? Let's see. Quantum Leap, Castle, Medium. Ghost Whisperer, Psych, Grimm, How I Met Your Mother, and Friends. Luckily, not all are the air anymore, otherwise, I'd never get any writing done. But for the ones that are still on, let's just say, I love my DVR," she said with a smile.
Finally, I asked, "What advice would you give a new writer just starting out?"
"'Never give up. Never surrender.' No seriously. I loved that line from Galaxy Quest. I live by that rule. There a few times in my life when I gave up on my dreams…for a few days but the urge to write is always there. If you want to write, do it. Study craft books, take workshops, join the right critique group. (If you join one and it isn't working for you, find another.) And one more secret…read the bestsellers and see what sets them apart."
About the Author: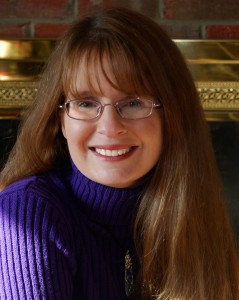 Mary Behre is the lone female in a house full of males and the undisputed queen of her domain. She even has the glittery tiara to prove it. She loves stories with humor, ghosts, mysteries and above all else, a good romance. When not writing, she enjoys reading, gluten-free baking, and hanging out at the beach with the most important men in her life, her family.
Her debut paranormal romance, SPIRITED (Tidewater Novel #1) was an award-winning manuscript before it sold to Berkley Sensation. The Tidewater Series is mix of humor, suspense, and a psychic love-connection. The first three stories are about three sisters searching for love, each other, and a way to live with their psychic abilities. In each book, they're caught up in mysteries that only their unique gifts can help solve.
Mary is represented by the fabulous Nalini Akolekar of Spencerhill Associates.
http://MaryBehreBooks.com ~ Facebook ~ Twitter
She's running from who she is…

All Jules Scott wants is to live a normal, quiet life–preferably one that doesn't include ghosts. Jules's ability for communicating with the dead has brought her nothing but trouble. Despite her best efforts, needy spirits always find her and draw her into their otherworldly drama. When one implicates her in a series of deadly crimes, she may need to entrust her secrets to the person least likely to believe her…

He'll do whatever it takes to catch her.

Detective Seth English can't get distracted from the big case he's working on, not even by his alluring new neighbor. He doesn't believe that Jules had anything to do with the string of robberies-turned-murders that he's investigating, but when she keeps showing up in all the wrong places, his gut tells him she knows more than she's letting on. To solve his case, he'll need to expose what the sexy redhead is hiding–no matter how impossible the truth may be…