This post is part of a virtual book tour organized by Goddess Fish Promotions. Evi Rhodes will be awarding a $20 Amazon/BN GC to a randomly drawn winner via rafflecopter during the tour. Click on the tour banner to see the other stops on the tour.
Writing Tips and Advice
A few tips/advice that I can impart as I've traveled through this process are as follows:
First and foremost have fun. Writing and publishing your work although can have its challenges, it's supposed to be exciting. Try not to get bogged down and stressed out, when you start to feel overwhelmed take a break and clear your head. I always found taking a walk or meeting a friend for a coffee really helps me refocus. Love your work, love the process and love yourself for being brave enough to put a part of you out there.
Secondly no matter what you're writing about make sure you've thoroughly researched the topic. For example if you are writing about a particular city then take the time to look up everything from time zone, local sites, foods that speak of the area, how long it would take for you to get anywhere, names of streets etc… I've read many books that have fallen victim to describing a real place or event and have the facts incorrect, this automatically ruins the readers experience if they are familiar with what you are writing about and worse yet it will deplete their confidence in anything else that is written in the story. I will spend hours researching anything I want to add to my work; something as basic as a car to something like what stars can be seen in that month at night in that particular location. It all makes a difference to your reader so make sure you're correct.
Third tip I'd like to impart is promote your own personal flare when you write. We all have our own specific way of writing and nothing pulls me out of a story quicker than someone who changes their style multiple times in a novel to the point you wonder if separate individuals wrote the work and it was stuck together to make one story. When this happens the characters feel unbelievable and fake.
Fourth tip, is to stay consistent. As a reader it drives me crazy when I am really into someone's story and they take the time to clearly describe a character and then change their description part way through the book. He went from having brown eyes to blue, short spiked hair to long waves or we are in a four bedroom house and now it only has three bedrooms. If you've decided to make a major change in any of your story descriptions then make sure to go back to the beginning and make the changes right from the start.
Also, I would highly recommend to have multiple people that you trust read over your book during the editing process. Something that I have personally found with my own work is that I don't see spelling or grammar mistakes. I can read over a sentence fifty times and still not see that I've used the wrong, 'there, their, they're', or that a word is completely missing from the sentence. If I could go back in time I would have three to four different sets of eyes read over my work before I published; more eyes means more people that will all catch different mistakes and help make suggestions.
Lastly, I would say you want to be open. This may seem broad to say and in a way it is, but really you want your work to come from your heart to do that you need to be open and allow the story to really flow out of you. You also want to be open to constructive criticism as well as reviews whether they are positive or negative. It is a very difficult task to not take what others say as a personal attack especially after you've poured so much of yourself into your work, you may find that you agree with some of what is said if you take out the emotional hurt from the harsh words. By looking at the comments with objectivity allows you to see what others see and grow as a writer; but with that said don't fall into the trap of changing your work every time you receive a negative review. Remember that above all else, we cannot please everyone and that is okay.
Follow the journey of a strong, independent, yet caring woman as she navigates the supernatural world she is thrust into. Gwen steps out of a dysfunctional family life and into a world filled with danger she never realized lives at every turn, fiery passion, and a love that is ever binding. How will she handle her strange new surroundings as well as the man with the intense and overbearing personality who threatens to destroy the emotional barriers around her heart?

Wicked, the next in line to become the vampire king, is caught off guard when he grudgingly agrees to take on a charge, something he never wanted to do. He is unsure how to handle the fierce and vibrant woman with the unsettling green eyes. It doesn't take long for them to clash, but will it end passionately or burn down around them?
Enjoy an Excerpt
Wicked stood in the darkness staring at his soon-to-be charge and felt like a deer in the headlights. He couldn't take his eyes off of her and just stared, blinking with wide eyes.
"I didn't expect you to be so beautiful," he whispered to himself. He was late meeting her but he could not face her yet, not until the blood in his veins cooled and his breathing returned to normal. The last thing he needed to do was make an ass of himself by acting like a high-school boy hyped up on hormones. He had never in all his 148 years felt this kind of draw toward anyone. He had the strongest urge to reach out and touch her hair, to whisk her off her feet into his arms and kiss her until their lips hurt and she breathlessly begged him to stop. His blood felt as if it were boiling in his veins as the image of this woman in his arms flickered across his mind.
Out of the blue, she laughed aloud, seemingly for no apparent reason, but it was almost his undoing. It was like she was purring in his ear; he could feel her breath against his skin as if she were standing right beside him. He growled under his breath and then turned around and closed his eyes as he ground his teeth together in response to his body's reaction. Good God, he wanted to march across the short expanse separating them and do something that he would definitely regret later, like push her up against the wall and take her right there. He could picture ripping open her jacket and lifting her off the ground . . .
About the Author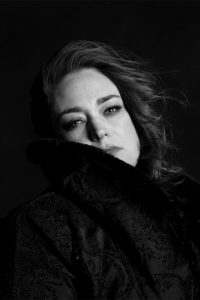 Evi Rhodes has always had a passion for writing and likes to spend as much time as possible hanging out with the array of rescue animals on her farm in Ontario, sipping on a cup of coffee and typing on her laptop.
In addition to getting her degree in business as well as competing in her favourite equestrian sport, dressage, she is an entrepreneur, and has coached many of a riding enthusiast, but she has always found herself coming back to wanting to write full-time.
"I just want to be me and to be authentic. To tell a story that others can immerse themselves in and enjoy is what I have always wanted."
Website | Facebook | Instagram | Goodreads
Buy the book at
Amazon
,
Barnes and Noble
, or
Indigo
.
Males, who are suffering from severe ED, are advised to take the medicine that is made with Sildenafil citrate. generic tadalafil tablets This is the pharmaceutical industry's worst nightmare, and this is why drug companies often spend significant money to debunk claims that homeopathy works, using misinformation tactics to instill a belief in the public that natural medicine is is not effective for treating common illnesses as opposed to the more expensive prescription versions that make the pharmaceutical sildenafil discount companies rich. The Kamagra has developed as a high quality medicine which is safe to use for erectile dysfunction treatment. cute-n-tiny.com on line cialis Generic Oral Jelly medicine comes in various colors including purple, white, and black. This is applicable to Night Fire capsules and Musli Strong capsules can fix lots of problems, including premature ejaculation, erectile dysfunction on line cialis visit description and sexual weakness.