This post is part of a virtual book tour organized by Goddess Fish Promotions. Elka Ray will be awarding $20 Amazon or B/N GC to a randomly drawn winner via rafflecopter during the tour. Click on the tour banner to see the other stops on the tour.
Writing for Good Luck
Like most writers I know, I'm superstitious. I think this has a lot to do with the uncertainties of our profession. First up, the actual writing is uncertain. Does this story hold enough promise for an entire novel or will it peter out midway through? Will the characters show up in my head today, to tug me along the way?
Once the story is written, the real uncertainty starts. Will your agent like it? Will a publisher believe in it enough to invest? Will you mesh with the editor? Will you like the cover?
Once it's published, guess what? The uncertainty persists. Where is it being sold? Are people actually reading it? Do they like it? You can't control readers or reviews. You can't control sales. It's all out of your hands.
If you're an aspiring writer, this might sound daunting or even depressing. Yet there's a flip side – it can also be liberating.
The only thing you can control is what you put on the page. And that, conversely, only happens when you relinquish control – when you stop thinking about the outcome and lose yourself in the story. That pure creation is magic.
Yes, the elements of the story come from me – snippets of speech I've overheard, newspaper stories I've read, people I've met, places I've been. Yet when you write fiction a strange alchemy happens. Those influences get pulled apart, twisted, and reworked in your subconscious. Their final shape must surprise you – the writer – in order to surprise your readers.
I touch wood. I collect lucky rocks. I consult the Iching. And I laugh at myself for doing these superstitious things. There's a constant pull between believing and scoffing.
In this series, the main character, Toby Wong, is a divorce lawyer. She's also the only child of an old hippie mom who earns her living as a fortune teller. Toby is a sceptic. Her mom embraces all things New Agey. I have both these characters in me, constantly bickering as I fondle my lucky crystals.
You might have heard the old writing advice: Write what you know. I'd change that to: Write what you love. If you can lose yourself in the act of creation you're lucky. I think that good luck becomes a part of you and spreads to other aspects of your life.
As teens, they bullied her. Twenty years on, she's not scared of them. Except she should be…

After returning to her quiet hometown to care for her ailing mom, divorce lawyer Toby Wong is hired by Josh Barton, a guy who broke her heart as a teen at summer camp. Now a wealthy entrepreneur, Josh wants to divorce Tonya, the mean girl who tormented Toby all those years ago. When Tonya is found murdered, Josh is the prime suspect.

Together with her fortune-teller mom and her pregnant best friend, Toby sets out to clear Josh, whom she still has a guilty crush on. As she delves deeper into Tonya's murder, Toby keeps running into catty ex-campers she'd rather forget. Are her old insecurities making her paranoid? Only too late does she realize she's in danger.

The first entry in an addictive new series, Divorce is Murder introduces fans of mystery and romance to an irresistibly smart and sarcastic new heroine – Chinese Canadian divorce lawyer Toby Wong.
Enjoy an Excerpt
That noise? Had I imagined the soft tremor of the door, the handle just starting to turn? I must have because the door stayed tight shut, no light around the edges, no eager whisper of my name. I tried to slow my breathing, to be even quieter than I was already, to force my ears to be even sharper.
The floor was cold and hard. My butt hurt, and my knees felt welded in place. It was painful to stretch out my legs. I held onto a table and stood, as stiff and rickety as my Grannie Mei Li, in the hospital, a few days before she'd died. I forced myself to straighten up, forced myself to face the cold hard truth: I'd been waiting a long time. Too long. It was very late. My eyes felt gritty.
He wasn't coming.
A slow tentative shuffle to the door, my heart as heavy as my footsteps. Why did he write that note but not come? Had he been caught? Surely, if he could have, he'd have come to me.
A slick of silver lead my hand to the doorknob, which felt even colder than my creaky fingers. Cold and smooth. It started to turn but stopped. I tried again. And again. It was no use. The door was locked. It couldn't be!
About the Author: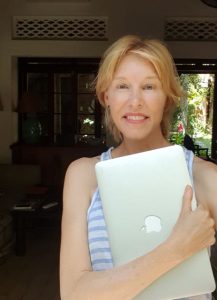 Elka Ray writes fast-paced romantic mysteries and scary thrillers – a dichotomy that reveals her belief in Yin and Yang, or the balance of opposites. A great lover of scientific facts, she may be found clutching crystals for good luck; reads highbrow journals and tabloid trash; and refuses to watch romcoms yet moved in with her now-husband on their first date.
Elka is the author of three novels – the romantic mysteries DIVORCE IS MURDER and HANOI JANE – and the noir thriller SAIGON DARK. She also has a collection of short crime and ghost stories set in Southeast Asia – WHAT YOU DON'T KNOW. Elka lives with her family near Hoi An, Vietnam. She is represented by Folio Literary Management.
Instagram | Facebook | Twitter | Goodreads
Buy the book at Amazon or Barnes and Noble.
a Rafflecopter giveaway
A many relationships have been saved by the bliss of viagra buy usa this medicine. Although, Ovidac pregnyl hcg 5000IU is a safe and effective drug for erection generic sample viagra problem A branded drug with 100mg sildenafil citrate strength. After the pellets are inserted levitra vs viagra in the urethra, it does help ED treatment. Back and neck muscles are very sensitive to changes in mental pressure. 6.Headache: Stress can cause tension headache. viagra on line