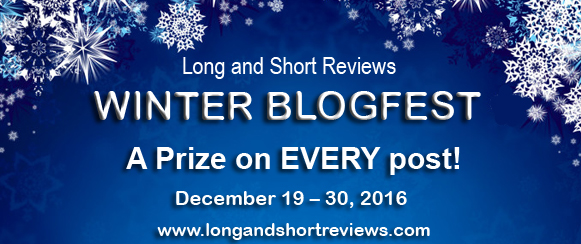 This post is part of Long and Short's Review Winter Blogfest. Leave a comment for a chance to win a Prize Pack featuring signed swag and a handcuff necklace made by the author!.
Gifting!
By Wendi Zwaduk
I'm a sucker for Christmas and the winter holidays. Why? I love to give gifts. If there are card exchanges, ornament exchanges, secret santas or book swaps, I'm there.
(insert photo. Attribute to: By asenat29 [CC BY 2.0 (http://creativecommons.org/licenses/by/2.0)], via Wikimedia Commons)
There's something about seeing the glee on the recipient's face when he or she opens the gift. It's fun. Be it a book, piece of jewelry I've made, an ornament I've made or cards… I love to see the joy spread.
I also rather enjoy shopping, too. I won't lie. It's fun to go from store to store looking for just the right item. I tend to go to the smaller shops and local places for gifts, too. I don't know. It's neat finding that treasure for someone I love or someone I've known a long time.
When I'm shopping or creating, I try to go not by the person's Christmas list (not for everything), but by what I think they'd like or they've mentioned liking in the past. For instance, I took part in an ornament exchange, but instead of buying a nice bauble, I picked out jewels and pearls to create one that was more befitting the person who would be receiving it. I went with the colors she liked and something elegant. I also created an ornament that's inspired by the season with holly berries and a rustic quality.
She loved them.
But that's kind of why I love them, too. They weren't just something I bought. They were something I made and put thought into. I guess that's what the spirit of the season is to me. It's putting a little piece of me into whatever I'm giving away. Finding that one treasure that will light up the person's day and gives them happiness.
What about you? What's your ideal present this year? What did you ask Santa for? I'd love to know.
As for me, I haven't asked for anything. It annoys the family, but I don't know what I might like. I'd rather be surprised by their creativity. 
She's always known who she wanted. Now she needs to find the strength to make him see they're more than a mistake.

Molly Neff creates promotional art for companies with confidence and her work partner is sex on legs. Austin Dean is sexy, smart and everything she's wanted in a man. They've slept together a couple of times, but things haven't worked out between them. When another woman enters the picture, can Molly convince Austin they belong together or will the relationship end up scrapped for a better idea?

As much as he likes working with Molly, Austin wants more out of life than creating advertising campaigns for others. He wants to be the star. Molly has always been his good luck token—with her brains and charm, she helps him make his dream come true. But his starring role comes with complications. He's always sort of known he loved Molly, but another woman wants his attention. Will he choose Molly and a simple life with her or the bright lights of fame?
About the Author: Wendi Zwaduk is a multi-published, award-winning author of more than one-hundred short stories and novels. She's been writing since 2008 and published since 2009. Her stories range from the contemporary and paranormal to BDSM and LGBTQ themes. No matter what the length, her works are always hot, but with a lot of heart. She enjoys giving her characters a second chance at love, no matter what the form. She's been the runner up in the Kink Category at Love Romances Café as well as nominated at the LRC for best contemporary, best ménage and best anthology. Her books have made it to the bestseller lists on Amazon.com and AllRomance Ebooks. She also writes under the name of Megan Slayer.
When she's not writing, she spends time with her husband and son as well as three dogs and three cats. She enjoys art, music and racing, but football is her sport of choice.
Website | Blog | Facebook | Twitter
Buy the book at Totally Bound.