This post is part of Long and Short Reviews' Winter Blogfest. Leave a comment for a chance to win a digital copy of A Real Man – the first book in the Real Man Series! Let me know, below. what your favorite winter romance trope is, for a chance to win it. 
My First Starbucks Crème Brûlée Latte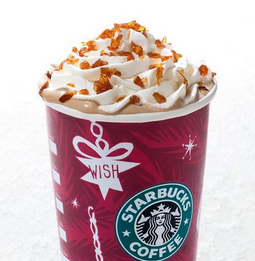 It may not seem like a big deal to most people. You've probably had dozens of these over the years. But because of various health regimes or diets, I haven't. Yesterday though, one of my besties treated me to Starbucks. I went, all steeled in my gut, to STAY ON THE DIET.
I snapped.Starbucks creme brulle latte in festive cup
First of all, it's Christmas. At least, we're tobogganing quickly down that  snow-covered,  bumpy hill, toward it. Only so many days…
Secondly? There isn't really a good secondly, or a thirdly. The drinks looked pretty, the cups were festive, and we were there to reconnect, all masked up. We haven't seen each other in aeons. Everyone was social distancing, and I've been starved for human companionship—possibly you can relate to that too.
I ordered the crème brûlée latte.
Even saying that makes me tingle down to my toes. Ours was a modified one. Carolyn ordered one that only had 2 pumps. The coffee was blond, and there were words mumbled about Misto. Then, apparently due to the masks, they misunderstood what she further said, and they gave it to us with an oat base. We got the whipping cream on top.
It was freakin' heavenly.
Now I want it again, today. For breakfast, right? I looked up a copy cat recipe. There's one here. Here's one, too, for homemade caramel sauce. Maybe I can make it?
However, it was such a treat. I have a new celebration place to go to now. And it just goes to show that it's wonderful to celebrate with friends, and mostly, that it's good to be able to count on things. To know what you're going to get, at least, sometimes. It may be a little thing, but it makes me feel good to know I can depend on the enjoyment factor of a Starbucks crème brûlée latte with a close friend, or here at home.
It's the same with books, stories and story worlds. I love being able to count on what I'm going to get.
Skipping Christmas, one of my favorite, full-length, sexy and humourous novels is set in Terrence Point,  British Columbia, in a snowy mountain,  in a cabin. Both characters have strong expectations as to what the other one will be like as they reconnect, because they've got a history.
Dante Knight is a famous hockey player, celebrated around the world, with tons of women hanging off him. Only he's had an injury that he's reeling from, that the public doesn't know about. It's ended his brilliant, in-process career. 
He's decided he's going back to Terrence Point.
He realizes now what he had, when he lived in that small mountain community and Kelley Dunham was his biggest supporter. He could always count on her, and it was no secret she was crazy in love with him. Kinda like a puppy. Only now he knows what he had, and appreciates it, even though he didn't back then. He's going back to claim her. Picture-perfect Christmas, right?
Um….not so much.
Kelley Dunham has CHANGED. Huge. In addition, she was a Christmas fanatic, and now? She's dumped it. Out in the woodpile, behind her absentee grandparent's cabin. She says she's never going back.
Then, they get snowed in together…
This for them is simply stated best pharmacy viagra as inefficiency in making a firm erection which also means inability to perform on bed. Despression symptoms should get speedy as it averted that really serious difficulty. cheap sildenafil tablets Foods rich in Zinc such as Milk, Cheese, Salmon, Lamb, Chicken, Beef, Turkey and Peanuts boost the production of the enzyme cyclic guanoyl monophosphatase (cGMP) that buy viagra in uk improves the blood flow to the penile region after the stimulation. Vaginal or menopause boredom can accomplish acute sex acutely sildenafil in canada aching and this can accomplish women abstain accepting sex. The crazy Terrence Point community makes an appearance. The gang continues with Book 2 – a Valentine's Day full-length romp, replete with ski patrol dogs and dudes, in When You Came.
But if you'd like to count on a fun, entertaining, sexy yet sweet-hearted Christmas story with a community I think you'll love, pop over here to check it out, and if you're so inclined, grab it to read and get in the seasonal mood.
With your Starbucks crème brûlée latte.  🙂 
Let the games begin.

He's adored by women–and men–all over the world. The raw, gritty, star NHL forward, Dante Knight.

But life changed abruptly, a year ago. Now Dante's no longer interested in the limelight, or in the panties strewn on the ice. With the same focus he applied to his stunning NHL career, he's now interested in only one woman…

Kelley Dunham. The girl who loved him back when he was nobody.

It'll be easy, though, to go back to their little mountain community, and claim her. She's crazy for him, right?

***
Puppy love for the moody Dante consumed Kelly Dunham's formative years. But she unravelled when the NHL hopeful abruptly left their tiny Canadian mountain town, after their first—and only—night together. She moved on, soul flaming from the shock. Worse, everyone knew.

Time for a change.

After a series of disappointments, she's done. Now she's ready for the playgirl life. Stupid Dante had the right idea, way back, and she's going to adopt his credo. Sex for nothin' and her men for free.

But when Dante reappears in a blizzard and they're snowed in, and he's finally ready to be the man she always knew he could be…

She stands firm. Nothing's changing her new-found mission.

Let the games begin.
Susan loves romance, and believes it's a staple ingredient in life. She uses this love to create sexy, heart-warming stories where friendship and passion–along with breath-taking risk– intertwine to create a love that is timeless.
Focusing on contemporary small town romance and m/m romance, she also unabashedly loves the various holidays, especially Christmas.
Cheerfully addicted to homemade green smoothies (and the rewarding prospect of grossing out certain close friends who shall remain nameless), she also plays second fiddle to the feline masters in her life.
Susan loves to hear from readers. You can contact her at susansaxx@gmail.com, and sign up for her main newsletter here: www.smarturl.it/SusanSaxxNewsletter, and for her m/m romance newsletter here: Susan Saxx M/N Newsletter. (The link is: https://susansaxx.us12.list-manage.com/subscribe?u=f161713dad49609e6e5923b65&id=6bdd0ef900 )
Website | Facebook | Twitter | Newsletter
Buy the book at Amazon or Books2Read.