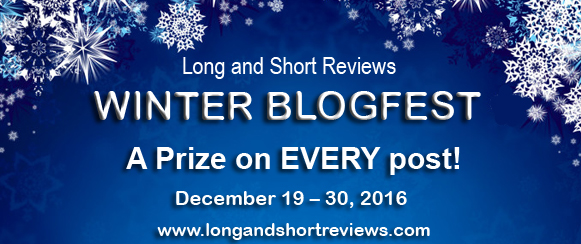 This post is part of Long and Short's Review Winter Blogfest. Leave a comment for a chance to win a Prize Pack featuring signed swag and a handcuff necklace made by the author!..
Snow and Shifters
by Megan Slayer
I'm outlining the next story in my Sanctuary series and these shifters are always full of surprises. It's nearly Christmas and they have let me know. They've also let me know it's time for snow.
I had no idea how much my tiger and panther shifters enjoyed lolling in the white stuff. I'm not a big snow fan myself. I'm not wild about driving in it. But the shifters, it's like a drug. They get wild after a roll in the snow.
I just worked on this scene where a tiger shifter and his lion shifter friend run in the snow. They've had a long day and are still getting to know each other, but the spark is there. The thrill of the chilly air, plus the snow under their paws is enough to ignite the spark. When the shifters come back in… it gets hot fast.
Our cats are like that, too. One of them who used to be an outdoor cat, would prefer if we'd give him a chance to run and play in the snow. I don't because I don't want him to get hurt, but that doesn't stop him from sniffing the snow when it falls and he's 'assisting' me when I put out the dogs. He used to run, play and bounce in the snow…oh and disappear (which is hard since he's a pure black cat.
The same thing kind of works for people, too. I'm not a fan of driving in the snow, but there's nothing more fun than bundling up and playing in the snow in the yard. Making a snowman or tracks and tossing snowballs at the kids. Then there's the snuggling up with DH afterwards to warm up.
Yeah, I can't wait to get back to the shifters in the snow and see what they'll do next.
What about you? What's your favorite thing to do in the winter?
Wanted: a shifter. Must be caring, understanding, open-minded and looking for a shifter in return.

Zeus knew from the beginning he was different. Where the other lion shifters had paired up, he was still single. All he wants is a partner and finds a dating app on his phone. Will the app lead him to the man of his dreams or to a disaster just waiting to happen?

Justin isn't where he wants to be. He knows shifters aren't supposed to work for the humans, but due to a circumstance that spiraled out of his control…he's in over his head. He wants out and when he spies Zeus on the dating app, he's willing to risk everything to get to the lion shifter. He believes Zeus might be the one to help him move beyond his past and unleash his roar.

Will the panther and lion find each other or will Justin's past keep them apart?
About the Author:Megan Slayer, aka Wendi Zwaduk, is a multi-published, award-winning author of more than one-hundred short stories and novels. She's been writing since 2008 and published since 2009. Her stories range from the contemporary and paranormal to LGBTQ and BDSM themes. No matter what the length, her works are always hot, but with a lot of heart. She enjoys giving her characters a second chance at love, no matter what the form. She's been the runner up in the Kink Category at Love Romances Café as well as nominated at the LRC for best author, best contemporary, best ménage and best anthology. Her books have made it to the bestseller lists on Amazon.com and AllRomance Ebooks.
When she's not writing, Megan spends time with her husband and son as well as three dogs and three cats. She enjoys art, music and racing, but football is her sport of choice.
Website | Blog | Facebook | Twitter
Buy the book at Resplendence Publishing, Barnes and Noble, All Romance eBooks, or Amazon.