A ROYAL CHRISTMAS
In THE DUCHESS' NECKLACE, Her Grace, Amelia Augusta Ethrington, Duchess of Abbington,  proved she was ahead of her time in romance and women's rights, but when it came to celebrating an 18th century English Christmas, she remained loyal to the traditions of her royal heritage.
As Amelia peered out the large front windows of her drawing room, she watched a delicate coating of soft snow cover her extensive gardens and manicured shrubs. She remained warm sitting next to a blazing hearth as she instructed her servants on where to hang garlands of fresh holly and evergreen branches preparing the dining room, ballroom and sitting room for her many holiday guests. Several days before Christmas, her grateful grocer would gift her with one and a half pounds of currants and raisins just in time for her cooks to prepare the Christmas pudding. Amelia would make sure her special order of candles for the candelabras on the dinner table were delivered by the chandelier. Of course, she would send a servant to check on the large yule logs for the hearths. The logs had to be large enough to burn all night Christmas Eve.
Amelia would then turn her attention to the dining room supervising the table settings of fine china and sterling silver ready for twenty two of her favorite guests whose invitations were delivered by royal courier. Once the dining room was ready, Amelia moved to the ballroom watching as long festoons of greens were hung from the ceiling beams in preparation for the Christmas Eve dance.
On Christmas Eve, Amelia rode her carriage into the village for Christmas Eve services at the church in the town square. Afterwards, she watched the local children parade through the snow playing drums, trumpets and ringing bells. Amelia would hurry back to her manor and change into formal dress for her much anticipated ball. Of course, she would wear her coveted necklace. Guests with gold leaf invitations in hand and dressed in their finest clothes would enter the ball room announced by name. Of course, the duchess would make a grand entrance as musicians played.
The ball lasted until the wee hours of the morning. Guests left singing carols after much drink and food. Amelia had little time to rest as she prepared to host the Christmas dinner and games. A harpist and carolers singing Her Grace's favorite carols greeted guests as they entered the drawing room ready for Christmas games. Amelia loved a variety of card games but blind man's bluff was in the mix as well.
Once the games finished, guests entered the elegant dining room. The center of the holiday feast was a "boar's head soused" served in stately elegance and introduced by trumpeters. Mince pies and Christmas pudding were the ever present favorites. I found an old recipe from 1713 for Christmas pudding and thought I would share it.
CHRISTMAS PUDDING
½ lb. beef suet – must be ordered from the butcher shop
½ lb. sultanas
½ lb. currants
½ lb. raisins
½ lb. bread crumbs (white)
¼ lb. flour
¼ lb. chopped candied peel
¼ lb. blanched almonds, chopped
¼ lb. brown sugar
Grated rind of 1 lemon
¾ c. brandy or rum
6 eggs
2 tsp. nutmeg
1 tsp. mixed spice
1tsp. baking powder
¼ tsp. salt
                Sift the flour, salt, baking powder and spice together. Add the finely grated suet and rub it into the flour. Add all the fruit and the rest of the ingredients. Mix all well together. Add the brandy. Tie in a greased and floured pudding cloth or basin, and boil for 6 hours.
Note: A 3 hours' steaming before use is recommended for the pudding.
HAPPY HOLIDAYS! Leave a comment for a chance to win a  costume jewelry fashion necklace.
About the Author:  Ever dream of traveling through time? Mariah Lynne does. She writes stories that take her readers along on exciting journeys. Travel to distant times and beautiful places with strong-willed independent heroines whose memorable tales will entertain with twisted plots that dabble in the paranormal.
A Graduate of Syracuse University, Mariah lives on a beautiful Gulf Coast Island in Florida. When she is not writing, she enjoys swimming, traveling and spending time with her husband and dolphin hunting dog, Max.
Website: www.MariahLynne.com
E-mail:MariahLynneAuthor@yahoo.com
Facebook: https://www.facebook.com/pages/Mariah-Lynne/295721153858612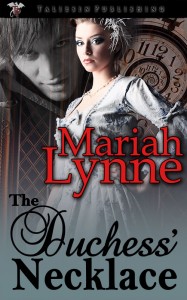 BUY LINK TO PUBLISHER:
http://www.taliesinpublishing.com/the-duchess-necklace-p18.php
BUY LINK TO AMAZON:
http://www.amazon.com/Duchess-Necklace-Mariah-Lynne-ebook/dp/B00GINZY2C/ref=sr_1_2?s=books&ie=UTF8&qid=1383838928&sr=1-2&keywords=the+duchess%27+necklace
BUY LINK TO BARNES AND NOBLE:
http://www.amazon.com/Duchess-Necklace-Mariah-Lynne-ebook/dp/B00GINZY2C/ref=sr_1_2?s=books&ie=UTF8&qid=1383838928&sr=1-2&keywords=the+duchess%27+necklace