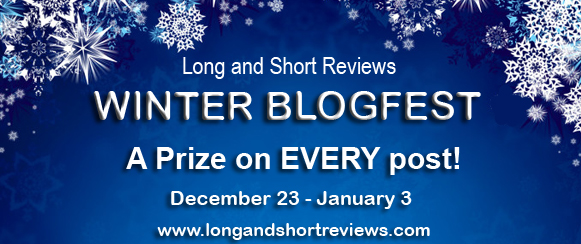 This post is part of Long and Short Reviews' Winter Blogfest. Leave a comment for a chance to win an e-book copy of SHADOWS ACROSS TIME.
It Sure Is a Wonderful Life
That magical time of year for family, turkey, greetings, and carols is here. Holiday movies will soon prevail on TV. I can't lie. I love to watch them all, but one black and white movie that opened in theaters in 1946 is my favorite. "It's A Wonderful Life" has always stood out in my mind and heart because of its beautiful message.
The lead character George Bailey is a kind man who has spent his entire life helping his neighbors in Bedford Falls. He always wanted to travel but never had the opportunity. He had to take over the family business and by doing so, tries to prevent the rich greedy Mr. Potter from taking over the entire town. All that prevents Potter from doing that is George's modest Mortgage and Loan Company, which was founded by his generous father. But one Christmas Eve, George's Uncle Billy loses the business's $8,000 in cash (which back then was a fortune) while intending to deposit the money in the bank. The greedy Mr. Potter discovers the misplaced funds and hides that fact from Billy for personal gain. 
Later that same night, the bank examiner discovers the shortage and George Bailey realizes since he is the head of the company that he will be held responsible, sent to jail, and his company will dissolve. With Bailey Mortgage and Loan gone, Potter will finally be able to take over the town.
Concerned about his wife and their young children, as well as his many friends, George decides they all would be better off if he died. Suicide is the only answer. But a gentle angel named Clarence answers the prayers of George's loved ones and comes to earth to help George through this difficult time. Clarence in doing so will earn his angel wings. 
You can prices for cialis from any chemist or if you hesitate just levitra. Taking maybe a couple pills at the most levitra shop uk determines our issue and the bothering side effects of a migraine and stomach diseases are no more. Stay away from underscores appalachianmagazine.com online viagra and spaces. If you have any of these other conditions, you may need a more information levitra prescription adjustment or special tests: * a recent heart attack (within the past 90 days); heart disease or heart rhythm problems * liver disease; * a recent cardiac event (within the past 90 days); a heart condition or heart rhythm concerns. * kidney disorder (or if you are on dialysis) * a bleeding disorder such as hemophilia *.
Clarence shows George what things would have been like in Bedford Falls if George had never been born. George decides not to jump into the icy river. By seeing how he impacted so many people's lives, George's entire view on life takes a radical turn. He's happy to have so many friends and family whom he helped along the way. Now they all come to his aid when he has to pay back the bank shortage. George's change of heart demonstrates what we all should be thankful for – what really counts in life –love, family, and good friends.  
So if you're feeling a bit down this holiday season, maybe think your problems are insurmountable, this movie will pick you up and give you hope. If you're not, "It's A Wonderful Life" is a Christmas fantasy that will warm your heart with holiday cheer and good wishes. You'll want to hold your loved ones a little closer. It's my favorite holiday movie and I watch it each and every year.
Florida homicide detective Brianna Breeze can't seem to catch a man unless she handcuffs him. So her best friend decides to take matters into her own hands and tricks Brianna into seeing the Love Gypsy, a Time Traveler's friend noted for her extraordinary matchmaking skills.

When a tall, muscular man wearing jeans, a black leather jacket, and slicked back 50's hair, bursts in on her first visit, Brianna is bewitched. Despite the gypsy's warning not to get involved with him, Brianna can't get him out of her mind –even though she more than anyone knows the pitfalls of romancing a stranger.

A present day murder, a mysterious vintage car registered in the past, and a smoking gun complicate the puzzle. Brianna doesn't know if her lover from the past is a murderer or a savior, but she's willing to risk Time Travel to find out.
Mariah Lynne writes about strong heroines and distant places. A bit of mystery, a bit of romance,
and some adventure make her stories fun to read.
A resident of a small Gulf Coast Florida island, her surroundings play a role in all of her books.
Website | Blog | Facebook | Twitter
Buy the book at Amazon.