This post is part of Long and Short Reviews' Winter Blogfest. Leave a comment for a chance to win a $10 Amazon gift card.
Ways to Celebrate The Holidays: No Expectations by Lori L. Robinett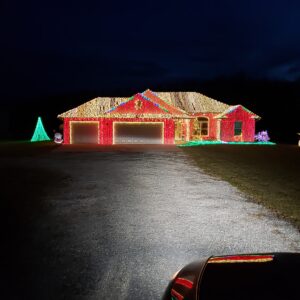 The holidays . . . a time filled with a home bursting at the seams with family, with festive decorations throughout the house, a table laden with turkey and all the trimmings, and happy music floating through the air.
But that perfect image we see on television, the movies, and social media isn't the reality for everyone and sometimes we get caught up in comparing ourselves to unfair expectations.
In my own case, my stepdaughter is pulled in many directions at the holidays, trying to make time for us, her mom and her husband, her significant other's mom, and her significant other's dad and his significant other. Additionally, our daughter estranged herself two years ago, leaving us to nurture a relationship with her now-ex-husband and our granddaughter. Our situation isn't unusual – blended families are pretty common these days. That means the holidays aren't the picture-perfect vision of family and togetherness we're led to believe is normal. My mantra is "No expectations!" – and that mantra has allowed me to accept what is and live in the moment, enjoying the journey.
Besides blended families, many people find themselves either alone at the holidays or with a smaller family than in the past.
So, what does that mean? How do we deal with these not-so-perfect holidays?
Simple – we find joy in the little things. Here are a few things to try if you find yourself dealing with a blended family or a smaller-than-in-the-past family:
Create a new tradition. My husband and I started taking my parents out on Christmas Eve several years ago. We usually have pizza together, then drive around and look at the holiday lights. It's always fun to find those little gems – like the house waaaaayout in the country that has gone all out (and I do mean ALL out) to create a festive display. (see the pic – that house is in the middle of nowhere!)
Buy or make an Advent Calendar. This year, I bought myself a puzzle advent calendar, with holiday-themed puzzles that I hope to put together throughout the month of December. I'm also making myself an alcoholic Advent Calendar (I'm really excited about this one, but it took some planning throughout the year). I saved 25 Pringles cans, then wrapped them in holiday paper and glued them into a pyramid shape. Throughout the year, I occasionally bought single beers, wines, or champagne and socked them away. I'm going to put the singles in the Pringles cans and each night, I'm going to surprise myself with a drink. I'm thinking about making my 3-year-old granddaughter a book Advent calendar for bedtime.
Listen to music. Listen to holiday music. It never fails to brighten my mood.
Watch holiday movies. Go all-in and watch all the sappy Hallmark movies. Stream your favorite movies and buy them if you can't find them streaming. My two faves are Christmas Vacation and Love, Actually. Oh, and by the way, Die Hard is totally a Christmas movie!
Splurge on good coffee (or tea). Bonus points if you make it at home.
Read. Allow yourself at least half an hour before bed to curl up in your favorite chair in front of a roaring fire (or a favorite candle) while reading a holiday-themed book throughout the holiday season. I like to mix mine up – a romance, then a mystery. This is a great way to remind yourself to slow down and enjoy life.
Read to others. Take one of those holiday-themed books to a local nursing home and offer to read to residents. This is even better than audiobooks, because having a real, live person sitting next to a resident is a gift in and of itself.
The most important thing to remember is that the holidays are about celebration and gratitude. Open yourself to the simple joys that are sometimes missed in the pursuit of the 'gram-worthy holiday images. You may well find a new tradition that means the world to you!
This fun cozy mystery features a "colorful display of Christmas suspense and intrigue" perfect for lovers of true crime and mysteries.

Jessica Barker blogs about true crime for an online magazine. But blogging for others is far from her dream job. Someday, she wants her own true crime podcast.

While working one night, Jess witnesses her next-door neighbor in distress and Jess is the only one who seems to care. When the cops dismiss her as a bothersome true crime reporter with an overactive imagination, Jess must delve into the life of her mysterious neighbors, Rory and John Regan – with hints at embezzlement and gambling – before Rory ends up dead.

Lori L. Robinett introduces a new series about the adventures of an aspiring podcaster that will appeal to fans of true crime and cozy mysteries.
Lori L. Robinett writes mysteries and contemporary western romance. She also mentors aspiring writers in her online school, WriteScouts. She lives in central Missouri with her husband on a small hobby farm, maintained for the comfort and enjoyment of their Beagle and Snorkie, and two rescue cats.
Buy the book at mybook.to.