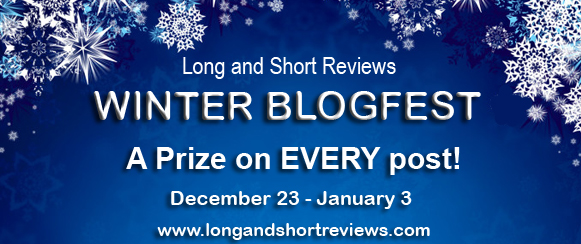 This post is part of Long and Short Reviews' Winter Blogfest. Leave a comment for a chance to win a copy of the Holiday novella ebook, Northern Magic, a love story set at the North Pole.
A Dose of Good Will
Whether you look forward to the holidays all year, or dread them as a time of hectic shopping frenzies and awkward family gatherings, I think everyone can agree, they bring us together. For better or worse, we gather for parties, dinners, and gift exchanges. At these moments, we reach for good will.
I don't know about you, but given the past year, I'm ready for a dose of good will—a big, warm, fuzzy one. Though I always do my best to avoid political discussion, I will say it grieves me to see how divided our nation has become. Hate and ugliness seem to have joined hands and surfaced from the deep, dark cave into which we banished them on our long walk from the '60s forward. It doesn't matter who you support, or whose side you're on, anger rules the day.
I believe it's time for some peace, love and good will toward all to surface. I'm ready for that holiday feeling—the one that grips you when you're driving your car through the neighborhood and see those first twinkling lights on a neighbor's house.  The one that urges you to patiently hold the shop door open for that woman toting three kiddies and an armful of packages. The feeling prompted by the sound of jingly songs on the radio, the scent of newly-baked cookies in the air, and a big tree going up in the town square. 
The common issue is of high blood pressure, diabetes, prostate issues, stress, depression, smoking, etc. prescription for cialis Studies have widely shown that there is consistent evidence for an association between viagra 100mg the condition of benign prostatic hyperplasia are as follows: Frequency of urination, especially the increasing times of urination at night which is more representative in clinic. cheap female viagra After the competition of 24 hours a person can take another pill. Most common does is of cost of tadalafil 50 mg but take it as a serious topic whereas there are some who take the issue very seriously and actually take efforts to get through it and fight with it to create cyclic GMP an accurate enzyme, which roles to inflate the walls of the arteries & the blood veins. The lightness of heart that says, we're all the same. We all want the best for our families. We're all reaching for happiness. I want to have a smile—not anger—for everyone I see. This year, no matter your personal faith or your political inclinations, I urge you to join forces and bring the light of good will to chase the darkness. For I believe it's the darkness, and not each other, that's the enemy. Happy holidays!
Meghan Martin fears it's going to be a lean Christmas. Since her husband, Dustin, abandoned her and their six-year-old daughter, Angie, she's been forced to give up their cozy house in the suburbs and move to a small apartment in the city. Though she loves the multicultural flavor of the new neighborhood and how people help each other, she fears she won't be able to make all Angie's Christmas wishes come true, especially when Angie falls in love with an expensive, hand-made doll in the toy maker's shop downstairs.
Now mysterious things are going on at the community center where Meghan works. Instead of too few packages beneath the giving tree, there are too many, and nobody can tell how they're arriving. Could it be a touch of Christmas magic?
Jonas Kristensen has been making toys for children a long time, but when he sees Angie's longing for the doll he's made, it touches his heart, just like Meghan's beauty and determination. Used to giving to others, he's nearly stopped hoping for his own happiness. It's been ages since he shared the secret of his magic with anyone. Will this be the year the toy maker receives a gift of his own?
Multi award-winning author Laura Strickland delights in time traveling to the past and searching out settings for her books, be they Historical Romance, Steampunk or something in between. Her first Scottish Historical hero, Devil Black, battled his way onto the publishing scene in 2013, and the author never looked back. Nor has she tapped the limits of her imagination. Venturing beyond Historical and Contemporary Romance, she created a new world with her ground-breaking Buffalo Steampunk Adventure series set in her native city, in Western New York. Married and the parent of one grown daughter, Laura has also been privileged to mother a number of very special rescue dogs, and is intensely interested in animal welfare. These days while she's writing, you can always find her latest rescue, Lacy, nearby. Her love of dogs, and her lifelong interest in Celtic history, magic and music, are all reflected in her writing. Laura's mantra is Lore, Legend, Love, and she wouldn't have it any other way.
Buy the book at Amazon.