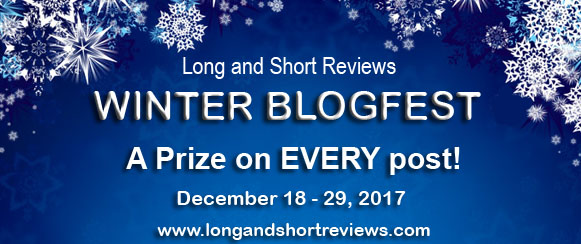 This post is part of Long and Short Reviews' Winter Blogfest. Leave a comment for a chance to win an ebook copy of either Silver Lake or Gull Harbor, winner's choice.
The History of St. Nick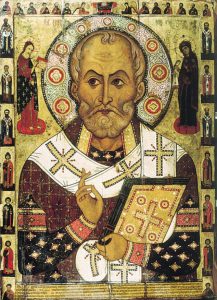 While most people are familiar with the story of Jesus's birth in Bethlehem, and how it relates to the Christmas holiday, many are unaware of how a 4th century bishop influenced the legend of Santa Claus.
Saint Nicholas, or Nikolaos of Myra, was a bishop in an ancient town in Lycia—now Demre, in the Antalya Province of Turkey.  One of his most well-known deeds involved giving unexpected gifts, one of which landed in a stocking.  According to the story, Nicholas wanted to help three young girls, whose father had no money for their dowries.  At that point in history, such a fate could result in a life of prostitution.  Not wanting to embarrass the poor father, Nicholas threw bags of gold coins through the windows.  In one version of the tale, the father laid in wait to see who was doing this…and so instead of throwing the third bag through the window, Nicholas dropped it down the chimney, and it landed in a stocking hung to dry by the fire.
The Dutch figure of Sinterklass is based upon Saint Nick, and he more resembles the white-bearded man in red we're all familiar with.  In turn, our Santa Claus is derived from Sinterklass, and it's widely believed that he was introduced to North America around the time of the Revolutionary War, by inhabitants of New York City, which was once New Amsterdam, a Dutch colony.
Of course, many other sources have combined to shape both the modern-day image of Santa Claus and the various holiday legends and traditions that have evolved (decorating trees, a sleigh pulled by flying reindeer, winter feasts and festivals, etc.)  Perhaps someone will delve deeper into those topics in another post during The Winter Blogfest here at Long and Short Reviews—keep checking back!
While the holiday season tends to feel festive and magical no matter what you celebrate, it can be stressful too.  My absolute #1 (and scientifically proven!) stress-reliever is a good book.  So if you'd like to immerse yourself in some page-turning steamy romance, with a bit of spooky suspense and mystery woven in, check out the blurb below for Haunted Souls, my latest romance + ghost mystery, and download a treat for yourself!  And, as a prize, one lucky visitor will win another new read…a choice of either Silver Lake or Gull Harbor, both #1 Kindle Bestsellers, in e-book format.  So comment below for a chance to win!  Good luck and Happy Holidays!
Four years ago, Emily Shea and Staff Sergeant Brett Leeds agreed to part with no strings attached. Sparks flew during their brief affair, but fate intervened, sending Brett overseas. When an unexpected pregnancy derailed Emily's own plans, her attempts to locate Brett were soon overwhelmed by the challenges of single motherhood. Now, Brett has returned home, and Emily is forced to share her secret.

Despite feeling betrayed, Brett is determined to forge a relationship with their son, Tyler. As the former lovers battle both their inner demons and their mutual desire, another presence enters their lives—Tyler's imaginary friend. Soon, however, the chilling evidence points to a different conclusion: a ghost has formed a dangerous connection with their son. Emily's attempts to help both a lost soul and a friend in need spiral toward a deadly confrontation, and Brett must race to save Emily before he loses her again—forever.
About the Author: Kathryn Knight spends a great deal of time in her fictional world, where mundane chores don't exist and daily life involves steamy romance, dangerous secrets, and spooky suspense. Kathryn writes contemporary romance spiked with mysterious hauntings as well as YA paranormal romance filled with forbidden love. Her novels are award-winning #1 Kindle bestsellers and RomCon Reader Rated picks. When she's not reading or writing, Kathryn spends her time catching up on those mundane chores, driving kids around, and teaching fitness classes. She lives on beautiful Cape Cod with her husband, their two sons, and a number of rescued pets.
Buy the book at Amazon.