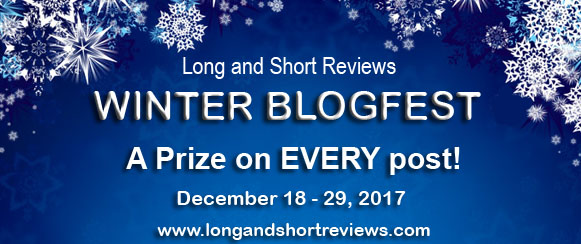 This post is part of Long and Short Reviews' Winter Blogfest. Leave a comment for a chance to win a digital copy of any of my books, fiction or nonfiction. Winner's choice!
Never Far Away
Christmastime always makes me think of my maternal grandfather, Poppy.  He loved the holidays and died just before Thanksgiving in 2007.  My twin sons, Connor and Geoffrey, were three at the time and only got to meet him once…while he was alive, that is.
In mid-December, my husband Dan and I took them to my parents' house in Florida for the weekend.  Twice during our visit, the boys' gazes shot to my mom's side at the same time.
Both of them looked, but it was Geoffrey who spoke.  "Poppy," he said, pointing.
Each time, Mom nodded but said nothing.  The boys confirmed what she already sensed.
Later that day, she, Dan, and I were talking by the pool.  The boys played close by.
Geoffrey piped up, and his voice was adamant.  "No, no, Poppy.  Light on."  He glanced to his side while his hands fiddled with a Spiderman action figure.  "No light off, Poppy.  Light ON."
Dan gaped at him.  "Did he just say what I think he said?"
Mom turned.  "What?"
"I think he was talking to Poppy," I said.
Wide-eyed, Geoffrey's gaze traveled up to a point about nine feet high, right beside the pool.  "Poppy, why are you flying?"
Mom raised her eyebrows.  "Now I heard that!"
Needless to say, the event made her weekend.
On our return home, Geoffrey scampered into the house, then halted in front of our Christmas tree, whose lights were off.  He grinned.  "Hi, Poppy!"
A minute later—by which time Geoffrey ignored the tree—Connor ran into the house.  He stopped and stared at the same spot his twin had.
With a smile, he pointed to it.  "Poppy!"
I felt my grandfather's presence, strong as could be.  It was a reminder that those we've loved and lost are never far away.
Wishing everyone a joyous holiday season!
Ashling Donoghue never dreamed moving to Ireland would rock her perception of reality and plunge her into a mystery that brings legend to life.

At seventeen, she's never had a boyfriend, but she feels an immediate connection to Aengus Breasal, the son of the wealthy Irishman who's invited her family to stay at his Killarney estate. For the first time in her life, a guy she likes seems attracted to her.

But Aengus is secretive, with good reason. He and his family are the Tuatha Dé Danann, ageless, mythical guardians adept at shifting between this reality and the magical dimension known as the Otherworld. Evil forces from that world threaten the Breasals, the Donoghues, and all of Ireland. Ashling must open her heart, face her fears, and embrace a destiny greater than she could ever have imagined.
About the Author: Judith Sterling's love of history and passion for the paranormal infuse everything she writes. Flight of the Raven and Soul of the Wolf are part of her medieval romance series, The Novels of Ravenwood. The Cauldron Stirred is the first book in her YA paranormal fantasy series, Guardians of Erin. Written under Judith Marshall, her nonfiction books–My Conversations with Angels and Past Lives, Present Stories–have been translated into multiple languages. She has an MA in linguistics and a BA in history, with a minor in British Studies. Born in that sauna called Florida, she craved cooler climes, and once the travel bug bit, she lived in England, Scotland, Sweden, Wisconsin, Virginia, and on the island of Nantucket. She currently lives in Salem, Massachusetts with her husband and their identical twin sons.
Buy the book at Amazon.