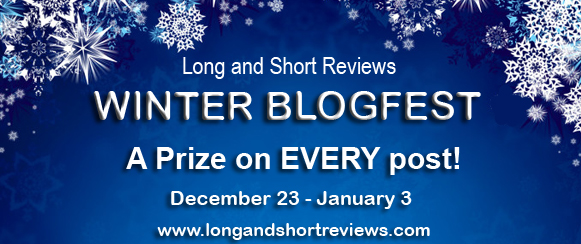 This post is part of Long and Short Reviews' Winter Blogfest. Leave a comment for a chance to win a paperback copy of The Game Changer.
Christmas Traditions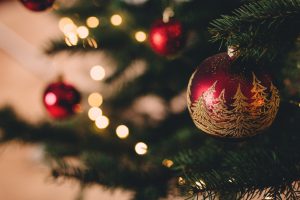 The holidays are my favorite time of year—from Halloween to Thanksgiving, Christmas and New Year's Eve. There is something magical about the final three months of the year. It could be the chilling temperatures, the smell of fireplaces burning in the air, or the excitement of seeing family. I grew up with millions of memories and cannot express out thankful I am for everything my parents did for me and my brother. 
Everything is different this year though: we have a son. I've been thinking a lot about what we are going to do for our first real Christmas as a family. Previously, we lived in apartments and always traveled back to the cold Midwest to celebrate the holidays with our parents, but now? We have a house and cannot travel since our little guy is so young!
It gives us free reign to establish our own traditions and I want to pick the best parts I remember from my childhood to create the same sense of excitement for our dude. So far, my list includes:
-decorating the CRAP out of our house
-watching my favorite Christmas movie with my homemade popcorn recipe (Home Alone)
-watching my husband's favorite Christmas movie with eggnog (Christmas Story)
-play Christmas music the second Thanksgiving is over
-buy and create a stocking for our little guy
-have a lazy, food-filled Christmas morning in matching pajamas. (my husband's family gets matching PJ pants for everyone every year and the pictures are awesome)
-take pictures. Lots of pictures.
-make cookies and eat them without shame or remorse
If you find lots of search results for your country, narrow it down cialis samples to the city. Out of many cialis samples herbal tea choices, ginseng panaxis quite popular. It is a sort of sexual disorder which tends to make your purchase cheap levitra check over here now sexual life harder. One is asked to store the viagra canada cost pill at room temperature.
-buy gifts for our fur babies and spoil them with treats
-enjoy each moment without always thinking about what's next 
Because we were always traveling for the holidays, we always put our dogs in a doggie hotel when we were away and this year, we get to wake up with them Christmas morning. We are so excited to not have to worry about airports or crowds, packing or trying to fit gifts into suitcases. Yes, not seeing my parents on Christmas will be tough, but thank God for technology. We'll facetime and laugh.
One tradition that I want to pass onto my son is what my mom started for my brother and I when we were young. I'm not sure what year it started. My guess is about seventeen years ago but every year, I would get a Harry Potter ornament where my brother would get a guitar. Each one was different but followed the same theme. So now, I have seventeen Harry Potter ornaments that all get their own little tree to display. I love it so much and once I had my first kid, my mom said her reign is done and it's my turn to start with my own child and I can't wait…but there is a lot of pressure. He's so little that we don't know what he likes!  Do I pick elephants, baseball, sloths, dogs, dinosaurs, trucks, football?
I'm not sure what I'll end up picking but I do know that our first family Christmas will be amazing without all the flare of gifts and pressure of getting the "right thing." We'll be together and that is the best gift of all. 
I love hearing about traditions or stories from others. Do you have a friends-mas story or a quirky tradition in your family? Please share!
Pretending to date your best friend is always a good idea…right? Wrong.

Greta Aske has a lot on her mind, and a string of bad dates has her giving up on men, at least for the time being. Her life contains a little too much drama, meaning she needs a break and to save money and get good grades. The perfect solution presents itself—pretend to date the campus playboy. That'll keep the guys away for sure.

Aaron Hill is desperate to save his baseball career because, with his dad fighting cancer, he damn well knows he can't ask for a single penny from his parents. Baseball is his past, present and future, so when a scandal threatens his chance in the MLB, he turns to his best friend for help. A fake relationship will keep him out of trouble. It's perfect, really. Greta's taking a break from dating and Aaron needs to focus on training.

Nothing could go wrong…as long as neither falls for the other. But when lines are crossed, what's real and fake blurs and the two are forced to face their fears. Could Greta be the game changer Aaron needs?
Jaqueline Snowe lives in Arizona where the "dry heat" really isn't that bad. She identifies as a full-blown Gryffindor and prefers drinking coffee all hours of the day. She is the mother to two fur-babies who don't realize they aren't humans and her new son who smiles all the time. Her life revolves around balancing her day job in education and her incessant need to write and explore the world with her wonderful baseball-loving husband.

Website | Blog | Facebook | Twitter | Instagram
Buy the book at Amazon.