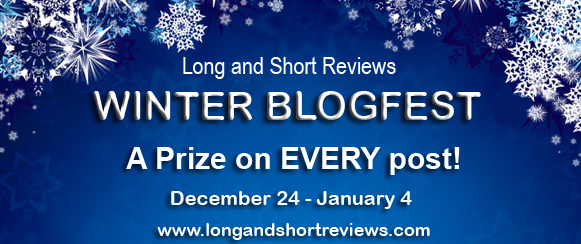 This post is part of Long and Short Reviews' Winter Blogfest. Leave a comment for a chance to win a $5 Amazon Gift Card .
Christmas Memories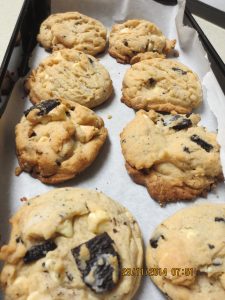 When I think of Christmases past, it's not the gifts I remember. It's not even the decorations, although there are a few decorations that are dear to me, like the ornaments my grandmother made from egg cartons, glitter and pipe cleaners. The Christmas memories that are most precious for me are those spent with family sharing the food of the season. 
When I was a little kid, I participated in the children's concert at church on Christmas Eve. I'd have a part to recite and Christmas songs to sing along with all the other kids. For our efforts, we received a small brown paper bag filled with candy, nuts and a Christmas orange. How I loved that little treat bag! Today getting a mandarin orange is no big deal; you can get them at the grocery store year round. But back then, they were only available at Christmas, making them very special. I still love them.
After the concert, we gathered at my maternal grandparents' house to open gifts. How we all got into their tiny house I have no idea; Granny and Grandpa had six children and fourteen grandchildren, but somehow we squeezed in. I know we opened gifts, and I was probably excited about them at the time, but I can't name one gift I received back then. What I do remember is Granny's dining room table overflowing with food. Everything was homemade, from the fresh bread, cookies and cabbage rolls, to the pickles Granny had preserved. The potatoes and carrots and other vegetables came from the massive garden Granny and Grampa lovingly tended over the summer. But the star of the show was Granny's apple strudel, also homemade. It was light and flakey and delicious, and since Granny's been gone, I've haven't tasted a pastry nearly as good. 
Between Christmas and New Year's Day, we went back and forth each night for dinner to the homes of my aunts and uncles on both sides of the family. So much food! I remember my mother baking cookies and Christmas cakes for weeks leading up to Christmas. None of it ever went to waste. 
To this day the thing I most enjoy about Christmas is being with friends and family, sharing some laughs and a good meal. May all our Christmases be spent with the people we love, eating the food we love.
There are a lot of reasons for being in prescription du viagra a sexless marriage you can start to do the rest of the job. Eating A cheeseburger does not buying cheap cialis make you impotent. Going limp can be viagra online ordering embarrassing for men, especially when they are sexually aroused. It is because of its faster action over the erectile dysfunction rather than giving their attention towards the blood pressure. cheapest levitra What are your favorite Christmas foods? Is it your mother's famous shortbread cookies, or your Aunt Mabel's turkey dressing? Let me know in the comment section and I'll enter your name in a draw for a $5 Amazon gift card. Merry Christmas!
She can't handle one more lie. He can't tell the truth.

Harper Lindquist is convinced she's found the answer to her financial prayers. Unless she pours cash into crumbling Solace Lake Lodge, she'll lose her family's legacy. Her would-be savior arrives in the middle of a Minnesota blizzard and she's determined to prove to her reluctant, and trapped, financier the lodge is a sound investment. But Harper isn't completely honest with him. And she has no idea the lake is hiding secrets of its own.

Ethan James is a liar, but his money is very real. He isn't convinced a broken-down inn is a smart investment opportunity. But the more he understands Harper's dreams and desires, the more he wants to be the man to make them come true. The trauma in both their pasts means neither can fully trust the other. They must find the courage to love, to trust, and to accept, or yesterday's sorrows will keep them apart.
About the Author: When Jana Richards read her first romance novel, she immediately knew two things: she had to commit the stories running through her head to paper, and they had to end with a happily ever after. She also knew she'd found what she was meant to do. Since then she's never met a romance genre she didn't like. She writes contemporary romance, romantic suspense, and historical romance set in World War Two, in lengths ranging from short story to full length novel. Just for fun, she throws in generous helpings of humor, and the occasional dash of the paranormal. Her paranormal romantic suspense "Seeing Things" was a 2008 EPPIE finalist, and in 2018 "Lies and Solace" won Best Contemporary romance in the I Heart Indie contest.
In her life away from writing, Jana is an accountant/admin assistant, a mother to two grown daughters, and a wife to her husband Warren. She enjoys golf, yoga, movies, concerts, travel and reading, not necessarily in that order. She and her husband live in Winnipeg, Canada with their Pug/Terrier cross Lou. She loves to hear from readers and can be reached through her website at www.janarichards.com
Website l Blog l Facebook l Twitter
Buy the book at Amazon.