Another One Rides the Bus
By K D Grace/Grace Marshall
I'd like to thank Long and Short Reviews for the wonderful Winter Blogfest! Thanks for inviting me! You all are fab!
Tis the season! Everything's decorated with tinsel and draped in fairy lights. Christmas music blares a festive ear worm in every shop, and the streets are a hive of frenetic activity. But the days are short and nights are long. The weather is bleak and the natural world seems withered and dead. All that hurts, all that aches, all that's raw stands out in stark contrast against the bright lights and frenzy. But sometimes there are moments that break through the tinsel and the music and the commercialism, moments that stand out as true magic in the space between the celebrations and the bleakness.
One such moment stands out for me even a year later, and I'd like to share it. I'd finished my errands in town and the downpour that had started about the time I left the house had me drenched to the skin. The wind was just strong enough to make my umbrella worthless, so I headed for the bus stop hoping for a warm and dry trip home. As is often the case when the weather's bad, the busses were late and the one I usually take was broken down, or had possibly fallen off the edge of the earth. I decided to take a bus that has a similar rout, if a little circuitous, one I'd never taken before. This bus, Bus number 10, was filled by the overflow from the busses that were delayed or had just not come. The poor driver was a bearded man who looked slightly panicked. As it turns out, he had just finished his training and because there was a shortage of drivers, he found himself thrown in at the deep end, driving a route with which he was unfamiliar, one that took him through some of the most narrow, winding streets of town.
The first bit of the journey was through the main streets — easy enough, even for the newbie driver. But as he headed off into the bowels of the town on streets that were barely wide enough for a small car, something stunning happened. Someone up front said. 'Just turn left here. There! You see the bus stop just up the road. See it?'
The driver thanked the passenger and made the first stop. Then the street got really narrow! I could almost feel everyone tensing as the poor driver maneuvered the hulking bus, windows half-steamed from the weather, between tight rows of cars on either side of the street. I closed my eyes and held my breath. I'm I wasn't alone in this response. But the driver was well-trained and brought us through the obstacle course unscathed. There was a collective sigh of relief and murmurs of 'well done' to the driver. Then an elderly woman with a walking stick took up the role of satnav directing the driver to the next stop.
By this time, I had no idea where we were. The driver and I were both totally dependent on the collective navigation skills of the other passengers, who were now in open conversation. When one got off the bus, another would take over, guiding the driver to make a right at the next intersection, go straight to the top of the hill, then take a left to the next stop. They encouraged him onward, telling him he was doing just fine, joking and laughing about our adventure. I'd experienced a bright spot in a dark day. It had been a time when we could all have been grumpy and short. But instead everyone worked together and we all got home. When I got off the bus back into the still-pouring rain, I felt a lot more cheerful and somehow I didn't notice the gloom quite so much.
I wish you all many, many bright spots this holiday season and into the New Year, and I'm happy to offer what I hope will be one of those bright spots. Please leave a comment for a chance to win a copy of my erotic romance novel, Identity Crisis
Blurb The Exhibition: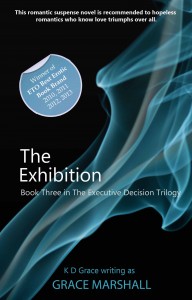 Successful NYC gallery owner, Stacie Emerson, is ex-fiancée to one Thorne brother and ex-wife to the other. Though the three have made peace, Ellison Thorne's friend, wildlife photographer, Harris Walker, still doesn't like her. When Stacie convinces Harris to exhibit his work for the opening of her new gallery she never intended to include him in her other more hazardous plans. But when those plans draw the attention of dangerous business tycoon, Terrance Jamison, Harris comes to her aid. In the shadow of a threat only Stacie understands, can she dare let Harris into her life and make room for love?
Buy Links The Exhibition:
eBook:
Amazon UK
Amazon US
iBooks
Print:
Amazon UK
Amazon US
Barnes & Noble
Powell's
The Book Depository
Waterstones
About K D Grace/Grace Marshall
K D Grace believes Freud was right. In the end, it really IS all about sex, well sex and love. And nobody's happier about that than she is, otherwise, what would she write about?
When she's not writing, K D is veg gardening. When she's not gardening, she's walking. She walks her stories, and she's serious about it. She and her husband have walked Coast to Coast across England, along with several other long-distance routes. For her, inspiration is directly proportionate to how quickly she wears out a pair of walking boots. She enjoys martial arts, reading, watching the birds and anything that gets her outdoors.
K D has erotica published with SourceBooks, Xcite Books, Harper Collins Mischief Books, Mammoth, Cleis Press, Black Lace, Erotic Review, Ravenous Romance, Sweetmeats Press and others.
K D's critically acclaimed erotic romance novels include, The Initiation of Ms Holly, The Pet Shop. Her paranormal erotic novel, Body Temperature and Rising, the first book of her Lakeland Heatwave trilogy, was listed as honorable mention on Violet Blue's Top 12 Sex Books for 2011. Books two and three, Riding the Ether, and Elemental Fire, are now also available. She was nominated for ETO's Best Erotic Author 2013.
K D Grace also writes hot romance as Grace Marshall. An Executive Decision, Identity Crisis, The Exhibition are all available.
Find K D Here:                                                                  
Websites: http://kdgrace.co.uk/
http://gracemarshallromance.co.uk/
Facebook: http://www.facebook.com/KDGraceAuthor
Twitter: https://twitter.com/KD_Grace