These are a few of my favorite things…
 Who can forget Julie Andrews and her version of that song? As I was growing up, we watched The Sound of Music every year around Christmas so it's likely that song will remain with me forever.
As I wrapped presents, I found myself thinking about all of the things I love about this time of the year. Here are some of the things that made the top of the list.
1)      Holiday lights. I've never understood my attraction to them. I love them on my tree, around my office space, hanging from houses and lining driveways and yards. I even love it when tall buildings turn on/off certain lights to make a special design. More than once I've fallen asleep on the couch just watching the lights. Whatever your reason for celebrating, make sure you use lots of twinkle lights!
2)      Gifts. Not so much the getting – honestly – it's the giving. I love finding out then fulfilling my kids' greatest wishes. Santa is big in my house. Even when you're too big to believe anymore. And for friends and family, there is often a hand-made something. I do a wide variety of crafts and I like the challenge of thinking of something special to make for those closest to me.
3)      Really-bad-for-you food. I don't like to cook, but I sure like sampling the goodies that everyone else makes. For some reason people spend a lot of time in the kitchen during the month of December. I don't get the appeal, but I love the results! Cookies, candies, pies, and other things you don't see during the rest of the year seem to magically appear around the office and on your doorstep. I say bring on the butter and the sugar!
4)      Snow. I hate to be cold, but I love snow. It's hypnotic as comes down and it's beautiful once it's fallen. And in the still of the night, once the ground is covered by a blanket of snow, there's a magical sound to be heard. If you've never done it, stand outside and listen to the sound of falling snow. There's nothing like it.
5)      Days off of work. I'm a working author (as in, I still have a day-job) so days that I don't have to go into the office but I still get paid for are fabulous! And getting to spend time with my boys because they are out of school at the same time, even better. If I don't use the time to do some extra writing, I can use it to catch up on my reading. Ah… bliss!
There are lots of wonderful things about the holiday season. What are some of yours? Tell me in the comments and you'll be entered into a drawing for a digital copy of my book, Risky Business, as well as a gift pack that includes a pair of snuggle socks (another of my favorite things), autographed bookmarks, a sticker and a key ring.
Risky Business blurb: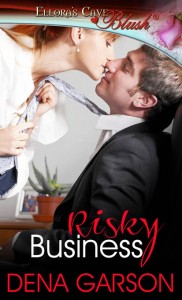 Mia Sanford has been working with Jake Hudson for years. Despite their obvious attraction, neither has been willing to take the chance and act on their feelings. Even though, as they both discover, everyone in the company thinks they should have gotten together long ago.
When Mia becomes the target of an embarrassing betting pool at the annual office party, Jake alerts her to the danger. But Jake is the company playboy, and has never expressed an interest in Mia until now. Is he really looking out for her, or just trying to win the pool himself? Mia must decide if she can trust him not only with her reputation, but also her heart.
Ellora's Cave – http://www.ellorascave.com/risky-business.html
Amazon – http://www.amazon.com/Risky-Business-ebook/dp/B00BD539NQ/ref=sr_1_1?s=digital-text&ie=UTF8&qid=1378061355&sr=1-1&keywords=dena+garson
Barnes & Noble – http://www.barnesandnoble.com/w/risky-business-dena-garson/1114503129?ean=9781419944130
All Romance – https://www.allromanceebooks.com/product-riskybusiness-1057338-177.html
About Dena:
Dena Garson loves to read romance—the hotter the better. When one of her BFFs said "one of us should be writing this stuff", she took up the challenge. If she isn't writing, she's designing jewelry but somehow she still manages to make it into the office on a regular basis.
Facebook | Twitter | Goodreads | Blog | Amazon Author Page