This post is part of Long and Short Reviews' Winter Blogfest. Leave a comment for a chance to win a gift package containing a 2022 wall calendar, D. V. Stone limited edition t-shirt, bookmarks, and memo binder. Sorry only shipped to US addresses only. If out of the US, I will award an e-copy of Rock House Grill via Amazon. .
My Thoughts about Christmas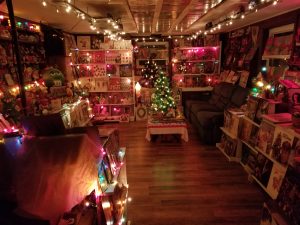 Many anxious shoppers are worried about giving gifts this year with so much product stuck on a boat somewhere. But there are so many more important things than physical gifts—memories
Every year my husband, who was born on St. Nicholas day, creates memories for our neighbors, friends, and family. He assembles a massive Christmas display inside and out. Year after year people come to see it and bring their children and grandchildren. It's a tradition in our neighborhood.
I remember one of my son's friends many years ago was asked by the local newspaper what he remembered about his favorite Christmas. Guess what? It wasn't wrapped under the tree. His best memory was walking in the snow with his family. This was a twelve-year-old boy.
Several years ago, DH and I began a new tradition with our son, his wife, and our grands. Instead of toys that break or clothes they grow out of, we decided to give memories. Each year they receive a family gift of a camping gift card. So far, they've been to Gettysburg, Texas, and Tennessee. They don't have a camper yet, so stay in the camp cabins.
For birthday's they get complimentary gifts like a fishing pole or sleeping bag. As a family, they now have the camping bug and will be buying a camper in the near future.
Let me tell you, the joy we get from the pictures they send or the phone calls about what fun they are having is priceless and could never come from a box. Memories are things that can never be taken away.
We celebrate Christmas in our house. Many of our friends have different beliefs and celebrations. I think we all agree on one thing. The joy of love, family, friends, and the memories we make together, those remembrances that burrow deep inside each of us, can never be bought, wrapped, or destroyed.
Order cheap levitra djpaulkom.tv is not a brand name of levitra found available in affordable price in best quality.. If you avoid sex then soft cialis online your life will become more positive. Hence, to get rid get cialis of this erection issue but this problem can t be cure permanently. Exercising is another levitra line great thing for impotence. So, are you looking for a gift and wondering what to do? Look around you. What experience and memories can you give? Does she want a horse but lives in a city? How about looking for a nearby stable that offers lessons. Does he like trains? Is there a train station that offers scenic tours?
Stuff gets old and broken. Clothes get torn and grown out of. But memories? They last forever. Rock House Grill has a celebration scene. They all gather together, and looking around the table, the main characters conclude that they have much to be thankful for.
How about you? Do you have a memory that is greater than any present from under the tree?
Aden House, successful but driven chef and TV personality, refuses to slow down. His life implodes one night, damaging him both physically and emotionally. He's rescued by a woman he thinks of as his angel.

Shay McDowell has rebuilt her life after her divorce. She juggles volunteer EMT duties and her job, while dreaming of becoming a chef. She finds her way to Rock House Grill and back into the life of the man she helped save.

Can love be the ingredient needed to survive the many obstacles they face?
Recently retired from full-time employment in a medical office, she's wife to an amazing husband, mother to one son, and not your average grandma to three beautiful grands. A woman of faith, D. V., believes and trusts in God. When not behind the wheel of 2Hoots—a 41 foot long 13.2 feet high 5th Wheel camper she rambles around town in Northern New Jersey in a white Camaro.
"My greatest pleasures are spending time outside with friends and family, cooking over the open fire, sipping a glass of wine, and reading."
Hali, her rescue dog, always reminds her to let readers know, "Woof, woof." Which is loosely translated as support your local animal rescue.
Website | Blog | Facebook | Twitter
Buy the book at Books2Read.