This post is part of Long and Short Reviews' Winter Blogfest.
Leave a comment for a chance to win an Audio Review copy of A Boy & his Dog! Giveaway Codes are only for listening inside of the Authors Direct mobile apps (not Audible) and can only be redeemed at https://authors-direct.com/redeem/. (Note: Authors Direct is currently only available for users in the United States, EU, UK, Australia, and Canada on iOS and Android (non-Kindle) mobile devices and does not support direct MP3 download, playback via desktop computers, etc.)
Tangerines and Gingerbread by Chloe Holiday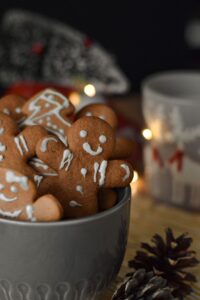 The sharp tang of tangerines and gingerbread always takes me back to the Christmases of my childhood. Back then, tangerines were a special, seasonal treat that Santa always tucked way down into the toe of our stockings. Now, one can get citrus all year, but the scent of oranges still conjures memories of Christmas morning, each of us kids trying to peel the fruit in one long slice, before we washed sticky hands and headed out for sledding.
We spent hours flying down the long hill, the dog chasing behind us. Finally, soggy but happy, we'd tromp home and sit at the long kitchen table, legs swinging beneath, and wrap our hands around mugs of hot cocoa with marshmallows while we debated whether gingerbread men were best crisp or dunked.
Some years we'd travel but Mom always brought a tin of gingerbread, and Santa always found us no matter where we were. Our stockings would magically appear, along with a candy cane and the treasured tangerine.
When I had my own children, I was sure to bake gingerbread cookies with them. Now that they're older, they still ask, "Mom, are you baking gingerbread this year?" The answer's always yes.
Here's my grandmother's recipe for gingerbread!
Holiday Gingerbread Boys
1 cup shortening
1 egg
1 cup sugar
2 T vinegar
1 cup molasses
1 ½ tsp baking soda
5 cups flour
1 T ginger
1 tsp cinnamon
1 tsp cloves
½ tsp salt
Cream shortening, sugar, and salt. Stir in egg, molasses, and vinegar; beat well. Sift together dry ingredients and combine with molasses mixture. An electric mixer is ideal, since the dough will be stiff and sticky. Chill 3 hours.
On lightly floured surface, roll out a grapefruit-sized ball of dough to 1/8 inch thick. Cut with cookie cutters dipped into flour, and place an inch apart on a greased cookie sheet. Bake at 375 for 6-8 minutes, cool a couple of minutes, then remove to cool completely on a wire rack.
Once cool, decorate with confectioner's sugar frosting to "glue" on red hots, sprinkles, crushed candy cane, chocolate chips, or whatever else you desire. Let dry, then store in a sealed container at room temperature for up to a week (in theory—they won't last!). Makes 8 dozen small cookies.
Happy Holidays!
Hurt and humiliated by her boyfriend's cheating, Farrah ducks into a bar—and goes home with Caleb for a round of incendiary revenge sex. Horrified when she later finds out she was mistaken, Farrah sneaks out.


When Caleb wakes up alone, he has to see her again, but all he has is a single mitten…


Finders, Keepers is a fast, fun novella: a sexy modern Cinderella story with a dash of humor, plenty of spice, and NO CLIFFHANGERS!
Chloe is a military physician-turned-novelist who writes the things she loves to read: steamy, fun stories about ordinary people in extraordinary circumstances, smart women and men who aren't jerks. About friendships, whether it's close women or a good bromance. She wants all the feels: the thrill of a smoldering gaze or the barest brush of fingertips, the shocked gasp at the underhanded villain, the angst of heartbreak, the joy of reunion, and of course, happily ever after!

Chloe enjoys delivering a sneak peek into intriguing scenarios, drawing from her background (military personnel, medicine, aviation) as well as other cultures like Greece. A bit of danger always gets her going, so many of her Romances have a suspense subplot.

She hates to read the same old thing, with only the names and places changed, so her goal is to bring folks a fresh, fun, new story every time, with NO CLIFFHANGERS!

More than anything, she wants to craft a rollicking, great story readers can't put down, one where love prevails in the end, one that will whisk people away from their own tribulations.

Buy the book at Amazon.