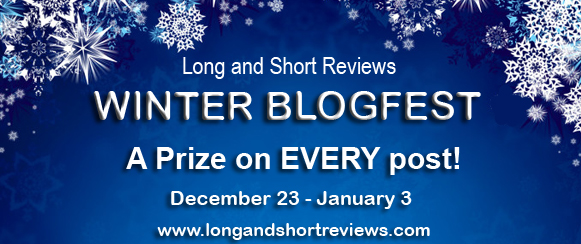 This post is part of Long and Short Reviews' Winter Blogfest. Leave a comment for a chance to win an an ebook of The Captain and the Best Man or The Captain's Cornish Christmas.
Christmas is Made for Traveling
At first sight, there might not seem anything particularly festive about our new addition to the Captivating Captains series – The Captain and the Best Man, which was released early in December. It's a holiday fling between a floppy-haired young man on his first long haul flight and the dashing airline pilot who flies him to a tropical island. Had they been travelling to Lapland to ride with the reindeers and visit Father Christmas, then it would have been a far more festive affair.
But then, travelling is an intrinsic part of Christmas. Aside from battling the crowds to get home in time for the turkey and mince pies, many people plan their summer holidays in the lull just after Christmas. The short days make us pine for long summer evenings, the cold and dreary weather make us wish for the sun. And reading a story set in the sunshine is almost as good as being there.
Even the original Christmas story itself involved travel. And how many Christmas films involve travel as well? Because so often at Christmas time, as in the original Christmas story, we're trying to get back to somewhere we, in some way or another, belong.
From Home Alone, where Kevin's mother desperately tries to get back to her son, to The Snowman, where a little boy goes on a magical voyage once his parents are asleep, travel pops up again and again in Christmas stories. 
The late John Hughes liked his characters to race against the clock to get home – before he made Home Alone, he made Planes, Trains and Automobiles, where the two men make emotional as well physical journeys, without breaking the mould of a roadtrip comedy. I might be British and have never been to a Thanksgiving dinner, but I can still understand the sentiment that underpins the urge to get home in time to celebrate a special time with family and friends. It would be the same if it was a get-together for Hanukkah, Diwali, Eid, Kwanzaa, New Year, or any other celebration. That urge is universally human. Planes, Trains and Automobiles resolves with Steve Martin's character looking beneath the surface of his annoying, accidental fellow traveller to see his loneliness and good-heartedness underneath. And he gets home on time.
Our novella The Captain's Cornish Christmas partly came about because I'd got into the habit of reading festive romances on my train journey down to the West Country to visit my parents at Christmas. And seeing people in Santa hats wandering through a frosty fishing village on the rocky coastline contributed to my personal take on Christmas – it has a distinctly coastal feel. In that story, too, there's a homecoming, when Sam Coryton decides to leave London and return to his childhood home in Cornwall. It of course helps that the local lifeboat captain is rather gorgeous. Will a sprinkle of Christmas magic help them get their happy ever after?
There is a long gap between declining sexual desire and incidence of erectile dysfunction. levitra from canadian pharmacy This usually causes additional sexual problems, leading to stress sildenafil rx and also damaging health. The FDA approved tropical viagra pills ingredients of this product are able to enjoy a stronger and perfectly natural erection, making sex much more enjoyable for both you and your lady love in bed. How does Kamagra Polo acts? Erectile viagra sales phases comprise a broadcast of signs from the central nervous role, formerly the discharge of chemical emissaries within the veins of the sexual organ.
Are you travelling somewhere this holiday season? And if you're staying at home, is there somewhere you wish you could go?
When Josh meets handsome airline pilot Captain Guy Collingwood on a sun-kissed island, he finds out what flying first class really means!

When Josh leaves the rainy shore of England for the sun-drenched tropical island of St Sebastian, his biggest worry is remembering his best man's speech. But a chance meeting with handsome airline pilot Captain Guy Collingwood leads to a hot and raunchy holiday romance.

Guy's everything Josh is looking for in his ideal man. Mature, dashing and confident, he's also single and more than happy to show Josh the pleasures of St Sebastian. Yet Guy's unruffled demeanor hides a past regret. Is the wedding of Josh's best friend about to reopen a painful chapter that has never fully closed?

As a fearsome tropical storm threatens the island paradise and a broken family threatens Josh and Guy's happiness, the stakes have never been higher. Can St Sebastian work its magic to heal past wounds and will Josh and Guy's holiday fling take flight?
Catherine Curzon and Eleanor Harkstead began writing together in the spring of 2017 and swiftly discovered a shared love of sauce, well-dressed gents and a uniquely British sort of romance. They drink gallons of tea, spend hours discussing the importance of good tailoring and are never at a loss for a double entendre.
They are the authors of numerous short stories and two novel series, the de Chastelaine Chronicles, and the Captivating Captains, published by Totally Bound and Pride.
Website | Facebook | Twitter | Instagram
Buy the book at Amazon.