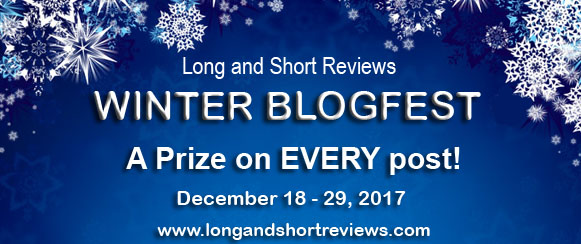 This post is part of Long and Short Reviews' Winter Blogfest. Leave a comment for a chance to win a $20 Amazon gift card.
My Favorite Time of the Year
The End-of-Year Holiday Trifecta (Thanksgiving, Christmas, New Year's) is my favorite time of the year—except for the weather being colder and wetter (depending where you live). But this is the one time of year I will forgive Mother Nature, even for snow; in fact I have even been heard to say snow is pretty during the holidays.
The year is winding down, but we have all these celebrations to get in before the very end. It can be a very rushed stressful time for a lot of folks. Not matter what is going on for me at the time, the holidays always lift me up. They are something to look forward to, to bring some cheer and light into my world.
Christmas is obviously the big holiday but I combine the three together because let's face it, they do kind of run together.
Thanksgiving gets saddled with the kickoff. These days with stores bringing out the Christmas decorations and sales as soon as Halloween is over, quite frankly the poor holiday almost gets swept aside.  But Thanksgiving has its moments. For me, it is the Peanuts Thanksgiving special—I know, EVERYONE loves the Christmas special, but the Thanksgiving one is my favorite. Not sure why, other than I love that Snoopy helps serve a feast of popcorn, toast and jelly beans to Charlie Brown's friends, then turns around after they're gone and shares a full turkey feast—including pumpkin pie—with his little buddy Woodstock.
My other favorite of Thanksgiving is making my mom's pumpkin pie. It is the BEST and most yummiest. If you like a spicy pumpkin pie then this would not be the one for you. The spice is much lighter and the pie more creamy than a traditional pie. (It's actually the recipe from the Libby pumpkin pie can, minus the cloves and substituting real milk for the condensed milk)
On to Christmas…well, I have to say I start getting in the mood early. As I write this, it is the middle of November and I am ready to start breaking out the Christmas music! I do keep it to myself; I try not to annoy those who aren't quite in the spirit yet. And I don't put my tree up until Thanksgiving weekend. But I have already done a little shopping for new Christmas ornaments and such.
Most of my family Christmas traditions are pretty low key. I do make a few varieties of Christmas cookies, and some fudge. Christmas dinner is at my aunt's house. It's my mother's side of the family and we're Italian so no turkey or stuffing. We have pasta and sauce and a few other family dishes. The rest of Christmas Eve/Christmas Day I like just doing nothing…relaxing on the couch with the tree lights glowing, watching Christmas movies or reading a good book (usually a good M/M Christmas story.)
And then we have New Year's bringing up the rear, literally the Trifecta Hangover, LOL. Everyone's kind of done with the holidays, but not quite. Some folks start taking down their trees and decorations. (I always wait till after New Year's Day.) Some people go all out for fancy New Year's Eve parties and others stay home in their P.J.s and watch the ball drop.
For me New Year's Eve is important because I love the real symbolism and spirit behind it. To reflect on the past year, and all that has happened—good and bad—and to celebrate the fresh start and optimism that comes with starting a whole new year.
I hope everyone reading this has a wonderful holiday, however and whatever you choose to celebrate. But most importantly I hope everyone finds their own piece of happiness this season.
Share your thoughts on the holidays in the comments below, and if you feel like a fun holiday read check out my book Falling for Santa Claus.
When Jack Frost's aunt dies and leaves him her house in the tiny town of Great Falls, Jack seizes the opportunity to escape the rat race of Chicago for the quaint village he loved as a child. On his first night he's welcomed by a baseball bat and a trespassing warning from Nick St. James—longtime Great Falls resident and infamous curmudgeon.

Jack wants to give Nick the benefit of the doubt—he can't deny his attraction to the big man—but after several run-ins with Nick's grumpiness and closed-off heart, he's ready to give up. Only after discovering the secret Nick's been covering up for years does he vow to break through Nick's walls to find the loving man hiding behind them.
About the Author: C. J. Anthony grew up watching soap operas and reading piles of books. She attributes her love of reading and romance to her mother, who not only taught her to read but also made countless trips to the library lugging piles of books home for her. It wasn't a far jump to start writing her own stories, early childhood tales about flower families and traveling to the moon with her best friend.
C. J.'s favorite stories to read and write include "opposites attract" pairings—couples who appear to be an odd couple to the rest of the world, but fit together perfectly, finding their own happily-ever-after with a little hard work and a whole lot of love.
Not surprisingly, C. J. is a big lover of rom coms—she'll gladly take Julia Roberts standing in front of Hugh Grant asking him to love her over car crashes and shoot-em-up movies any day. She also watches way too much TV and every singing reality show there is. She loves music of all genres and attending live concerts.
She spends most of her time juggling a day job and a commute and freelance and falling asleep on her couch, dreaming of a day when she can write all day in her pajamas while living in a house by the beach.
Buy the book at  Amazon.