This post is part of Long and Short Reviews' Winter Blogfest. Leave a comment for a chance to win a $10 Amazon gift card.
Christmas Treats and Traditions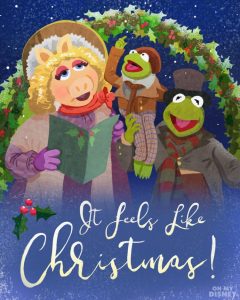 My all-time favorite Christmas treat – after books – is Chocolatey Stars. I don't know why they aren't sold all year. But they're not. And I don't know if these are sold nationwide, or globally, or if they are a local treat. Also, I don't know why these shortbread cookies dipped in chocolate and sprinkled with nonpareils make me happy, but they do. They really, really do.

What I do know is my favorite holiday special is Christmas Eve on Sesame Street. It's a treat for my heart every season. I saw it the very first time when it first aired in 1978. It was my third Christmas. I was two; and I sobbed because Big Bird got lost. It is still, forty-four Christmas's later, my favorite. I have it on VHS tape and on DVD. Then my mom gifted it to me in hardback.

My bookish, nerdy heart soared. One thing you can't deny – Jim Henson "…knew how to keep Christmas well, if any man alive possessed the knowledge. May that be truly said of us, and all of us!"

On Christmas Eve, after mass, we bake cookies while listening to Bob Denver and the Muppets sing traditional carols, while tracking Santa's flight around the world on the NORAD website. After we watch Christmas Eve on Sesame Street, A Muppet Christmas Carol, A Muppet Family Christmas, Emmet Otter's Jugband Christmas, and The Polar Express (it's my daughter's favorite).
Share one of your family's traditions in the comments below and a randomly chosen winner will get a $10 Amazon gift card.
Don't forget to keep the spirit of Christmas with you all through the year!
– Becky
Detective Alexandra Danvers is determined to bring child killer, Arthur Book, to justice, no matter the cost. Detective Xavier Knight is asked to evaluate Lexi's fitness for duty. He fears investigating Lexi could allow a monster to walk free. Holding onto their own secrets, they launch a covert investigation into Arthur Book who could cost Lexi and Xavier their careers, including their lives.
When I was little I thought everyone had stories in their head. When I found out that wasn't true and that only special people had stories to tell, I wanted to be one of the people who shared their stories with the world. Here I am, making my own dreams come true, one happily ever after at a time.
Buy the book at Amazon.