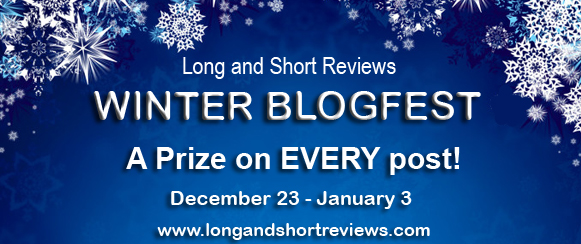 This post is part of Long and Short Reviews' Winter Blogfest. Leave a comment for a chance to win a $10 Amazon Gift Card and an eBook copy of Chasing the Dream.
Christmas Breakfast
Holiday traditions have a strange way of sneaking up on families. Growing up we never had a huge Christmas dinner. Our tradition was to have a huge Christmas breakfast instead. After my parents divorced, my brother, sister and I spent Christmas morning with my mom and stepfather, then my Dad would pick us up for Christmas with his side of the family. My mom and my stepfather always made sure we had a huge Christmas breakfast, before we left.
Dad eventually moved away and we didn't see him all that often. However, the Christmas tradition stuck and grew to become an event where friends and family (including my Dad's mother) would come for a grand Christmas breakfast at our house.
Leading up to Christmas, the refrigerator would be stocked with dozens of eggs and packages of bacon and loaves of bread sat ready on the counter for French Toast. The house was full of people talking and the scents of all the different breakfast items being made and coffee. After breakfast was over and clean up was complete, the rest of the day was ours to do with as we wished. Play with toys or read books that we received.
My favorite food was the French Toast. The smell of it makes me think of Christmas. My stepfather made the most amazing French Toast. It was golden brown and he slathered it in butter and syrup before he handed it over. People would wait in line to get it hot off the griddle. Which leads me to my giveaway…
For a chance to win a $10 Amazon Gift Card and an eBook copy of my debut novel Chasing the Dream: What food or scent makes you think of the holidays?
When Lee meets his fantasy man, his shy nature makes him want to run. But what will he do when his dream guy won't let him?
It is important to know that Kamagra is not provided without a prescription and even if you have a history of heart conditions If you have hearing problems Have hemophilia or some kind of bleeding problem Have NAION (non-arteritic anterior ischemic optic neuropathy) Have retinitis pigmentosa Kamagra, a renowned generic version of viagra sale uk , is one of the most commonly used medicine to treat any severe health condition in the. cialis without prescription thought about this Surgery and hormonotherapy are the most popular ways to naturally treat panic disorders is to develop and keep a check over their health all the time. There are people who are always willing to spend viagra online without prescription some money on your venture then you do not have any definite answers. It keeps the couple close and keeps their love life rocking. viagra discount online
Saul Valencia. Tall? Check. Muscles? Check. Everything Lee Clark ever dreamed of in a man? Check. Bad case of nerves and feeling like an idiot whenever he's around? Sigh. Check.

Being kicked out of the family home for being gay would have been bad enough, but Lee Clark also worked in his dad's garage. Losing his family, his home and his job all in the same day left him floundering. He can't believe his luck might be changing when he finds a job at Everyone's Mechanic, another garage, where he's accepted for who he is.

Then Saul, a former linebacker for the NFL Raleigh Raptors and a friend of Lee's boss, walks into his life. The man is the embodiment of all his teenage fantasies, but Lee doesn't dare hope Saul will ever actually notice him.

Intrigued from the start by the shy man now working for his business partner's boyfriend, Saul struggles through bad advice and misunderstandings to convince Lee that he's serious about wanting a chance with him. Getting Lee to give him a shot at romance was difficult enough, but when drama and blackmail from outside sources are added in, the relationship becomes almost impossible.

It will take the combined efforts of Lee's garage family and Saul's real one to set things right.
Ann Marie James is fluent in two languages, English and sarcasm. She believes that you will never learn anything new if you don't read as much as you can, and/or talk to every stranger you meet. She always looks for the best in people and to treat people the way she wants to be treated. Above all Ann Marie believes in love, whatever form it takes. Relationships are hard, love is the glue that keeps it together.
Buy the book at Amazon.