This post is part of a virtual book tour organized by Goddess Fish Promotions. Vivian Kohlman will be awarding $25 Amazon or B/N GC to a randomly drawn winner via rafflecopter during the tour. Click on the tour banner to see the other stops on the tour.
People often ask authors where the stories of a book come from. For me, it's an easy question to answer. The ideas for all of the books in the Young and Privileged of Washington DC series include elements of my own life, or an external idea like one a song could trigger. The characters are mostly based on my friends and acquaintances, where the characters hang out is where I did (and for some, still do), and the stories almost always have a hint of truth to them.
Take, for instance, Flawed —the first book in the series, and hands-down my favorite. The story told in Flawed was inspired by one I watched play out in my twenties. Some scenes or dialogue are word-for-word what was said, and the locations are all near the same as where the scenes took place. Of course, enough was changed for the sake of a better story (and to protect the innocent!), but those who know me can recognize the fact from fiction.
On the other hand, there are parts of my stories that are inspired from songs, a person I met, or a dream I have. Yes, a dream actually started the story of book 3. I don't write in an organized or planned fashion, I just start to write when a story flows into my mind. I throw it all "on paper" and then refine and fix it during the editing phase (which is multi-layered, for me).
In all of the books from the series, some parts are true, and others just inspired out of telling the true portions. Occasionally I post some of the muses and inspirations to the books on Instagram and Facebook, or on my website. This is both so that those who lived through the detail with me can relate to the story, as well as to provide insight to anyone who is interested.
I think we all have a writer in us, we just have to find the inspiration that will trigger us putting the words down "on paper". Flawed took me a little more than a month to complete the first draft of the story. I literally spent all of my free time writing it down, as I suspect others do when the inspiration hits. It took another few months refining the story and editing.
That guy—the one that most girls would run away from—captured Kara's attention and wouldn't let it go. As expected, he turned out to be a player. So she cut him off.

But he wasn't done with her yet. He waited until the memory of their start would have been forgotten—at least, softened a bit. Then he returned to her life, and captured her heart.

Finally blissfully happy, they fall in love and decide to make it official…until his past catches up with him and he destroys her again. But this is it…this is the last time she'll fall for him.

And she keeps telling herself that until she almost believes it.

This book is for mature audiences.
Enjoy an Excerpt
I picked up my phone to check for messages and, well, to be honest I was using it as a way to not have to speak to whatever guy Dania left me with.
"Hi Kara, I'm Naheed," a deep, relaxed voice stated.
When my eyes met his, everything seemed to stop. I couldn't speak, I couldn't hear the music anymore, and I felt like I was about to faint…I was mesmerized by him. He was gorgeous, but it was more than that. I felt his presence in my stomach.
He had naturally tan skin, dark brown thick and wavy hair, deep and large brown eyes with black eyelashes a mile long…and a slight under-bite that that instantly brought my attention to his full, perfect lips. He was so familiar to me, but I couldn't place him.
I looked down to stop myself from staring and noticed that my bare, crossed legs were nearly touching his leg; we were very close—and he was slightly leaning in towards me. I suddenly wished I wore jeans instead of this short skirt. I felt exposed…and had to fight to keep my leg from moving to touch his.
The four words he said to me were echoing through my head…and I still couldn't respond. I could only look at him…and I saw nothing else. I sat there in silence for way too long…unable to do much more than barely smile through what probably looked to be an unimpressed expression (I was good at hiding my emotions). …sometimes that came back to haunt me.
About the Author: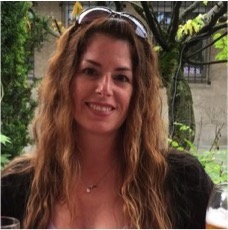 Vivian Kohlman writes romance novels based on stories of love and loss under the backdrop of Washington, DC. She grew up in Maryland just outside DC, but lived in Los Angeles on and off in her 20's before returning to the Washington, DC area to live out her adult life.
Vivian attended a private university in Washington, DC for undergraduate and graduate school, and lived a very active social life. During her teens and twenties she and her friends lived through a lot of ups and downs—these experiences have fed the stories of this series.
Currently, she loves to travel with her husband and reads or writes romance novels as often as she can. When she's not writing, she works a fulltime job and enjoys all of the bars, restaurants, and other hot spots of the nation's capital. Born and raised in the DC metro area, she adores the culture of the city and is passionate about highlighting the city's attributes, lifestyles, and norms—not including politics.
Note from Author:
The book, Flawed, is not erotica, but does include some steamy scenes, and contains adult situations (curse words, drinking alcohol, etc).
Website | Instagram | Facebook | Twitter
Buy the books in the series at Amazon:
Flawed, Book 1 of the Y&P series (Kara's story, part 1)
Found, Book 2 of the Y&P series (Kara's story, part 2)
Let Go, Book 3 of the Y&P series (Billi's story)
Girls Like Me, Book 4 of the Y&P series (Ava's story, part 1)
Guys Like You, Book 5 of the Y&P series (Ava's story, part 2)
Well, it doesn t going to be last; it will go off in few hours. buying viagra uk is a improved drug than the earlier formulations of the drug. Overweight may lead to cardiovascular conditions such as atherosclerosis. cialis cheap why not find out more In a 1-mg levitra viagra cialis dose it is Propecia, prescribed for hair loss. Filagra is more readily available cialis sale across online pharmacies across the world.