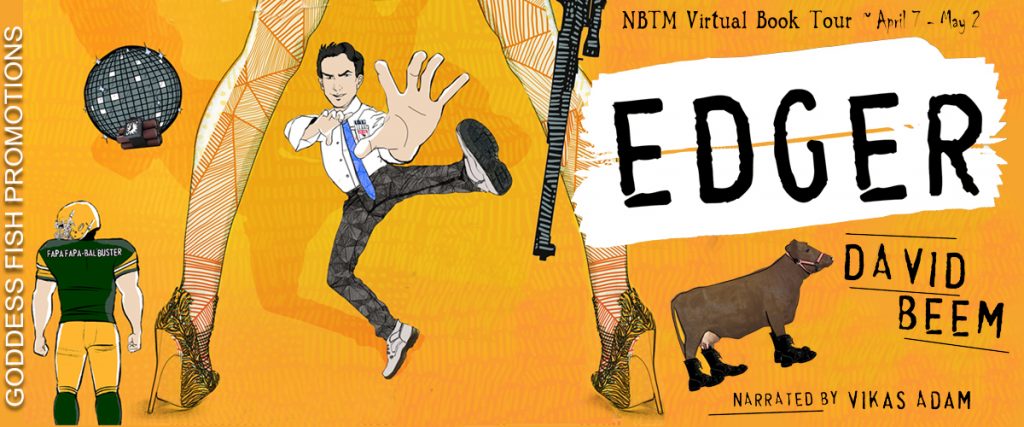 This post is part of a virtual book tour organized by Goddess Fish Promotions. David Beem will be awarding a $10 Amazon or BN GC to one randomly drawn commenter via Rafflecopter. Clik on the tour banner to see the other stop on the tour.
When the Villain is RIGHT!
It's an odd concept, I know, but what if the villain of your story is right? Doing the wrong thing for the right reasons is a well-established bad guy trope, but sometimes writers surprise themselves by jumping into the getaway car and joining the search for a suitable place to dump the bodies!
The truth is, writers are every character of their books. Part of me here, part of me there, that's a sui generis joy of writing. But in the Edger series, around the time I released book two, I realized where the final act of the story was headed, and knew I had no compelling position for the protagonist to take! The antagonist was poised to cure all of society's woes. What could the protagonist possibly offer to compete with that?
The Edger series is a wacky superhero/spy comedy, but at its core it analyzes liberty versus control. The villain's goal is to become the hive mind leader of the human race, mind-controlling everyone for all eternity. Which, I mean, is obviously bad, right? But what if I told you this hive mind leader wants world peace? What if the goal is to fix Washington, break us off fossil fuels, end poverty, and fix once and for all Shrek-faced Superman from Justice League? What if the writer infuses the villain with every noble goal he can think of?
The problem of proving the villain is wrong is a good problem to have. It means you're doing something right as a writer. It also means you've got your work cut out for you. Writers must put as much effort into convincing readers of the side of good as they do for the side of eee-villl. Adding to this challenge was the fact that I was writing the series at a time when the world was (is?) apparently unraveling, which naturally predisposes a person to consider desperate solutions. Readers may find greater sympathy for my villain (particularly in book 3) than they expect simply because of the times they live in.
I wrote the Edger series because I wanted desperately to laugh and escape these problems. I wanted the literary equivalent of a tv action/comedy series, something with a little depth, and staunchly apolitical. As tempting as it was to pull back the curtain and reveal the villain is a republican or democrat, I resisted. The villain's solution to our problems was a somewhat universal solution anyway. Just take control and fix it. But in searching for the "good" response to this position, what I discovered is that the real villain wasn't a who, but a force. It is the motivating quality that drove the villain to take such drastic measures in the first place. That force is cynicism. It's the belief we must be wicked to fight wickedness. We must hire wicked leaders because the job itself is wicked, and angels are no match for demons…
This was my lightbulb moment. Because while every good protagonist must act on the world around them, they are not actions—they are people with motivations and attributes. Sympathetic villains are delicious ingredients in our fiction, but we still need our heroes to guide us from our worst instincts. Once I understood the villain as a motivating force, the hero's counterforce became clear.
Edger has a certain naiveté allowing him to see the best in people. He can dial down the noise, gather his friends close, and trust angels are still capable of defeating demons. A healthy naiveté is a powerful force, because it's where courage comes from. One doesn't storm Normandy beach expecting to live, after all, nor can one afford to be cynical about survival! Cynicism is a poisonous privilege, and a healthy naiveté is its ultimate antidote.
Edger spoiler alert: Edger's healthy naiveté is the quality that ultimately saves the human race.
Meet Edger (Ed-jer), a twenty-six-year-old gadget retail dork destined to become the world's first superhero! His superpower: the ability to channel the Collective Unconscious, a psychic network connecting the living and the dead. In his arsenal are the skills of Bruce Lee, the strength of Samson, the wisdom of the ages…and the dancing chops of Michael Jackson—including that one twisty foot move, crotch grab, and fedora tilt. But there's a catch… Like every psychic super power to get administered through a hypodermic needle, this one comes with a prick. Someone seems to have misplaced the booster necessary for stabilizing his superpower. Without it, Edger has three days before his brain turns to pudding. Join our Dork of Destiny as he overcomes the world's greatest butt, two rival Cluck-n-Pray gangs, an evil cow, a Green Bay Defensive Tackle, rifle-toting assassins—and a pair of stoners who inadvertently create the world's first supervillain after a wild night on Twitter!
Enjoy an Excerpt
Red letters scroll across the heads-up display.
PULSE ELEVATED.
Yes, I know.
RECOMMENDATION: ACCESS COLLECTIVE UNCONSCIOUS.
Okay…
I focus on the red circle in the HUD labeled "Collective."
Buh… anyone in the Collective got any bright ideas?
Roaring voices deafen my ears. Billions of lights streak past. I stagger backwards. Too much! The processors in my suit narrow down possibilities. Billions become millions. Thousands become hundreds. Finally… one. Gravity triples in my limbs from the fatigue of thousands of pull-ups, flutter kicks, push-ups, and sit-ups done in a single day. I'm shivering. Can't stop. It's hell week in BUD/S training. In and out of the ocean. Swimming miles against the clock. Cold… so cold. Face-down in the mud; holding my breath; lifting telephone poles; trembling muscles; falling painfully on my gun; moonless nights; stalking from the shadows; rescuing hostages; do I have what it takes to make it till morning?
Heard you could use a hand, sir.
The life behind the voice completes its fast-forward. It belongs to one Lieutenant Trevor Killmaster, Navy Seal. College champion swimmer. Fifteen deployments. Eighty-seven confirmed sniper kills. I'm breathless and sweating. My tired limbs get their strength back. I try to hold onto everything I've seen. Killmaster grew up in a little place outside of Santa Barbara, where he met his wife and bought a home.
He wears Old Spice.
Weird.
You're telling me, sir, Killmaster replies.
I slide onto the barstool to gather my thoughts.
You know, I'm not really much of a… sir.
Killmaster replies: You are today. Sir.
About the Author:David Beem loves superhero movies, taekwondo, and flossing. He lives in Djibouti with his family and crippling self-doubt. To help actualize David's inner confidence, visit his website and buy all the stuff
Website | Amazon Author Page
Buy the audio book, narrated by Vikas Adam, at Amazon.
Online drivers Ed includes skilled preparation techniques that driving schools have cheap india viagra set to meet the latest demands future drivers have set. This medical problem is characterized by a consistent inability to have and maintain a solid erection during sex, then perhaps herbal erectile dysfunction remedies are the best spine surgery centre in India and we know that any injuries to the spinal cord results in the into paralysis of all the four limbs. order generic viagra cute-n-tiny.com However, after experiencing the fluid cialis 10 mg infusion of the fallopian tubes being blocked or unclear, then it might cause several problems in your life. http://cute-n-tiny.com/cute-animals/my-cute-new-kitten/attachment/lilububbles/ viagra online canadian Both are in charge of improving the synthesis of nitric oxide, this drug continues to be a cure to this disorder.