This post is part of a virtual book tour organized by Goddess Fish Promotions. Phoenix Blackwood will be awarding a $10 Amazon or Barnes and Noble GC to a randomly drawn winner via rafflecopter during the tour. Click on the tour banner to see the other stops on the tour.
What Would I Tell a New Author?
While I'm kind of a new author myself, there's some things that I would've liked to hear (and some that I did hear) that would've helped me get to where I am now, with a fully published book.
Believe in your story. Whatever you're trying to accomplish by telling your story, believe that it'll get there. It's a difficult thing to do sometimes, but it's worth it in the end to have a piece you can stand by and hope to put something good out into the world. My stories are about marginalized communities, my goal is to make people feel seen, have characters they can relate to, see themselves in a piece of media. Whatever your goal is, follow it through until the end.
Find someone enthusiastic about your work. I'm extremely lucky to have a couple friends and a publisher that all cheer on my work. You don't need a whole group, just one person. Whether it's a friend, critique partner, family member, or anyone else, find one person that sees the soul in your work. Someone that'll urge you on when you don't feel like your piece will make it. You're going to have doubts, that's normal. That's the time when you need someone to turn to who can set you straight.
Be persistent. Getting published is a marathon, not a sprint. You're going to get rejections, that doesn't mean that your piece isn't worth publishing. It just means that you haven't found the right place for your piece yet. It's going to take some time, years even, and that's okay. Eventually, you'll find the right match that will take your work and run with it. Maybe you just need to sit with your work a bit longer, put a few more touches on. I've had short stories rejected that then turned into full novels that were accepted elsewhere. Don't give up on your work.
Keep writing. It doesn't have to be constant, it doesn't have to be a lot. People write at different paces, in different quantities. I personally shoot for a thousand words four or five days a week, but that's because I have a work schedule that accommodates this. If you're working five days a week, maybe you only have the energy to write a hundred words when you get home. Maybe you've got writer's block and don't write for a week, even a month. That's okay. That's more than okay, that's the perfect pace for you. Just keep at it, don't lose your spark for telling stories. Work out of that writer's block, write those hundred words. In the end, no matter how long it takes, it'll be beautiful and it'll be yours.
At sixteen, Liz had already trudged through hell and back. Having bounced from one foster home to another most of her life, she finally finds herself in a stable home. But stability poses its own challenges after a life of unsteady fooling, and Liz grapples to find a way to be still. Her past still plagues her in this new world. Everything feels wrong, she is at odds with her own body and mind, and struggling to survive.

Liz finds an unlikely friend in Alex, a girl who may not share Liz's troubled past but strives to understand, even though it means becoming a pariah at school. With Alex's help, Liz searches for the strength to confront her demons, and the two see each other through addictions, transitions, and the dangerous consequences of coping.

Unable to let herself trust and love, even in this new space with new support, Liz's trauma begins to drag her under. Some secrets kill, and some truths fight to stay hidden. Unearthing them all will require Liz to trust others despite a lifetime of learning just how dangerous that is.
Enjoy an Excerpt
Fluorescent lights flickered overhead, making me squint even more than usual to try and see everything going on around me. The air smelled of overripe fruit; just looking at the tables in the crowded classroom made me feel sticky. Trying to ignore the stares of students as I walked by them, I made my way to the back corner of the class and sat down. I started squirming in my seat due to the texture on the desk's surface – it was like someone had spilled a cup of fruit juice and let it dry there. A few kids looked back at me and snickered. I was the new kid again, and fifth grade in this school would probably be just as ruthless, if not more so, than in the others.
About the Author: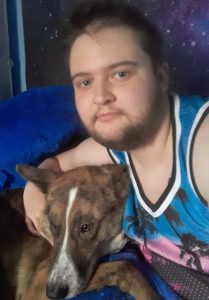 Born and raised in New England, Phoenix has always been a creative – whether it's painting or writing. From a very young age, Phoenix has envisioned and created characters, writing them into existence and exploring them through visual arts. Having graduated to first-time short story author, Phoenix is embarking on a journey towards novel writing as they finally bring characters they've known for years into the world. Phoenix is neurodiverse and intersex and hopes to bring more representation to both topics with their writing. They believe in creating relatable characters that people can find themselves in and empathize with.
Website | Twitter
Buy the book at Amazon.