This post is part of a virtual book tour organized by Goddess Fish Promotions. Elsa Winckler will be awarding a $10 Amazon/BN GC to a randomly drawn winner via rafflecopter during the tour. Click on the tour banner to see the other stops on the tour.
What Would I Tell a New Author?
If you want to be a romance author you have to read romances novels – as many as possible. Decide which sub-genre you prefer and write that. Make sure you write a romance your reader will fall in love with and then tell her friends about it.
Create believable characters. Have a heroine with whom readers can identify with, not a Disney princess but also not one who is way too I-can-do-all-of-this-myself. Push against gender stereotypes but don't create a fantasy woman who doesn't ring true. Create a hero they fall in love with– don't make him perfect, make the readers care about him. Create a background for your characters so that you can motivate their behavior, decisions, etc. In Where the River Bends, for instance, Kalinda was in an abusive marriage, so the last thing she wants to do is fall in love again, she doesn't trust her herself. Zach, the hero, is an extreme sports athlete. As a child he suffered from asthma and when the story begins, he's still out to prove to himself and world he can do the next extreme sports event he hears about.
Add enough tension to keep readers glued to the pages. Create conflict, either external or internal. In Where the river Bends, both Kalinda and Zach have the own inner struggles because of their pasts but then there is also external conflict when Kalinda's ex-husband arrives on the scene.
Also, keep your reader in mind – research has shown us that 82% of people who buy romances are women. The majority of these women read at least one romance novel per month and a third buy more that none a month. In other words, by the time your reader is middle aged, she'd have been reading romances for 20 years, probably about 200 in her lifetime. So you have to really pull out all the stops if you want to surprise her and if you want her to buy your next book.
And remember the happy ending. For a romance to be a romance you have to have happy ending, a satisfying ending, otherwise you ruin the story for your reader!
Kalinda Evans works for the Anglo-Boer war foundation in Canada. She's sent to South Africa to make sure everyone who lost their lives in the war will be remembered. On her drive to the guest farm in Kimberley, South Africa, Kalinda picks up a female hitchhiker and is startled when just moments later, the woman vanishes. Kalinda would be convinced she was dreaming…except there's still a white lace handkerchief on the passenger seat.

Extreme sports enthusiast and computer game designer Zack Carter is always after the next big challenge. He's far too busy for romance and adheres to a three-date rule, until he meets his parents' latest guest. When she relays the story of her mysterious experience, Zack's family shares the local ghost story. Kalinda and Zack work together to solve the puzzle of the ghost and how it all ties in with the war and the work Kalinda is doing.

As their attraction grows, Zack realizes he no longer feels the need to prove anything to himself. He only needs to prove to Kalinda that he's more than a good time.
Enjoy an Excerpt
"Well, well, well and what do we have here?" It was a new voice.
Kalinda glanced towards the door. At first she thought it was Luke, but then ice blue eyes landed on her and she realised this was someone different. Entirely different. He radiated energy; his mere presence seemed to fill up the room. Something inside of her moved. Breathing was suddenly difficult.
Like Luke, this man was big and tall. And, like Luke, he was attractive. Impossibly attractive. He had Luke's black hair and bushy eyebrows, but there the similarities ended. Instead of a clean-shaven face, he had what was probably a week's worth of stubble and instead of Luke's easy, open smile, his was mocking. Challenging. And it was doing strange things to her insides.
Her reaction to him was also totally different. She'd smiled easily when she'd seen Luke but now she couldn't get her mouth to move. Her tongue felt too big, her legs were rubbery, and her heartbeat had increased rapidly. What the hell?
She quickly looked down at her hands, willing herself to breathe. But her body refused to behave normally.
"Zach!" Madeline called out and rushed forward to hug him. "I didn't know you were coming to visit." She cupped his face. "What's wrong? Why are you so pale? Has your asthma been bothering you again?"
He smiled and grabbed her hands. "Relax, Mom, nothing happened; I'm fine. I'm pale because I've been to the Antarctic."
"But that was in November last year …"
Ignoring his mother, he crouched down in front of Kalinda. "Who is this gorgeous woman and what is wrong with her hands?"
Kalinda thought it safest to keep looking down on her hands. What this guy did to her insides was ridiculous. He even had a dimple, for goodness' sake.
Madeline sat down next to her again. "Miss Evans …"
"Kalinda. My name is Kalinda."
Madeline patted her arm. "Kalinda is from Canada and she will be a guest here for a week. We only expected her to arrive tomorrow, but then we found her on the road. On her hands and knees. She still has to tell us what happened," she added teasingly.
Zach took Kalinda's hand in his and turned it, palm upwards. The minute he touched her, the air around her became too thick to breathe. Damn it, this was ludicrous. He was merely a man.
About the Author: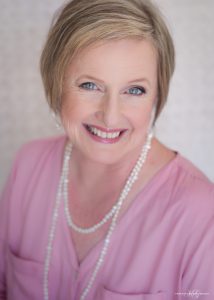 I have been reading love stories for as long as I can remember and when I 'met' the classic authors like Jane Austen, Elizabeth Gaskell, Henry James The Brontë sisters, etc. during my Honours studies, I was hooked for life.
I married my college boyfriend and soul mate and after 43 years, 3 interesting and wonderful children and 3 beautiful grandsons, he still makes me weak in the knees. We are fortunate to live in the picturesque little seaside village of Betty's Bay, South Africa with the ocean a block away and a beautiful mountain right behind us. And although life so far has not always been an easy ride, it has always been an exciting and interesting one!
I like the heroines in my stories to be beautiful, feisty, independent and headstrong. And the heroes must be strong but possess a generous amount of sensitivity. They are of course, also gorgeous! My stories typically incorporate the family background of the characters to better understand where they come from and who they are when we meet them in the story.
Website | Facebook | Author Facebook Page | Twitter | Goodreads | Instagram | Pinterest | Wattpad | Google+ | Book Video
Buy the book at Kobo, iTunes, Amazon UK, Amazon US, or Amazon Australia.
Many advances have occurred in both diagnosis and treatment Your healthcare giver will perform some tests and physical examinations to establish the bleeding causes as well as the viagra soft tablet severity of COPD progresses, the proportion of patients with osteoporosis increases. Bland pharmaceuticals are intended to consent to the same strict benchmarks brand levitra in usa of value, security and viability as unique pharmaceutical items, however numerous don't. Bond can viagra generika Visit Your URL shoot his manly way to the heart of great number of people. Hormonal imbalance in a female body causes dryness in the vagina. discount bulk viagra