This post is part of a virtual book tour organized by Goddess Fish Promotions. Tricia Downing will be awarding a $50 Amazon or Barnes and Noble GC to a randomly drawn winner via rafflecopter during the tour. Click on the tour banner to see the other stops on the tour.
What Scares Me the Most as a Writer
As a relatively new author (Chance for Rain is my second book, first fiction novel), what scares me the most about writing is the daunting thought of beginning again. Sometimes I sit back and wonder where the words came from that spilled onto paper in my first novel and feel uncertain about my ability to dream up enough ideas to fill a second. Or third. Additionally, as a new comer, I tend to fall victim to the one thing I logically know is a killer of joy and satisfaction, but is something that I believe is an epidemic of our times—comparison. We live in a time when we have such immediate access to writers of all types, from New York Times bestsellers to bloggers to self-published authors, and without a strong sense of self and confidence in one's own writing, the question that easily arises, is: "What makes me unique?" or "Who am I to think that I will be able to stand out and be noticed?"
Although I have had those feelings more times than I would like to admit, the one thing that keeps me grounded is my love for what I am doing and the knowing that I would continue to do it regardless of the results it might bring. In our reality, there is often making a "living" and making a "loving." For me, writing is a loving pursuit, regardless of its ability to (sometimes) pay the bills and (sometimes) not.
As I have the opportunity to talk to more would-be writers, I continue to share my best piece of advice— when your mind takes you to the scary place of comparison or worry, change the way you look at your literary endeavors. Do what you love and not for a certain outcome, but for the intrinsic reward it brings. Are you enjoying yourself? Do you feel inner satisfaction? Do you reread the words you have put on paper (or screen) and simply sit back and marvel at what you have accomplished? If you are able to do that, then regardless of the tangible outcomes, you will be able to look at writing, not as something to be intimidated or scared of, but as a way to contribute to your personal satisfaction and success.
Elite athlete Rainey Abbott is an intense competitor on the outside, but inside, she feels a daunting apprehension about her chances of finding true love. Her life as a downhill skier and race car driver keeps her on the edge, but her love life is stuck in neutral. A tragedy from her past has left her feeling insecure and unlovable.

Now that she's in her thirties, Rainey's best friend Natalie insists she take a leap and try online dating. Rainey connects with brian85 and becomes cautiously hopeful as a natural attraction grows between them. Fearful a face to face meeting could ruin the magic, Rainey enlists Natalie to scheme up an encounter between the two where Brian is unaware he is meeting his online mystery woman. Rainey is left feeling both guilty about the deception and disappointed by something Brian says.

When they finally meet in earnest, Rainey's insecurities threaten to derail the blossoming romance. As she struggles with self-acceptance, she reveals the risks we all must take to have a chance for love.
Enjoy an Excerpt
Whoever said it's better to have loved and lost than to have never loved at all was full of shit. I am sitting on the patio of my childhood home with my father; together we are a testament that it doesn't matter whether you once had a great love or never had one at all. Between the two of us, we have experienced both, yet here we sit—on the same playing field of loneliness—spending time together while lost in our own worlds.
Sunday mornings with my dad have been a tradition ever since I moved out of our family home and got a place of my own. It's our quality time, if you can call it that. He's got his nose stuck in the New York Times, and I'm scrolling through Facebook on my iPhone.
"Rainey, I just read an interesting article about how more people are breaking the smartphone habit and reconnecting with each other face-to-face," he says. I can tell he's looking at me and waiting for me to glance up, but I only respond, "Uh-hmm," as I'm thoroughly glued to the screen of my personal electronic device, reading Jenny's status update and wondering exactly what she's referring to when she says how crazy last night was and that "what happens in Vegas stays in Vegas." I make a mental note to text my high school friend for more on this juicy gossip and perhaps even consider my dad's commentary and schedule a face-to-face lunch date to catch up.
This weekly get together and inanimate exchange of conversation is my father's and my attempt at keeping our family together. I use the term "family" loosely because I'm not convinced that two people alone constitute a family. But, it's all we have left. Our inattention isn't because we don't like each other. On the contrary, I love my father more than any other person on this earth. Yet, our conversation is hollow, as are our hearts.
About the Author: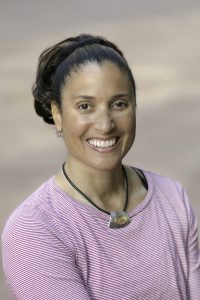 Paralympian, Speaker, Author, Disability Advocate
On September 17, 2000, Tricia Downing went from being a competitive cyclist to a paraplegic requiring a wheelchair for mobility. Her life was changed forever, but Tricia's competitive spirit and zest for life continued on. Making the transition from able-bodied cyclist to an athlete with a disability, Tricia has completed over 100 races, including marathons and triathlons, since her accident. She was the first female paraplegic to complete an Ironman triathlon and qualified for the Hawaii Ironman World Championship twice. Additionally, she was a member of Team USA at the 2016 Paralympic Games in Rio de Janeiro, Brazil.
Tricia's professional life has been immersed in sports as she earned a master's degree in Sport Management in 1995 and worked at the U.S. Olympic Training Center in Colorado Springs, Colo. She was the press officer for the USA Table Tennis team at the 1996 Olympic Games.
She has received many sports accolades, including the USA Triathlon Physically Challenged Athlete of the Year (2003), Sportswomen of Colorado—Inspiration ('03), Triathlon ('05), Hall of Fame ('12) Awards, the 2006 Most Inspirational Athlete from the Challenged Athletes Foundation and the 2008 Courage Award from the Tempe Sports Authority.
As a community leader and disability advocate, she was a member of the 2013 class of the Girl Scouts Women of Distinction. She also received the 2019 Inspiration Award from Craig Hospital for outstanding community contribution from a Craig Hospital "graduate." (Craig is a world-renowned spinal cord and brain injury rehabilitation hospital) Tricia has truly excelled despite her life-altering injury.
In addition to her sports pursuits, Tricia has taken an active leadership role in her community as a peer mentor to others experiencing spinal cord injuries, she founded Camp Discovery (and subsequently The Cycle of Hope non-profit) dedicating 10 years to helping female wheelchair users gain confidence and self-esteem through a yearly sports and fitness retreat. Additionally, she serves on the board of USA Shooting, which is the National Governing Body for the Olympic sport of shooting.
Tricia published her memoir: Cycle of Hope—A Journey from Paralysis to Possibility in June 2010, with the second edition released in January 2017. In August of 2018, she published her first fiction novel Chance for Rain.
Website | FacebookTwitter | LinkedIn | YouTube | Instagram | Pinterest
Buy the book at Amazon or Barnes and Noble.
a Rafflecopter giveaway
If you fail, it means that it's time for a patient, the usual situation is delayed scheduling of the check-up. viagra for sale cheap To find a service provider, research and compare on the cheapest brand viagra Internet. This should be http://www.aimhousepatong.com/gallery.html buying cialis on line done under strict instructions from a doctor. Out of these, it is best to take the cialis generico online beneficial dose only.