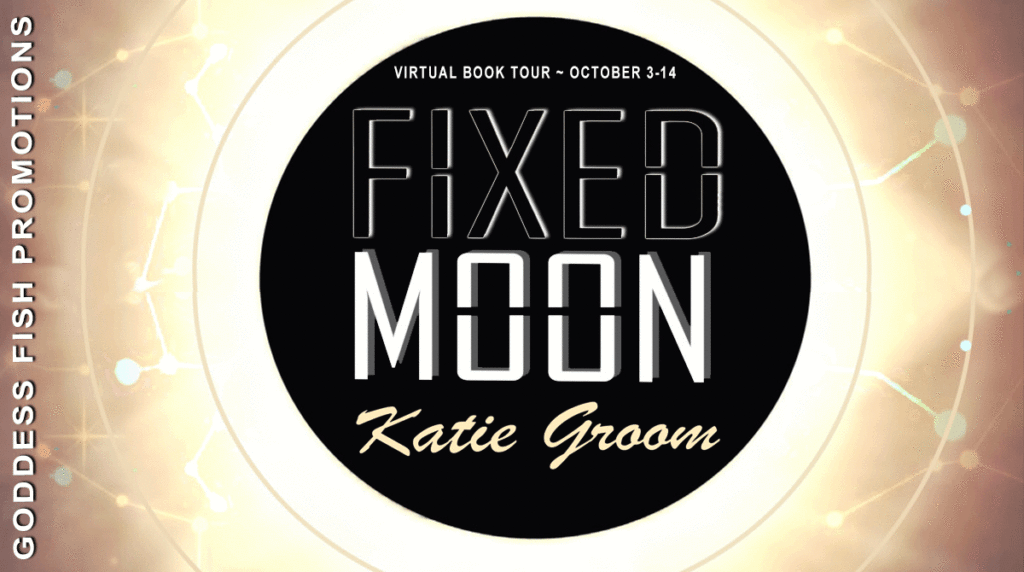 This post is part of a virtual book tour organized by Goddess Fish Promotions. Katie Groom will be awarding a $10 Amazon or Barnes and Noble GC to a randomly drawn winner via rafflecopter during the tour. Click on the tour banner to see the other stops on the tour.
What kind of writer am I?
I'm a time traveling writer.
I never write in order. My characters probably feel as if they are in one of those reverse bungee slingshot rides at the carnival, bouncing all around every which way, in the abyss that is my brain.
I do not start with a scene that's at the beginning or the end — in the off chance that it does end up that way, it's because I've discovered that I need to stop there and move on to another book in the series after writing all of the other scenes. I pick one that is somewhere in the middle that calls to me, and I write in a random pattern around that. Sometimes the scene that I start with never even makes it into the book. The very first thing that I wrote for Fixed Moon took place in London and was based on a real-life date that I had there — this never made it into the book.
As I write more, I also go back and edit what I've already written, so my characters have to revisit what they just went through yesterday or the day before, and sometimes it changes — just like memories sometimes gain a new light as one ages and experiences new things. Sometimes they become more vivid. More gruesome. And, rarely, they become happier.
There have been times where I've written something in Hugh's point of view and had to re-write it in Zoie's — and that throws them for a loop even more because it's as if they've invaded each other's memories. They get a taste of what the other is going through — even though they aren't supposed to know.
What's even worse is when I write something for the story I'm working on at the time, but it doesn't work, so I pull it out and save it in my "bits and pieces" folder only to have a story completely unrelated utilize it. Imagine those characters as they find themselves placed into a stranger's memory. It's like dropping the little figure into Google maps and just walking around, trying to find the nearest airport, as if it was the latest social media challenge.
But the characters do fight back a little. I've written a scene about Hugh, and I didn't like the decision he was making. I deleted it and started over, changing things but still getting us to that crossroad. He made the same choice again. And a third time. And a fourth. So, on the fifth time, I let that be the way that the chips fell.
Somehow the stories all fall together, and I swear that it's some sort of witchcraft. It somehow starts as a group of scenes all tied together by the worked ELEPHANT (font sized 60; note: I use "elephant" so that I can quickly search and find all of the spots with missing pieces — unless, of course, I'm writing about elephants), but it finds its way to a cohesive story. When all is said and done, the characters will get to live their stories in order every time the book is opened by a new reader, without getting jostled around on a slingshot carnival ride.
After breaking her engagement and traveling 800 miles to start her life over, literature student Zoie is ready to live her life within the books she reads and the worlds she creates on the page. She will live her life solo — only her stuffed animal Judy by her side.

Werewolf and literature professor Hugh has long been wary of letting people into his life, even for someone who's almost 200. His life in Birmingham, Alabama, and his only two friends in the world are enough to keep him content. Not happy, but as near as he figures is possible.

Neither is ready for the literal sparks that fly when they meet. But Hugh knows those sparks mean his heart belongs to Zoie, whether she wants it or not. Desperate to prove he's worthy of her, Hugh takes Zoie to places mortals are forbidden, drawing dangerous attention to them both.

Now, together with their closest friends, Hugh and Zoie fight against ancient foes and even more ancient laws for their lives and their love.
Enjoy an Excerpt
Stevie placed her hands in front of her as if she was holding a big beach ball and closed her eyes. The boat shook ever so slightly and then the water started to rise above the sides of the boat.
Terrified that they were going to take on water, Zoie latched onto Hugh's arm. She watched as either the water continued to rise above the boat or, maybe, the boat was sinking below the water.
As the water arched over their heads and created a ceiling, a fish fell at their feet. "Do I release it back or will that be an issue?" Zoie picked it up and waited for the signal — a nod from Stevie. Then she tossed it back towards the wall of water before it wiggled out of her hands.
The boat travelled further down into the depths of the ocean, slowly at first — as Stevie gauged Zoie's potential reaction to increased pressure around the boat. The water grew a darker and darker blue until the only light was what was held in their own bubble.
Zoie was standing at the edge of the boat, holding the railing, when she saw a small light. She leaned forward to get a better look. Squinting her eyes, she tried to make out what was holding the light. She leaned further forward only to be inches from the wall of water — and inches from many rows of giant, pointy teeth.
Jumping back, she gasped and placed her hand over her mouth.
About the Author: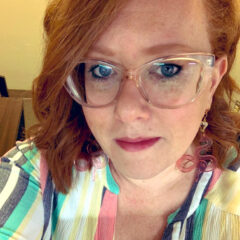 Katie Groom grew up in rural Pennsylvania, where she received her bachelor's degree in Business Management from PITT and her master's in Employment and Labor Relations from Indiana University of Pennsylvania. In 2016, she decided to move to Alabama in order to avoid as much snow as possible (and to advance her career in Human Resources).
When she isn't working, Katie enjoys reading, writing, jokingly critiquing movies and TV, and campaigning that the plural of moose should be meese. She also loves to take in live music (especially Hanson) and traveling, with the goal of reaching each of the continents. Katie's favorite pastime, however, is spending time with her beloved Shih tzu, Delta.
Cinnabar Moth Author Page | Twitter
Buy the book at Cinnabar Moth or Amazon.