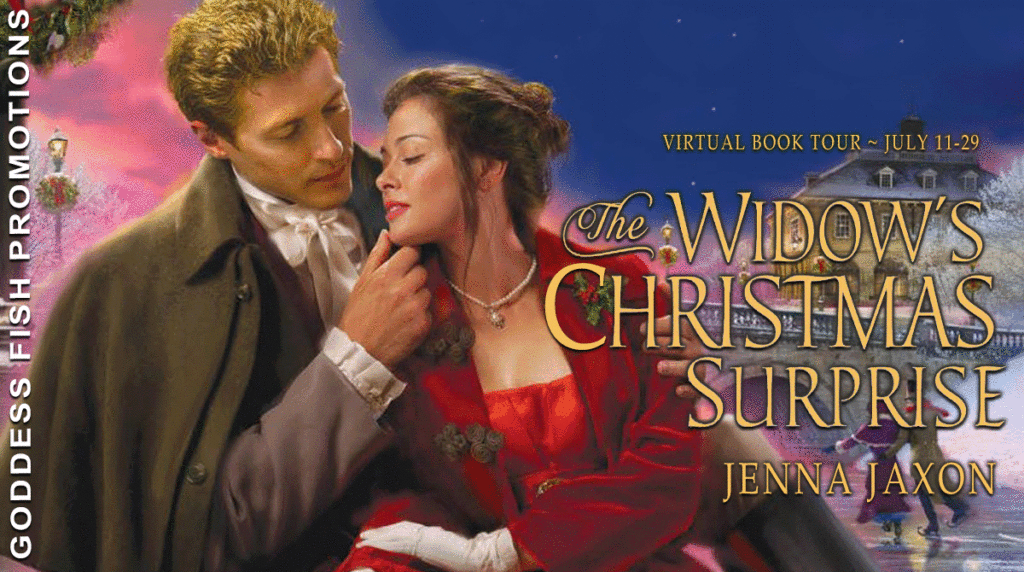 This post is part of a virtual book tour organized by Goddess Fish Promotions. Jenna Jaxon will be awarding a $20 Amazon/BN GC to a randomly drawn winner via rafflecopter during the tour. Click on the tour banner to see the other stops on the tour.
WHAT I LEARNED FROM MY VILLAIN
This is a hard/tricky question for this book, because it actually has two villains and I learned something from both of them. The first villain in The Widow's Christmas Surprise is Maria's (the heroine) second husband, Allan, Lord Kersey. Her first husband died at Waterloo, leaving her a very young widow. She seduced/was seduced by Lord Kersey and married him. This is the backstory, although at the end of the first book of the series, we are given the hope that the couple will do just fine. Rakes make the best husbands.
Except when they don't.
And as I was writing the series, I became convinced that Allan would not change his ways. He would cheat on Maria and she would be miserable. This book opens with Allan getting ready to go out and duel with a man whose wife he was found in bed with. Yeah, Allan is pretty dastardly.
But I also became convinced that some villains could be redeemed at the very last minute. They may be rakes or blackguards or cads, but they could still have a shred of decency in them and redeem themselves in surprising ways—Allan's is by showing heretofore unknown courage and a final thought for his wife and child. I find sometimes I want to redeem a villain and sometimes they earn that last bit of grace.
The second villain, Lord Wetherby, taught me that sometimes everything I just said above doesn't hold true. Sometimes the villain is simply a villain and so gets their just desserts, either death, or imprisonment, or merely a money-grubbing shrew for a wife. We don't learn Lord Wetherby's ultimate fate in The Widow's Christmas Surprise, but I can guarantee, it will be exactly what he deserves, no redemption in sight.
The death of her husband has thrown Lady Maria Kersey's future into doubt—and her heart into the arms of a man she cannot have. But Christmas with the Widows' Club will bring choices—and surprises–that may change all her holidays to come . . .

Maria just gave birth to her first child, a beautiful daughter—but the event is shrouded in sorrow. A month earlier, Maria's husband, Lord Kersey, was killed in a duel under compromising circumstances. Worse, Maria's failure to provide a male heir has stripped her of any hope of an inheritance. Scorned by the ton, one of her few allies is her late husband's steward, Hugh Granger. Hugh is everything her husband was not—warm, charming—and penniless. . . .

Hugh has fallen desperately in love with Maria, but has little to offer but comfort. As their attraction becomes impossible to resist, Maria flees to London to spend Christmas with her dearest friends, a group of widows who lost their own husbands in the Battle of Waterloo. Little does she know the holidays will reveal a twist of fate she never expected—proving that the greatest Christmas gift is the magic of true love . . .
Enjoy an Excerpt
"I see the skating came back to you," he steered them down the center of the frozen pond toward the bulrushes at the end, then turned to head back up the far side.
"It did–this is so marvelous–I did not realize how much I had missed it until I started to skate." Maria's excitement was infectious. He'd not thought of skating since last year, but now the thrill of the speed—almost like flying—seemed one of the most exhilarating things he'd ever done. "Take my hands like this."
He clasped her hands, left in left and right in right, until they faced one another, then he began to spin them around, faster and faster until the world sped by at a dizzying pace.
Maria leaned her head back, laughing up to the cloudless sky, her face more beautiful than he'd ever seen it.
He slowed them down until they stood facing one another, panting. "I love you." Hugh managed to get the words out before he sank his mouth onto hers.
The kiss was quick—they were still both gasping for breath—then a gulp of air, then he kissed her again. Longer this time, pressing against her even as he wrapped his arms around her and drew her to him. Another breath and he settled in for a lengthy kiss that he deepened, delving through her lips, into her mouth, tasting all the entrancing flavors that were uniquely her. God, he would never get enough.
About the Author: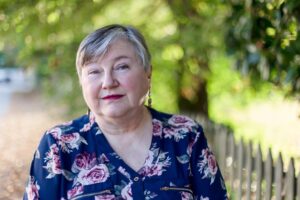 Jenna Jaxon is a best-selling author of historical romance, writing in a variety of time periods because she believes that passion is timeless. She has been reading and writing historical romance since she was a teenager. A romantic herself, Jenna has always loved a dark side to the genre, a twist, suspense, a surprise. She tries to incorporate all of these elements into her own stories.
She lives in Virginia with her family and a small menagerie of pets–including two vocal cats, one almost silent cat, two curious bunnies, and a Shar-pei mix named Frenchie.
Blog | Facebook | Twitter | Instagram | TikTok
Buy the book for only $0.99 at Amazon.