Enter the Rafflecopter below for your chance to win a $100 Amazon/BN GC and more!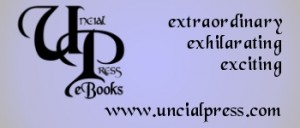 Uncial Press offers a variety of fiction genres, including Regency, historical and contemporary romance, mysteries, thrillers, and unusual fantasy, both romantic and epic. Occasionally we add a poetry collection or an interesting (and usually humorous) nonfiction work. We've been around since 2006 and plan on offering extraordinary ebooks far into the future. Find us at www.uncialpress.com, or look for our titles at most ebooksellers.
https://www.facebook.com/UncialPress
http://www.twitter.com/UncialPress
Now enjoy a taste of their summer themed story, Summer Heat.
Electra Hamilton is expecting to welcome a lover. What she gets is his annoying, nerdy brother. The man has always made her uncomfortable, always disapproved of her and, frankly, drives her stark-staring crazy. Yet all her friends seem to think he is perfect husband material.

Drew Bolinger knows that courting the woman he has secretly loved for years will be his toughest challenge yet. She thinks he's an interfering know-it-all. She also happens to be his brother's best friend. But when the sleepy town of Little Creek becomes a hotbed of intrigue and murder, Drew not only has to fight hard to keep a skeptical Electra safe, but convince her, at the same time, that he is her true hero.

Buy Summer Heat from Uncial Press.