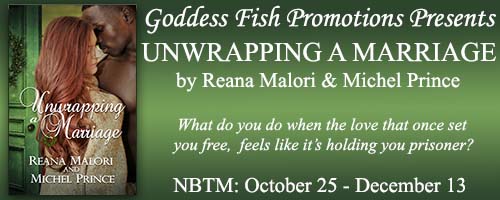 This post is part of a virtual book tour organized by
Goddess Fish Promotions
. Reana Malori and Michel Prince will be awarding a $15 Amazon or Barnes and Noble GC to a randomly drawn winner via rafflecopter during the tour. Click on the tour banner to see the other stops on the tour.
Favorite Vacation Destination
Michel- I really loved going to Jamaica, I got to cliff dive, float in the sea, snorkel and spend time relaxing. It's a laid back culture. The hardest part for my husband and I was turning off the internal schedule. Since we didn't have our son with the only people we needed to entertain was ourselves. The people of Jamaica are great at helping the tourists stop, sit and relax. I need to go back when we have more time now that I've finally learned how to vacation.
Things I Like Doing When I'm Not Writing
Reana – My two favorite hobbies are reading and dancing! There is nothing better than settling down with a good book and escaping into a new world and getting to know the characters. Reading is escapism for me and after a hard day of work, to just enjoy diving into a new universe is one of the best things for me. Dancing is another thing I love. All types of dancing! In 2007, I began taking country line dance lessons and it's so much fun. My husband isn't a fan, but he humors me a lot and will take me out and just hangout while I live on the dancefloor.
What do you do when the love that once set you free, feels like it's holding you prisoner?

Sterling and Elizabeth Jackson have built a life most would envy. A beautiful home, two wonderful children and a very comfortable lifestyle. Yet something is tearing them apart. With divorce looming, they are trying to make it through the holiday season for their family.

With clashing schedules, demands from employers and two busy kids, the former lovers have managed to stay out of each other's orbit, at least for a while. But Fate, or maybe their well-meaning family, has set them up on a collision course.

Past memories bubble up to the surface and there's nothing to stem the flow. What once was amazing has turned hurtful and full of pain. But is that the real story? Is it too late for a couple who once lived and breathed for each other to find their way back?

There's a thin line between love and hate. Will Sterling and Elizabeth be able to mend a love that seems broken and lost, or will the final pull on the holiday ribbon unwrap their last chance to save their marriage.
Enjoy an Excerpt:
Pulling herself together as the memory faded, Beth put on a pair of fuzzy pajama bottoms and an old t-shirt from college. With her hair already in a ponytail, she was ready for bed. When she opened the closet door, the sound of a shower caught her, quickly followed by steam. The glass of their shower door was misted over but she could still make out Sterling's dark form inside. His hands were locked together with his fingers splayed. Catching water in his palms, then bringing them over his head to rinse the soap from his skin, his back arched. Beth's core clenched. How long had it been since he'd touched her? Since she'd been touched at all? Her eyes traveled down his body making out the smudged form through the glass. If the old adage about the first husband being all about good looks, then he hit it on all levels. Traces of white trailed along his dark skin from the soap and she leaned against the doorjamb to watch the show. He wouldn't be thinking she was ogling him and technically, he was still her husband.
She shifted and moved away when her hand grazed the extra flesh of her stomach. No wonder he wasn't groping at her. She wasn't the same young woman he'd met all those years ago. Life changed her. No, she'd allowed herself to change and as a result, it changed his attraction to her. After the divorce was final, if she ever wanted to be touched again, something would need to be done.
The shower turned off. She pulled away from the bathroom door and crawled into her side of the bed. Facing away from the en suite bathroom, she buried her face in her pillow and wondered when the man of her dreams had begun to despise the sight of her.
About the Authors:Reana Malori writes Contemporary novels focusing on Multicultural / Interracial Romance. She firmly believes that love in all its forms should be celebrated and her stories reflect that belief. She hopes to weave stories that pull the reader into her world and helps them to share in her universe, even if only for a short time.
An avid reader since the age of 14, she decided to pursue her passion in 2009 and released her first novella, To Love a Marine. Since then, she has released more than 20 books, to include Weekend Fling, Escape to Heaven, Closer to You and Finding Faith.
When she is not writing, you can most often find her enjoying a good book as she is, first and foremost, a romance reader. Reana currently resides in Montclair, Virginia with her husband and two sons who keep her busy laughing, having fun, and making sure she doesn't take herself too seriously.
Michel Prince is an author who graduated with a bachelor degree in History and Political Science. Michel writes new adult and adult paranormal romance as well as contemporary romance.
With characters yelling "It's my turn damn it!!!" She tries to explain to them that alas, she can only type a hundred and twenty words a minute and they will have wait their turn. She knows eventually they find their way out of her head and to her fingertips and she looks forward to sharing them with you.
Reana's Facebook | Michel's Facebook | YouTube
Buy the book at Barnes and Noble, Amazon, Smashwords, or Kobo.