This post is part of a virtual book tour organized by Goddess Fish Promotions. E.M. Bannock will be awarding a $10 Amazon or Barnes and Noble GC to a randomly drawn winner via rafflecopter during the tour. Click on the tour banner to see the other stops on the tour.
I'm E.M. Bannock. My book, Totally Devoted, has just been released by 5 Prince Publishing. I'd like to thank my hosts at Long and Short Review for having me here today. I welcome you out there and hope that by the end of this blog you'll be enticed and intrigued enough to buy a copy for your entertainment pleasure.
I've chosen to tell you a little about the background of this book. It's a meshing of real life and imagination. In the early 1990's I found out, with the rest of my family, that one of my younger sisters had Breast Cancer. The news was devastating. My sister was in her mid 30's and had two beautiful daughters; her oldest was just getting ready to start Kindergarten. She fought a hard battle; surgery, chemo, everything. Within two years she was gone.
Just before she was diagnosed she found out her husband had been cheating on her. When she confronted him he promised he would break it off but he never did. This should sound familiar with anyone who has already read Totally Devoted, since this story line is threaded throughout the book.
I've mentioned in previous stops that the idea for the book came to me in a dream and I thought of the storyline details on a jet circling the city of Detroit. I had always intended for my sister to be a mention in the book, it wasn't until I actually started writing that I thought I would extend the mention and develop it into a sub-plot with a situation and solution at the end.
Without going into specific details let me just say that the majority of the storyline regarding "Shelly" is absolutely pulled from memory. The rest is what I call Therapeutic Sweet Revenge.
As for the main storyline, except for the two main characters sharing some characteristics of me and my husband, it's pure fiction. We did in live beautiful southern Oregon for a time. We rode horses through the mountains. The descriptions of the town of Grants Pass and the mountain trails are drawn from memory. I hope I'm able to convey their unique quaintness and beauty.
One other interesting fact about Totally Devoted is that the short stories that Marie wrote in high school that she eventually turns into the book called Dirty Stories of a Rich Girl, do exist. I've just never turned them into a book, and I wrote them later in life, not high school.
I believe that the best writing comes from things you know. I would never write about a place I hadn't been to myself. I'm planning on a trip to Nevada in the coming year to research my new book, Zoey's Place which is about a woman who opens a spa/brothel for women. Prostitution is only legal in certain counties in Nevada and I'll have to scout locations. I love to travel so chances are, no two books will ever take place in the same location.
I try to write in plain but descriptive language. I use everyday talk and words that normal people use. My book is strictly for entertainment but at the same time it is an example of the struggles and cruelty of life. How everyone deals with what they've been handed. And how, against all odds, two people, different as day and night, can find each other and, overcoming their differences, fall in love. The trials they face demonstrate the strength of their love and prove that love conquers all.
I hope I've given you just enough to make you hungry for more of Marie and Wil, and curious enough to find out how I take Therapeutic Sweet Revenge on the cheating brother-in-law.
This has been lovely and I want to thanks again my hosts at Long and Short Reviews for the opportunity to introduce everyone to Totally Devoted. Happy Reading and never stop believing in love.
Ten years after the death of her husband and young son, Marie Trousdale decides to move from Los Angeles, California to a small rural Oregon town and hires Wil Townsend, a local contractor, to build her dream home on property she inherited from her deceased husband.

Although they couldn't be more different in every way possible the two fall in love. Things get complicated when Marie changes occupations. When she is put in danger, Wil must decide if his love is stronger than the differences that separate him from Marie.
Enjoy an Excerpt
From the description she was given by the hotel desk clerk, she figured she wouldn't have much trouble finding the guy—grungy black cowboy hat, well-worn cowboy boots, scruffy beard, jean jacket, and Levi's, sitting at the corner table. She was right. He wasn't hard to spot. It was Monday night, and there were only a handful of people in the place. There he was, sitting at his regular corner table, with his back to the wall, his chair up on two legs, and his feet propped up and crossed on the chair next to him. There was a glass of beer and a half-empty pitcher in front of him. She wondered how many pitchers he had drained before this one. The desk clerk said he had a lot of funny habits. The clerk said the guy always sat with his back to the wall, so no one could get the jump on him. He probably watched too many John Wayne movies.
About the Author: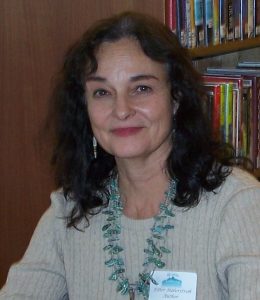 E.M. Bannock was born in 1950 and grew up in the Detroit suburbs. Her love for writing began during high school where she excelled in writing short stories and poetry. Born with the wanderlust, she found herself in Los Angeles, an exciting place to be in the early 70's, and E.M. experienced all that it had to offer. It was here she met her husband. She has lived in California, Oregon, Alaska, Florida, and Wyoming, where she now lives with her husband, son, daughter-in-law, grandson and a menagerie of cats, dogs, chickens, and horses.
Facebook | Twitter | Publisher
Buy the book at Amazon.