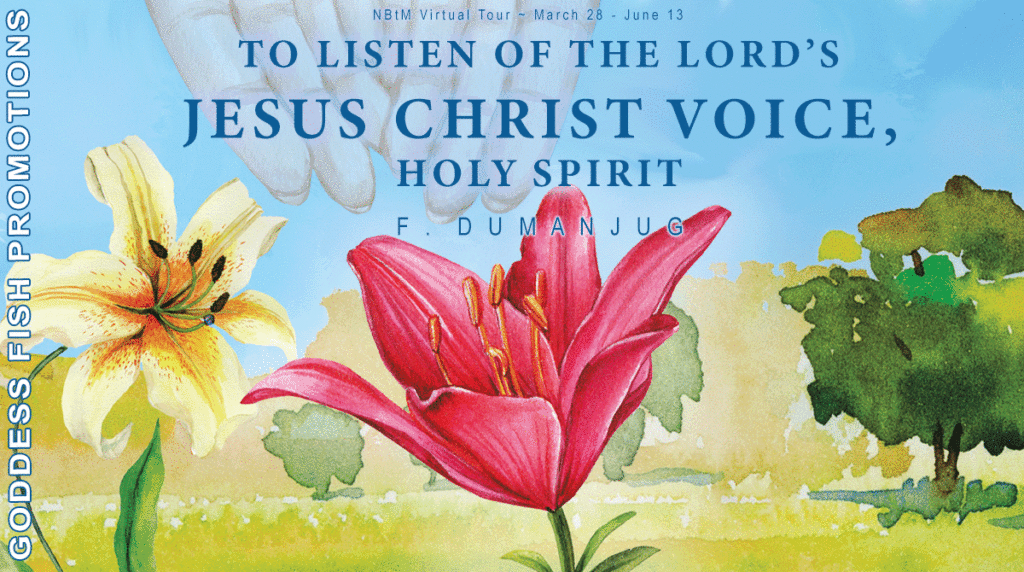 This post is part of a virtual book tour organized by Goddess Fish Promotions. F. Dumanjug will be awarding a $15 Amazon/BN GC to a randomly drawn winner via rafflecopter during the tour. Click on the tour banner to see the other stops on the tour.
My encounter with the Lord Jesus Christ, the Holy Spirit, came with his all plans, instructions, and directions about this project. It is all perfect for me. Says the Lord, "You will write a book from your journal." The Lord says, "I can't wait to have people get that book." The Lord wants to reach out to people around the globe, to return to him, with repentance, and believe and accept him by faith in order to be saved by his grace and mercy, that the Lord Jesus is a true living God, and his spirit live within us. The Lord said, "This book, I will make it happen, and it will be done."

My childhood has been very difficult, not knowing what my future holds in life. Almighty God gave me guidance, and he allowed me to do what I needed to do according to my plan in life. But not with God's plan. Living in Australia has given me opportunity to achieve my goal in life. When I reached the point of perception in life, the Lord Jesus Christ gave me a free will, which I should follow. The worldly living is only for today and now, or I can choose to follow Christ for eternal life after earth with rewards in heaven. The breath of the Almighty gives me life, and new creation.

Isaiah 55: 9: "As the heavens are higher than the earth, so are my ways higher than your ways and my thoughts than your thoughts." I live in Christ right now, I don't make decision for myself, I consult the Lord Jesus and depend on him for what the Holy Spirit wants me to do. To glorify the Lord our heavenly Father, amen!

Such as Behold I am coming soon! just a matter of time! keep looking up! be ready for a wedding banquet is being prepared for his people! It won't be long now! Anyone makes sure you don't miss it! The Lord Jesus is waiting for the last souls. But won't be forever! because there's a time due!

Decide now, tomorrow will be too late.
Enjoy an Excerpt
MY LOST SOUL
First, I would like to give you a bit of a background about myself. I was born in a poor family in Ozamis City, Philippines. My mother was a Catholic believer. I am the oldest in the family. I have five sisters and three brothers; my father was also a Catholic. Our house was next to a chapel in this village. All my siblings, our whole family, was brought up Catholic. My mother believed a ritual, spiritual belief that whoever of us in the family was sick, she would call her uncle to treat the sickness. When I was sick, my mother advised a massage to manipulate dislocated bone in the arm, or in the foot—stuff like that. Then it was healed. When my younger sisters were ill, my mother's uncle did these food offerings. He normally brought the food outside the house, and right there he did a spiritual ritual somewhere in a quiet place, for about an hour. Then, when he finished performing the offerings, he would bring the food back inside our house for us to eat. I was only nine years old at that time. My mother taught me to attend a festival called Santo Niño in Clarin, one of the provinces in Ozamiz, where they celebrate every year. My mother believed it was a good thing to be involved in. As a child I did not know what it meant, what I was doing, or why—only that my mother had told me to do it. During childhood I counted the number of days my mother went to church, and I wanted to go to every Sunday. However, we were not allowed to leave the house on Sundays, even to go to church. All my siblings were involved in making rice cakes—that was our parents' business back then. We made them and sold in the market, in order to survive, to put food on the table for our family.
About the Author: F. Dumanjug is an Australian author who writes to share the message of God. A devout Christian, she has overcome challenges in her journey to fulfill her calling as an author. Through her writing, she hopes to inspire others and help them understand the power of faith.
Website
Buy the book at
Amazon
.