This post is part of a virtual book tour organized by Goddess Fish Promotions. Peggy Jaeger will be awarding a $25 Amazon or Barnes and Noble GC to a randomly drawn winner via rafflecopter during the tour. Click on the tour banner to see the other stops on the tour.
The Story of Getting Published
Three years ago I was going through the worst menopause Mother Nature ever bestowed upon a female. I was the human definition of a hot mess with too much time on my hands. My only child was grown and gone; my husband still worked full time; perpetual and soul-sucking hot flashes kept me up nights and my brain—like a rabid energizer bunny—never shut down. There's only so much housekeeping, shopping and cooking a person can do in a day. My floors sparkled, the checkout people at the market knew me by first name, my cabinets were organized as if Martha Stewart had arranged them, and my husband gained five pounds from all the new recipes I tried. I'd always liked to read, but starting and finishing a book in a day was a little much, even for me. I needed something to motivate me to get out of bed and showered every morning and to fill those daylight hours productively.
One March midnight, with a snowstorm blustering outside my New England home, I was sitting in the living room with the air-conditioner turned to high and blowing directly at my hormonally-charged, naked and perspiration-dripping body, when I started writing down a story that'd been swimming around in my brain for a while. I'd always wanted to write the great American romance novel but never had the time. I'd had a tiny bit of success over the years writing freelance pieces about everything from health care (I'm a Master Degreed Registered Nurse), to motherhood and child-rearing, but writing a romance novel had always been my dream since I'd read my first Nora Roberts book.
Three months later I had 350 pages. The day I typed The End is a moment I will never forget. The fact it occurred at 2:25 in the morning and I was sweating like a working farm animal might have some bearing on that.
Now what? I had a story I loved but wasn't sure it was any good, had any merit, or even if it was coherent. Were my characters likable? Believable? Was the plot interesting or as dull as my brain before morning caffeine? Since none of my friends were romance readers I knew they couldn't be depended upon to give me valuable feedback because they'd all be loyal and tell me it was wonderful even if it stank. So I decided to enter a romance writing contest. I knew romance contests offered critiques on the entered work and that's what I wanted – someone connected to the industry to tell me I was either on the right track, or to get the hell off the train because I had no talent.
So I submitted the first three chapters as instructed.
I'd never entered a contest for anything before. I wasn't that kid who ripped off the back of a comic book and entered a giveaway promotion for a soon-to-be-released-must-have-toy. I didn't clip the Sunday ads begging the reader to enter for a chance to win free samples. Heck, I didn't even buy lotto tickets when the prize was half a gazillion dollars. Entering a contest was something I'd never considered because I just didn't believe in luck. To me, the real definition of luck is when opportunity meets preparation, so blindly entering a contest to win a prize wasn't on my radar. Entering this writing contest though, where I'd actually prepared something for someone to judge, was a totally different incentive for me.
I knew – knew – I didn't have a chance at winning. But, I wasn't entering to win. I was totally invested in the notion my writing would be judged and when I'd get a critique and score back, I'd know if the direction I was moving in was worthwhile. I told myself if the work truly was horrible, at least the critique would show me the areas to address. The added benefit of submitting the chapters, I soon realized, was the people judging me didn't know me from Adam – or in my case – Eve. Criticism, I've found, is much easier to take when you don't know the person who is critiquing you.
An amazing thing happened: I won my category. And not only that, my judge was the publisher of The Wild Rose Press. She contacted me and told me she'd enjoyed what I'd written and asked if I'd submit the entire manuscript to one of their editors. Would I? Damn straight I would.
So I did. Again, I had no preconceived notions of anything stupendous happening. Just the fact she'd asked to see more than the three chapters she'd read was encouraging. I assumed the editor would email me, saying, "Thanks for letting me read this, but it's not for us," and that would be that.
But it wasn't. She liked it too, so the Wild Rose Press contracted to publish it. At fifty-four years old I had a dream come true. A true middle-aged Cinderella moment. To say my life changed forever in the instant I won that contest category would be an understatement. To have a publisher truly like what I'd written and like it enough to take a chance on an unknown, menopausal, sleep-deprived empty nester fifty-four year old bottled blonde with crow's feet and a muffin top, was not only a dream come true, but a modern day miracle.
My first book was published in March 2015 with 8 more since, and one due out in 2018. I will never regret entering that contest. It opened doors I don't know would have ever opened for me otherwise. If I hadn't made the decision to take a chance and submit my story, I think my life would still be the same, unfulfilled, overworked, sweaty, hormonal one it had been.
I'm still sweating and hormonal, but I'm also a Published Author.
Life is so much better now– hot flashes and all.
Nothing's impossible when love is on the menu. In Peggy Jaeger's luscious series, the only thing more tempting than a delicious meal is a truly delectable romance . . .
Look for exclusive recipes in each book!

Photographer Gemma Laine is looking for arresting faces on the streets of Manhattan when her camera captures something shocking—a triple murder. In that moment, she becomes a target for the mob—and a top priority for a very determined, breathtakingly handsome, FBI special agent. With deadlines to meet and photo shoots on her calendar, Gemma chafes at the idea of protection, but every moment she spends under his watchful eye is a temptation to lose herself in his muscular arms . . .

With two of his men and one crucial witness dead, Special Agent Kyros Pappandreos can't afford to be distracted. But Gemma is dazzling—and her connection to Kandy Laine's high-profile cooking empire makes her an especially easy mark for some very bad people. Keeping her safe is much more pleasure than business, but as the heat between them starts to sizzle, Ky is set to investigate whether they have a shot at love . . .
About the Author
A woman stood next to the vehicle, a cell phone at her ear, her back to him. Tall, maybe as tall as him, and slender, her back tapered down to a miniscule waist, her legs clad in tight, faded jeans. When she turned Ky almost stopped midstride, the questions he intended to grill her with jumping out of his head. His breath caught as he simply stared at the loveliest woman he'd ever seen.
Hair the color of midnight, straight as a board, fell to just below her shoulders, blowing back from her face in the gentle afternoon breeze. Blunt, chopped bangs, fringed a pair of large, bright blue eyes. Plump, coral colored lips moved as she spoke into the phone and for a brief, hot second, Ky wondered if they'd taste as delicious as they looked.
Her gaze stayed on him as she spoke.
"I've gotta go," she said into the phone. "Yeah. I'll call when I'm done. Love you, too."
"Miss Laine?"
She tucked the phone into her back pocket.
"I'm Special Agent Pappandreos. I need to speak with you about what you saw."
"Special Agent?" Those delicate brows furrowed under her bangs. "Like, FBI?"
Jesus, where does a woman get a voice like that? Whiskey laced with honey and rolled into one smooth pitch.
About the Author: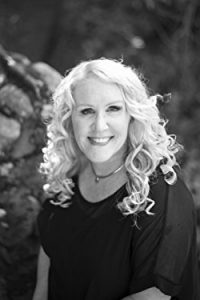 Peggy Jaeger is a contemporary romance writer who writes about strong women, the families who support them, and the men who can't live without them.

Family and food play huge roles in Peggy's stories because she believes there is nothing that holds a family structure together like sharing a meal…or two…or ten. Dotted with humor and characters that are as real as they are loving, Peggy brings all topics of daily life into her stories: life, death, sibling rivalry, illness and the desire for everyone to find their own happily ever after. Growing up the only child of divorced parents she longed for sisters, brothers and a family that vowed to stick together no matter what came their way. Through her books, she has created the families she wanted as that lonely child.

Tying into her love of families, her children's book, THE KINDNESS TALES, was illustrated by her artist mother-in-law.

Peggy holds a master's degree in Nursing Administration and first found publication with several articles she authored on Alzheimer's Disease during her time running an Alzheimer's in-patient care unit during the 1990s.
In 2013, she placed first in two categories in the Dixie Kane Memorial Contest: Single Title Contemporary Romance and Short/Long Contemporary Romance.

In 2017 she came in 3rd in the New England Reader's Choice contest for A KISS UNDER THE CHRISTMAS LIGHTS and is a finalist in the 2017 STILETTO contest for the same title.

A lifelong and avid romance reader and writer, she is a member of RWA and her local New Hampshire RWA Chapter.
Website | Twitter | Amazon Author Page | Facebook | Pinterest | Goodreads | Instagram