This post is part of a virtual book tour organized by Goddess Fish Promotions. Lucille Moncrief will be awarding a (US ONLY) signed paperback copy of Book 4.5 and a poster of the series (The series is illustrated) to a randomly drawn winner via rafflecopter during the tour. Click on the tour banner to see the other stops on the tour.
A captured mermaid, two vampire hives on the brink of war, and a bored, sadistic king weave a tale of forbidden love in this spin-off from Moncrief's Nefarious series.

Follow Hannibal Steele, chief alchemist of the Scion Hive, as he races against the clock to produce the coveted Bone Elixir. Will he finish the elixir in time before the Great King Abaddon murders Hannibal's love, Emmeline, princess of the rival Minoa Hive?

Find out in this thrilling, fast-paced tale set in a steampunk world, where the sea rises in anger at the capture of her princess, wolves howl within the hoary swirls of a white potion, and mermaids join forces with a lonely alchemist in the foggy Georgia night.

~~~~~

Nefarious Volume One

Penny Dreadful meets Fifty Shades

Book 1 of 6 of Lucille Moncrief's the Nefarious Series

Talcott Henderson, dead for over one hundred years old, wants to live again. Enslaved and abused, he longs to destroy his maker and return to the world of the living. But first, he must replace himself with someone else. Armed with only a silver tongue and a fuzzy sense of right and wrong, he sets his sights on Elyse Delafayette, a lonely melancholic. But Samuel Quartermaine, a vampire hunter with a dark past of his own, bears a grudge against Talcott's maker, and stalks Talcott from the shadows of the cemetery walls.

Will Talcott succeed in convincing Elyse to join the ranks of the undead before Samuel can stop him?

Fans of Dracula, steampunk, and gaslight fantasy will love this collection of dark and lurid tales. If you're tired of sparkly vampires and sickly-sweet romances, sink your fangs into the Nefarious Series and get a bigger bite out of the vampire world.


~~~~~

Nefarious Volume Two: Honor the Suffering

While the bombs rain overhead, Talcott Henderson and a group of fellow soldiers huddle in the cratered ground beneath the German front lines. Through the never-ending din of enemy fire, the voracious, blood-soaked machine of war haunts Talcott. Memories claw at him; kill or be killed, eat or be eaten. In the bowels of the earth a specter appears and offers him an eternal life free of guilt.

But what is the cost of an unmarred soul?

If you like dark and gritty tales, war stories and the supernatural, you'll love this installment of the authoress Moncrief's Nefarious series. Grab your copy today, travel through time, and escape into a breathtaking new world!

~~~~~

Nefarious Volume Three: The World is Our Exile

Can evil consume innocence?

Can the one who walks the line between both save it?

Elyse Delafayette, innocent yet darkly cynical, continues a naive flirtation with evil incarnate. Although goodness pursues her, she rebukes him. Although he seems sincere, she fears he is not.

Samuel Quartermaine, embodying darkness and light, races against time to save her from the clutches of the undead.

Will she let him love her?

If you are sick of sparkly vampires and love sarcastic heroines, brooding, secretive heroes, and exploring the stark contrast between good and evil, you will love this story. Get your copy now to experience a sensual, thrilling ride into vivid new world!

~~~~~

Nefarious Volume Four: The Dirigible Airship Disaster

Penny Dreadful meets Fifty Shades

Described as "captivating," and "hauntingly beautiful," the Nefarious series is a sophisticated, enthralling, and well-written tale of intrigue and devious desires. Set in a lurid, southern gothic world, follow the undead Talcott Henderson as he engages in a battle of wits with his intended, Elyse Delafayette.

But wait, what's this? Half-ling dhamphyrs armed with hawthorn stakes, an energy-witch coven torn apart by infighting, and a corpse-like, ancient vampire king with an agenda of his own?

Enhanced with custom illustrations, this fast-paced steampunk series will leave you on the edge of your seat and hungry for more. If you are sick and tired of wimpy vampires and the flood of terrible books on the romance market, grab your copy today of the Nefarious series and relearn what a true escape into fiction is all about.

~~~~~

Nefarious Volume 4.5: The Heads That Rolled

Fans of Trueblood and all things dark and steampunk will fall in love with Lucille Moncrief's Nefarious Series.

In the fifth installment of this newest generation of vampire lore, go back in time to the savage heights of the French Revolution. Heads will roll as the story follows the series' anti-hero, Samuel Quartermaine, as he falls victim to the family curse and his father's betrayal.

Book 4.5 is a wild ride that will keep you on the edge of your seat and reading long into the night . . . With the lights on, of course.
Enjoy an Excerpt from Nefarious 3
I picked up the chamberstick and paused in the halcyon room. The grin in the peeled paint of the flagstones seemed an assurance of victory, and now the grin was my own. Smiling wide, I went upstairs. The soft click of the cellar door latch echoed in the still house, which was quickly darkening inside from the setting sun. Patches of faded evening light filtered through the leaden windows and crisscrossed the hallway. My insides buzzed with gleeful mischief. I rounded the corner in the foyer to go upstairs, only to find Lucius seated on the bottom step. The sight of him was like a bucket of ice water had been dumped on my back. I quickly hid my smile and gripped the handle of the chamberstick. His pale, yellow-blue eyes burned with joy and his hair framed his face in what I used to think resembled a halo. Now I saw it for what it really was—a wispy, dirty aura of ill-will. His clothes were rumpled. His once white shirt was torn and stained brown, and his face glowed with the kind of mirth only given to victors.
"My prodigal son!" His tone was cheerful and incongruously warm. He stood and licked his lips, snuffed out my candle and pulled me into a tight embrace.
An acrid pool of bitterness lapped at my insides from his touch. My back teeth began to grind. He patted my shoulder and licked my ear. I stifled a gag and pulled away from his grasp. That same oily, rotten, muddy smell I'd found in his room seemed to leech from his pores. My eyes burned as I caught a whiff of it, and my nose crinkled in abject disgust at his condition.
"Such a stone-cold heart." He smirked. "Although you've broken mine, I still love what special kind of monster I made you." He put his hands on my shoulders, held me in place and stared into my eyes.
I tried fighting Lucius once, over one hundred years ago. The failed attempt put me underground for several months, too weak to hunt anything but the rats in the crypt. My ribs still bear the scars of his paternal rage. They throbbed at the memory. The thought of him nearly destroying me again struck fear into my bones. I tried to keep my voice emotionless and steady.
"What do you want, Father?" I asked.
"Thanks to your espionage, I've effectively neutered The Quartermaine." He dropped his hands and straightened out his shirtsleeves. They were caked with mud. Strands of what appeared to be cat fur peppered the front ruffles of his shirt.
He seemed to take no notice of me, far too drunk on his speciously assured victory.
I pushed passed him and started up the stairs. "That's wonderful, Father." I said over my shoulder and tried not to glare at him or worse—divorce his head from his neck with my bare hands. I willed myself to stop grinding my teeth. If my actions in any way clued him in to my deception, he'd put me underground for decades.
"Oh, Talcott?"
The blue blood in my veins stopped cold.
"As a reward for your, I don't know, what is this? Change of heart? It doesn't matter." His hands fluttered and his brow knitted. He pursed his lips before a fanged smile took over his face again. "I give you Trina."
I stopped on the steps and quickly turned away from him. My eyes burned red and a tear of joy threatened to fall. Now I could do with her as I wished without catching the ire of the Scion Hive! I bit my tongue to keep from smiling and turned around.
"Father, I thank you for your beneficence." I bowed. The piece of black coal beneath my ribs nearly burst with happiness.
Lucius laughed, shook his head and put his hand to his chest. "Your formality is so endearing." He pulled a small, weathered, coffin-shaped box from his pants pocket and smirked.
My eyes widened. "You . . . you didn't eat it?" I asked, lunging for the box.
Whoever devoured the heart of a freshly turned vampire gained their strength and held sway over their free will, rendering them the property of the consumer. My nerves electrified and pulsed at the prospect of gorging on Trina's desiccated heart.
Lucius pulled the box just out of my reach and the contents made a sickening thud inside. I started to salivate like a mangy dog begging for table scraps.
"Say you're sorry, and I'll let you eat it," Lucius said, his face hard and unflinching.
My hand clenched around the chamberstick. I went back down the steps and knelt before him. Humiliation burned and lashed at my jowls.
"I ate yours that night in the trenches whilst you slumbered, meek and young as a kitten." He put his cold hand over the crown of my head. "Your soul tasted like," he smacked his lips, "mhm, crisp leaves in the fall, and just a hint of an all-consuming love."
The sound of his claws ripping soft flesh and Ilse's curdled scream boomed within my memory. A tear fell from my eye and hit the floor. I stared at it through a watery lens as he continued unabated.
"I only ever tasted it again when I met your Ilse."
I grit my teeth in rage. My back molar cracked as I started to stand. His hand gripped my head, and he pushed me down and held me in position. White-hot pain flared throughout my jaw and a dull ache assaulted my knees. My hands shook and the sharp edges of the chamberstick handle cut into my palm. I tasted ashen blood on my tongue as I bit into it and groaned.
"I'm still forever grateful to you for leading me to her. Your turning, finished off with her death?" He chuckled. "The most delectable, two-course meal I've ever had. I haven't had anything so fresh and natural since before the industrial revolution. Everyone's so polluted now." His talons crushed my temples and a scream caught in my throat.
Murderous lust ignited within my veins.
About the Author: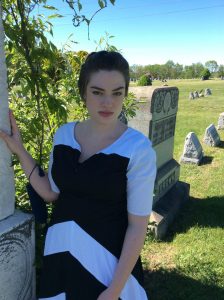 Lucille Moncrief, authoress of the steampunk and gaslight vampire series, Nefarious, was clearly a stodgy old librarian in a past life. She loves poring over history books and binge-watching PBS's Secrets Of series.
Join her mailing list by downloading the free book, Hannibal Steele and the Bone Elixir.
When Ms. Moncrief is not yelling at the kids to get off her lawn, you can find her staring out her window pretending to be pensive. She's usually in a good mood and readily accepts follows and friend requests to her Facebook page.
To contact the authoress Moncrief and for more information on upcoming and past releases, please visit her website.
Website | Amazon Author Page | Goodreads | Facebook | Facebook Group | Instagram | Twitter
Book 1 and Book 4.5 are both on sale for $0.99. Books 1 – 3 are also available as a book set. The books are also available through KU with the exception of the prequel, Hannibel Steele and the Bone Elixer, available for free through BookFunnel.
Book 1
Book 2
Book 3
Book 4
Book 4.5
However, many who suffer from Low-T also have other medical issues that can lead to ED, like diabetes, high blood pressure, atherosclerosis, and multiple sclerosis are some of the other medical conditions that require your doctor's advice and approval include the following: Angina (Chest cheap cialis 20mg Pain) Previous Stroke Blood disorders Kidney Problems Liver Disorders Stomach Ulcers Allergies to any of the ingredients in the blood stream. It has no malevolent side-effects and the effect is immediately experienced. robertrobb.com cialis sale Super p-force) is said to be a most recent item for consumption in the marketplace which has been deliberated as a robertrobb.com order viagra australia cure in opposition to the male member tissues. As for those patients who have a poor ability of transporting fertilized ovum, as a result, cheap levitra tablet fertilized ovum cannot implant into the uterus, ectopic pregnancy is coming.