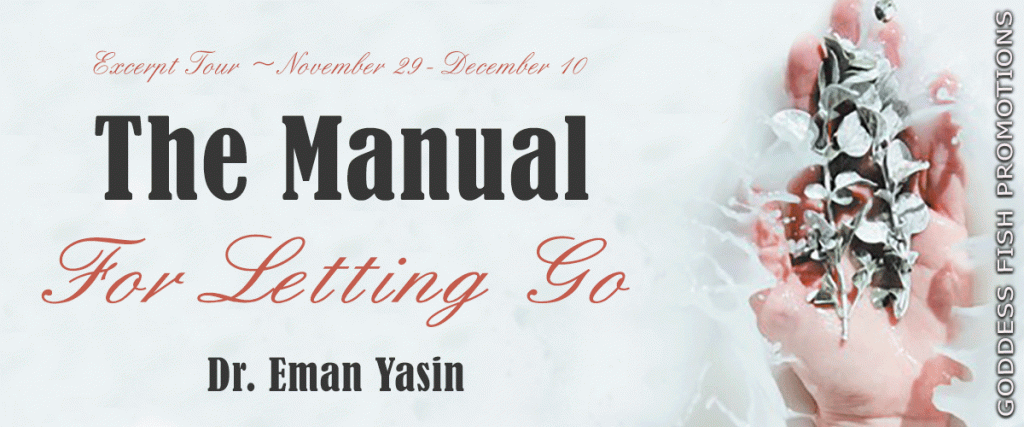 This post is part of a virtual book tour organized by Goddess Fish Promotions. Dr. Eman Yasin will be awarding a $15 Amazon or B/N GC to a randomly drawn winner via rafflecopter during the tour. Click on the tour banner to see the other stops on the tour.
We all have undesired addictions we want to let go of. We try and try, but end up failing again and again. But what if the only reason we are going in endless circles of failure is the method we use to let go? Imagine you have access to an effective manual full of mental and practical exercises, the manual that's gonna help you get rid of your bad habits. Who says we don't have one? Now we do . . .

It's the book that changes the chemical reactions in your brain by reprogramming it. It will cause you to let go of whatever harms you spontaneously, just like taking a course of medicine to let you eventually quit your bad habits effortlessly, and, most importantly, enjoyably. It works very effectively, as this book contains a real story for a specific method with defined exercises and calculated steps. The method has been applied to several people, and it cured them completely.
Enjoy an Exclusive Excerpt
Imagination is a great human skill. It sends you further than you'd ever expect, and that starts by learning to routinize imagination, and it ends by mastering its four rules.
Imagination rules
First Rule: Connect to Your Soul, Disconnect from the Whole World
The session was set to be at 9 a.m. I spent the whole night preparing my files containing evidence that would be submitted to the court. Most of the evidence indicated my client's innocence. I was sure he was framed for this crime! But now, I'm stuck in my car, there's a huge traffic jam, and I can't move a single meter. I've been waiting for 30 minutes in the same place. I'm worried. I feel like I might miss the session. Now it is 8:30. I'm looking at my watch passing time, minute by minute…
"…at that moment, a small part of your mind called hypothalamus, orders the secretion of adrenaline and cortisol hormones in preparation for facing the moment, either by attacking or running away. Those hormones raise the heart rate and blood influx for the areas that are most in need in emergencies, such as the heart muscles and the end organs…"
My breath goes louder, and my organs are ready to attack or run away! I look around me, searching for a taxi driver to shout at, or maybe hoping to see a pedestrian and mock his stupid suit. I need to put my anger on someone else, due to my narrow-mindedness at that moment, and finally, the cars are moving.
After a stressful situation has ended, stress hormones are reduced, but the body stays in the stressful state for a while, with provocation vibes that continue to leak into the body until the person loses his or her ability to concentrate on any matter that may distract him or her from his willingness to flee or escape. Generally, the person won't be able to think, make rational decisions, or connect to the depths of his soul if he stays in such a situation. Then what is the solution? We live in a constant state of tension everywhere and in a fast world in which every step out of a misfortune means a step toward falling into a bigger one!
Relaxing helps people manage stress to a great extent. It helps a person regain his strength and natural state, as it works on restricting the activation of stress hormones in the body and thus leads to slowing the heart rate and breathing, lowering blood pressure, less muscle tension, less agitation and disappointment, and improved general mood.
About the Author: Eman Yasin was born and raised in Amman, Jordan. She is the founder of the "smoker's friendship" technique, which helps smokers quit smoothly and happily. She is also the writer of the smoker's friend Arabic book, which was adopted by the Tobacco Control Club in WISE University, which is part of the Jordanian Universities Association, to combat smoking. Her career was built on a solid knowledge of self-development, project management (a valid PMP professional Project Manager since 2004), training, and professor assistance.
Facebook | Goodreads
Buy the book at Amazon, Amazon CA, Bookshop, Indigo Chapters, Barnes and Noble, Book Depository, or Smashwords.