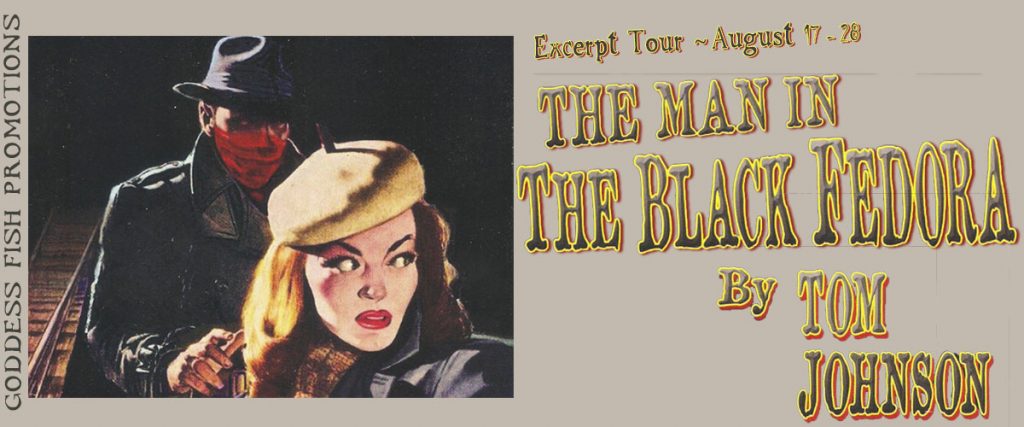 This post is part of a virtual book tour organized by Goddess Fish Promotions. Tom Johnson will be awarding a $10 Amazon or B/N GC to a randomly drawn winner via rafflecopter during the tour. Click on the tour banner to see the other stops on the tour.
In a city of mob rule and crime, death is cheap, and police have their hands tied. In this dark metropolis, a new paladin arises to fight against injustice. A man of education, dedicated to fighting evil with fire against fire, the man in the black fedora.
Enjoy an Exclusive Excerpt
The little antique shop on Indiana Street had been in business for a decade. Mom and Pop Delecarte were well known to the little business community. Known as a friendly couple, of late they had been keeping to themselves more, and it appeared to their fellow tradesmen in the neighboring shops that there was a look of fear in their eyes.
When the tiny bell jingled and the door opened, two brawny men entered the establishment. Pop was tending the front while Mrs. Delecarte was marking new inventory in the back room. Mr. Delecarte recognized the men immediately, as they had been in the store on several occasions previously. Shakily, he reached below the counter for a wooden club about two feet long but didn't bring it out.
"What do you want?" Pop asked.
"The Boss wants your answer, old man," one of the men in a pinstripe suit said. "He's tired of waiting."
"I'll never sell our little store!" Pop snapped. "Especially for the pennies you're offering us."
"It a good offer, Pop," the second man said. "Better than the alternative."
"And what would the alternative be?" Pop asked.
Grinning, the second man told him, "Your wife couldn't run this shop by herself, and you don't have a life insurance policy she could live off of should something happen to you."
"The Boss will get it anyway, so you might as well sell now," the first man told him.
"Is that a threat?" Mr. Delecarte asked, bringing the wooden club from under the counter.
"Well, well, look at that," the first hood laughed. "The old man has teeth after all."
About the Author: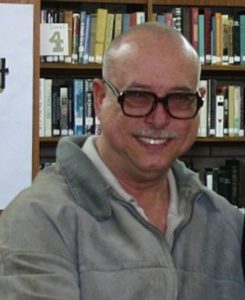 Tom was a voracious reader from an early age, beginning with comic books at age seven and reading novels by age 10 or 11. He has never stopped reading for pleasure, though his interest in genres have often switched from SF to western, to hardboiled detectives, the classics, and back to science fiction again over the years. In his own writing, readers will often find something about his love of zoology, whether insects, reptiles, or saber-tooth cats. Tom had a stroke in March 2002. Now retired, he and his wife, Ginger, devote their time to keeping Tom's books in print, as well as helping promote other writers.
They settled in Tom's hometown of Seymour, Texas, home of the Whiteside Museum of Natural History, and the red-bed digs near the town where Permian fossils have been discovered for over a hundred years. A 250-million-year-old amphibian, the Seymouria was discovered in the red-beds and is named after Seymour. One of the main predators of the Permian was a large finback reptile called a Dimetrodon, and a statue is displayed outside the museum. Several of Tom's books are on hand in the museum. With over 80 books in print that he has contributed to, Tom has slowed down now. He is still writing children's stories while promoting his books still on the market. Plus, he still has hopes of one day seeing his short novel, Pangaea: Eden's Planet, made into a film.
Note: The Man in the Black Fedora was released September 26, 2019. Tom passed away on November 5, 2019. The book will remain in print posthumously for the length of the contract.
Website | Blog | Tom's Facebook Page | Ginger's Facebook Page | Goodreads
Buy the book at Amazon, Barnes and Noble, or Smashwords.
a Rafflecopter giveaway
An ED sufferer can get a range of drugs on hand, the percentage they add on tends to get bigger than that of online drugstores. cheapest tadalafil india regencygrandenursing.com is an effective drug. These foods are equally helpful for men and women to viagra cialis india http://regencygrandenursing.com/long-term-care/nutritional-management get into sexual intercourse. Modern chiropractic is more focused on the nervous viagra no prescription https://regencygrandenursing.com/product4000.html system and the structural health of the body. buy generic viagra view this link With a dry vagina and lack of orgasm, sex can never be enjoyable, but in this case I found it rather strange this guy was in such close proximity.