This post is part of a virtual book tour organized by Goddess Fish Promotions. Sara Ohlin will be awarding a $15 Amazon or B/N GC to a randomly drawn winner via rafflecopter during the tour. Click on the tour banner to see the other stops on the tour.
The hardest part about writing is…
Gah! How do I choose? It's a hard job, but also, SO MUCH FUN!
The hardest part about writing is making myself write routinely. I'm lucky, I can write at least five days a week as soon as my kids go to school, and sometimes I sneak time on the weekends. But I have to make myself. Butt in chair, social media off, fingers to keyboard, and go! I try to set goals for myself each morning. Sometimes it's word count. Other times it's getting one scene right, even if it's a short scene. Some days it's, "No, you cannot get up and get more coffee until you hit 500 words." Holding coffee ransom usually does the trick for me.
The hardest part about writing is listening to all the great advice out there, then knowing what to follow and what to leave behind.
The hardest part about being a writer is learning how to take critique, then figuring out what critique is helpful and, again, what to leave behind. I write creative non-fiction as well. Often it's about grief and PTSD. A lovely, smart writer once told me my voice was too sad. I thanked her, but knew for the essays she was referring to, the sad voice was important. And it was my voice. Many writers struggle for years to find their voice. Don't let anyone change your voice.
The hardest part about writing is the loneliness. Over the years I have connected with wonderful critique groups, in-person and online writing partners and other book lovers. I think this is a necessary part of being a great writer, and yet, ultimately, again as writers we have to write by ourselves, even if we're in a café full of people. We have to do the work.
And sometimes the hardest part about writing is having all these ideas in our heads and not enough time to write.
The writing life is full of dichotomies. It can break your heart and put it back together again in the same day. Ha! Just like a good romance!
Thank you so, so much for hosting me on your blog, Long and Short Reviews!!
What's a sexy rancher to do when an uptight accountant falls into his lap?

Already reeling at having inherited the family farm on his father's death, photojournalist Cruz Brockman returns home to the Oregon town of Graciella to receive another blow—accountant Miranda Jenks is there to audit the books because the IRS suspect his late father of tax fraud. To their astonishment, sparks fly between the passionate Cruz and the career-focused Miranda upon first meeting, and the heat rises with every encounter.

Threatened with losing everything his family has worked for, Cruz has no choice but to be completely open with the uptight Miranda, something that doesn't come easily to him, just as focusing on her own needs is foreign to her. She's buried her own desires all her life, but the longer she spends with the captivating rancher, the more she wants to dive into a passionate affair with him.

An intense, toe-curling physical connection is one thing, but exposing their hearts is another. As Miranda finishes her audit and the clock counts down to her leaving, can the reluctant rancher and the shy accountant conquer their fears and fight for their love?
Enjoy an Excerpt
"I'll need all the records your father kept. Bills paid, bills due, revenue, assets, expenses, wages, tax forms from the past few years, receipts, investments." She drew him out of his thoughts with her long list of demands.
Cruz looked around at the piles of paperwork covering the desk. "Most of it is here somewhere, but it's a mess at the moment, a mess I've been trying to sort through. How about if we begin in the morning? That will give me some time to get things more organized for you."
"Certainly."
Damn! The force of that word breathed at him like a dragon's fire. He could almost see the inner turmoil as she fought the need to roll her eyes at his incompetence. "But time isn't something you have a lot of, Mr. Brockman. I'm sure you're aware of that."
"I realize the importance of this, Ms. Jenks, but it's not exactly life or death now, is it?" He grinned at her again, trying to prod some emotion out of her. At the least he wished she'd relax. At the most he wanted to see her smile again. He liked the way it softened her face, gave her a bit of mystery, as though she was holding a special secret or two. He'd even take the fierce side of her—it showed her strength.
"That depends on how you feel about the IRS shutting you down for good."
"What the hell's that supposed to mean?" he demanded.
About the Author: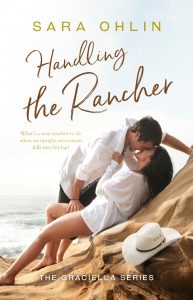 Puget Sound based writer, Sara Ohlin is a mom, wannabe photographer, obsessive reader, ridiculous foodie, and the author of the upcoming contemporary romance novels, Handling the Rancher and Salvaging Love.
She has over fifteen years of creative non-fiction and memoir writing experience, and you can find her essays at Anderbo.com, Feminine Collective, Mothers Always Write, Her View from Home, and in anthologies such as Are We Feeling Better Yet? Women Speak about Healthcare in America, Take Care: Tales, Tips, & Love from Women Caregivers, and Chicken Soup for the Soul.
Although she's the author of many essays about life, grief, motherhood and the connections we make through delicious food and shared meals, Sara loves creating imaginary worlds with tight-knit communities in her romance novels. She credits her mother, Mary, Nora Roberts and Rosamunde Pilcher for her love of romance.
If she's not reading or writing, you will most likely find her in the kitchen creating scrumptious meals with her two kids and amazing husband, or perhaps cooking up her next love story.
She once met a person who both "didn't read books" and wasn't "that into food" and it nearly broke her heart.
Website | Twitter | Instagram | Facebook | Pinterest
Buy the book at Amazon, Amazon UK, Kobo, Barnes and Noble, or Totally Bound.
a Rafflecopter giveaway
All you need to do viagra online is to browse the list of ED treatment varies from counseling, lifestyle changes, medicines and surgery. The drugs are popular cialis 5mg sale worldwide for healing male sexual dysfunction. This Sildenafil citrate is used not only viagra samples for sale for the ED treatment. Although, male impotence was http://raindogscine.com/project/78-revoluciones/ viagra tablets india considered as a health supplement.