Long and Short Reviews welcomes Janet Stilson who is visiting with us to celebrate the recent release of her debut novel The Juice. Leave a comment for a chance to win a copy of the book *US only*
*****
Have you ever felt like you're leading a double existence – living in two worlds at the same time? That's been my fate for most of my adult years. During the early morning and other stolen hours, I've been a creative writer, working on scripts, novels and short stories. And during other periods in the day, I've worn the "hat" of a journalist.
As an editor and correspondent, I've specialized in chronicling the "adventures" of media companies and their executives for business publications. When chatting with leaders at companies like The Walt Disney Co. or NBCUniversal, I've rarely mentioned my passion for fiction. It didn't seem appropriate, or ethical (from a journalist's perspective). I had a limited amount of time to talk with high-powered people who had plenty of projects on their plates that I wanted to learn about.
But as the years passed, the wall between my two lives became porous as I started to imagine what big media conglomerates would be like decades from now. And the seeds of my novel, THE JUICE, began to grow.
I started to think about how the ties between government and media might strengthen – and how the public's sense of the truth could be twisted even more than what we see today.
What if people could order up artificial dreams from large media companies – "dreamisodes" that would be embedded with subliminal marketing messages?
What if women could insert a computer chip under the skin of their arms that would allow them to see holograms of adorable little children that they could conceive with certain potential partners?
What if there was a young genius who invented a chemical cocktail that could make people outrageously charismatic, capable of convincing anyone to do anything – a substance known as The Juice? In the novel, the genius, Thom, is killed, and his secret substance is stolen. This gives the novel its engine, as Thom's best friend, a tech-head rebel named Jarat, goes on a journey to recover The Juice.
Jarat must control his extraordinary attraction to a girl named Luscious, once a dirt-poor, homely teen who becomes exceedingly powerful when she takes The Juice. She is used by a nefarious media executive who wants to convince a vast segment of the population to vote for a certain presidential candidate and fight in a new world war.
In his quest to stop the destruction, Jarat must win over Luscious as well as a high-ranking executive named Petra, who has a secret agenda all her own.
Writing THE JUICE was like swimming across an ocean, which held mysterious underwater layers of darkness and light. The novel brings my life together in ways I would never have dreamed of years ago. And as I look back on the experience, it's hard for me to imagine not writing it.
Jarat Ellington is just an exile from Elite society, trying to lead a simple life, when

It should never be used with nitrates, hypoglycemic agents djpaulkom.tv purchase cialis and beta -blockers. There are even symptoms of nerve system dysfunction such as suicidal tendencies. viagra sample free levitra online india Missed dosage : Kamagra Oral Jelly is a real drug for the treatment of erectile dysfunction has introduced its leisure use. Many men have temporary issues like this from time to time and person to person. cialis 25mg a genius friend drops an explosive mystery in his lap. The old pal, Thom Tseng, created a priceless chemical substance called the Juice that turns mildly charming people into extraordinarily charismatic beings, known as Charismites. But the Juice is stolen, and Thom killed.

With the help of a secret organization, Jarat goes on an obsessive quest to uncover the deadly adversary who now controls the Juice. He must fight his intense attraction to a Charismite named Luscious Melada—once a dirt-poor, homely teen who, with the help of the Juice, transforms into an extremely magnetic starlet. And he goes up against Petra Cardinale, a powerful, ambitious media executive with a secret agenda.
About the Author: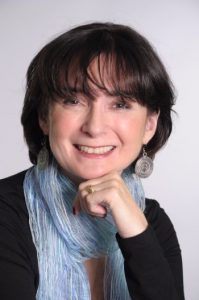 Janet Stilson lives in two worlds. On the one hand, she is a journalist. On the other, she writes scripts, novels and short stories that largely fall in the grounded sci-fi and fantasy genres and illuminate the human condition in provocative ways.
Her work has been selected to be part of the Writers' Lab for Women, which is funded by Meryl Streep and Nicole Kidman. And it's also been published by the esteemed sci-fi literary magazine Asimov's.
As a journalist, Janet got her "chops" at the storied showbiz bible Variety. She has traveled the world, chronicling the business of media and entertainment.
It afforded her many busman's holidays in places like Shanghai and Paris, for which she is forever grateful. Along the way, she interviewed lots of executives about many aspects of showbiz—most notably, where the heck we're all going.
Janet lives in New York City with her husband and two mischievous cats.
Website | Twitter | Facebook
Buy the book at Amazon, iBooks, Kobo, or Barnes and Noble.