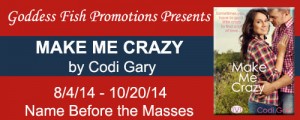 This post is part of a virtual book tour organized by
Goddess Fish Promotions
. Codi will be awarding a signed copy of Make Me Crazy to a randomly drawn commenter at every stop (US ONLY) during the tour; and a Grand Prize of a $25 Amazon/BN GC plus a signed copy of Make Me Crazy (US ONLY) will be awarded to one randomly drawn commenter during the tour.
Ten Things You Don't Know About Me by Codi Gary
1) I hate onions with a fiery passion! They touch anything and I can sense their presence.
2) I am a passive person, except in the defense of others.
3) I sold sex toys for a brief time.
4) I have always dreamed of going to Scotland, but have never made it there.
5) I am terrified of heights to an irrational point. Standing on a hill makes my knees weak and driving on cliffs makes me white knuckled petrified.
6) Despite my height terror, I do okay flying except on take off and during turbulence. Then I cry like a bitty baby.
7) I have six siblings, two step brothers, and 20+ nieces and nephews.
8) I am a major klutz and get injured daily bumping into walls, doorjambs, tables, tripping over dogs…
9) Worked as a Vet Tech for almost 7 years, including the time I was in school and spent a semester at a zoo and 6 years at a cat only hospital.
10) Made a "romantic" bucket list when I was 13 and have checked off every item except two! 😉
Miranda "Rand" Coleman has seen the way love can wreck a person and wants absolutely no part of it. When her granddaddy dies suddenly, he leaves a clause in his will that has her married in three months or she loses her inheritance. Unwilling to give up the Double C Ranch, she starts to set her eyes towards the eligible men in town, with little luck in finding a man she can stand for a minute let alone a year. Until she sets eyes on the new veterinarian and enlists the help of her womanizing best friend, Jake, to help.

Jake Hansen is a single guy who likes his women pretty and uncomplicated, with no plans to settle down anytime soon. When he decides to help Rand hook her man, he has no idea the effect watching Rand change would have on him. Especially when she starts letting her gorgeous brown hair down and showing off a body he didn't even know she had. Before too long, Jake isn't just lusting after his best friend, he's feeling downright possessive. But when it comes down to the wire, will he get over his issues and step up to the alter…or lose the only woman he was ever meant to love?
Enjoy an excerpt:
Rand pulled her hand away from him and he covered his smile with his hand as she looked surprised by the compliment. "I don't remember."
Tandy leaned on the table and the woman's look was downright sultry. "Well it looks awesome on you."
Jake blinked. The girl wasn't being friendly. She was flirting…with Rand.
Rand seemed oblivious to Tandy's interest. "I got it as a present for my birthday, and was going to take it back, but my granddaddy couldn't find the receipt."
Tandy actually batted her lashes. "Well that would have been a damn shame."
Alright, it was funny at first but that was too much. "I'll have the chicken enchiladas with two tacos." Both women turned to stare at him and he focused all of his attention on Rand, "Honey, what do you want to eat?"
Rand looked back up at Tandy when she answered. "I'll have a bean and cheese burrito with rice and beans."
"Coming right up." Tandy said. Her smiled faded when her gaze shifted to him, her expression downright hostile. This time he watched her walk away and turned back to Rand with wide eyes. "Did you see that?"
"You checking out our waitress?" Rand asked with false sweetness.
It was his turn to be angry. "No, the glare she sent me."
"Right because women usually glare at you."
Jake said very patiently, "Rand honey, I have no interest in that woman and I'm telling you, I am not her type."
"How do you know that?"
He leaned back in his seat and grinned. "Because it wasn't me she was checking out."
About the Author: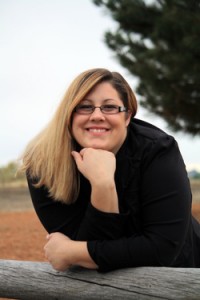 An obsessive bookworm for twenty years, Codi Gary likes to write sexy small-town contemporary romances with humor, grand gestures, and blush-worthy moments. When she's not writing, she can be found reading her favorite authors, squealing over her must-watch shows and playing with her children. She lives in Idaho with her family. Visit her website www.codigarysbooks.com for latest news, social media, or just to say hi!
Website | Facebook | Twitter | Goodreads
Buy the book at
Amazon
,
iTunes
, or
Barnes and Noble
.