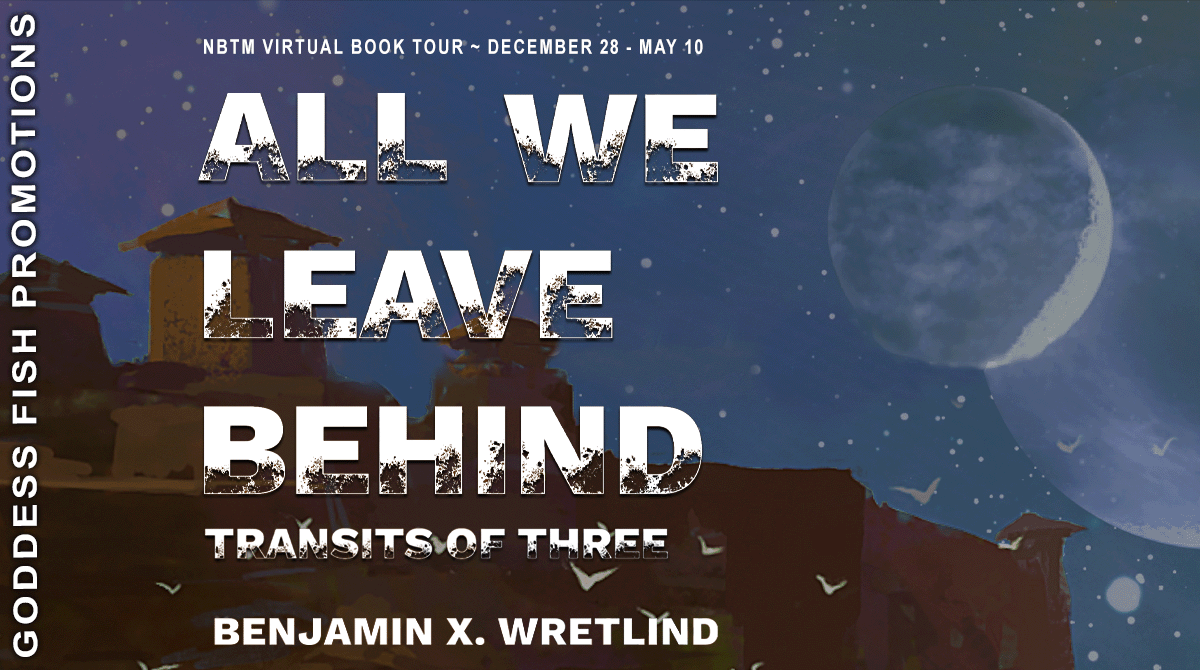 This post is part of a virtual book tour organized by Goddess Fish Promotions. Benjamin X. Wretlind will be awarding a $25 Amazon or Barnes and Noble GC to a randomly drawn winner via rafflecopter during the tour. Click on the tour banner to see the other stops on the tour.
Ten Things Most People Don't Know About Me
This will be fun, hence the reason I selected the topic. Truth be told, not many things are known about me outside of my family, so here we go.
1. I speak Russian, French, Spanish, and Greek–all poorly. I took Russian and French in high school and even though that's several decades ago, I still remember many of the phrases and how to find the bathroom (an important phrase to learn in any language!). I learned Spanish because of where I grew up (Phoenix) and time I spent in Honduras in the mid-1990s. Greek has always been a bucket list item, so I've been learning that for a few years now. One of these days I'll get there.
2. I have four degrees: meteorology, adult instructional design, psychology, and organizational psychology. Surprisingly, I still use all four of them.
3. My middle name is a "second kid" marker. Xavier is intended to be either the first or second name of the second child in any generation. I have no idea why this is. As for the "first kid" name, it's Emmanuel, and that tradition goes back several hundred years.
4. While the typical American mixed breed, I am mostly Swedish and French. My last name is Swedish and I can trace my ancestry back to the 1400s. There are several rumors about what the name really means and some story about a duke who gambled away his title, but I could never verify any of that.
5. I am allergic to cats but can't live without one. Medicine is necessary.
6. There are only three books I have read more than twice (I've read many two times): The Neverending Story by Michael Ende, Dandelion Wine by Ray Bradbury and Mythago Wood by Robert Holdstock. All three of those books were some of my first buys at a place called B.Dalton in my local mall with allowance I saved up. With my new "allowance" I have sought out first editions of all three. I'm still working on Dandelion Wine, but I'll get it eventually.
7. I have a collection of newspapers for notable events in my lifetime, starting with Nixon's resignation in 1974. I stopped after most papers went online, but whenever I get the chance, I hit up auction sites and look for those I might be missing.
8. The goal of #7 was to use those papers as wall decorations for a coffee shop I wanted to someday open. I'm a fan of the old shops of the 1980s and 1990s, like Central Perk in Friends. I don't think that will ever happen, but I will probably frame all those newspapers anyway.
9. If given the opportunity, I would gladly go to Mars to write about my adventures. I sent a note to Elon Musk volunteering but heard nothing. I'm probably way too old now, but if that was my last "thing" to do before passing on, I would still do it.
10. Finally, for forty-five years I was scared to death of any sort of power tool. I now have a woodshop with everything from a table saw to a lathe to a chainsaw. I do not know what happened to me to make such a dramatic shift in my phobias. If I ever figure it out, I'll sell the rights to it.
Following the exodus from rising floodwaters, the surviving descendants of those who came to create a society on a planet far from Earth have struggled to rebuild within the remains of an ancient temple. Now, as disease and an unfamiliar environment threaten to destroy them yet again, everyone seems to have an opinion about what to do next.

Miriam and Tobias Page, newly married, believe there may be a possible home beyond a distant canyon. Their journey with a quarter of the population doesn't start well and soon nature and their own humanity will conspire to end it all. Meanwhile, Miriam's two cousins, Joel and Micah, have different ideas. Joel is convinced the best course of action is to return to the mountains they left to mine for the ore that would make a great return to Earth possible. Micah hopes to stay, learn all he can about the temple's previous occupants, and prove both of them wrong. But soon, he and his new partner Patience realize that no option is truly safe.

As the transits of three different groups get underway, new dangers and surprises emerge from within the rainforests, mountains, and deserts of the planet…and one of those may have followed them from Earth. While a final home is a dream away, present nightmares must be dealt with first if any of them are going to survive.
Enjoy an Excerpt
"How many?" Moran asked.
"Four. Just up ahead." Tobias tightened his grip on his weapon.
"Bethany is waiting for us."
Moran stopped and watched as the caravan slowly edged toward the right, away from immediate danger. "Wish we had more to spare."
"So do I." Tobias took in a calming breath and let it out slowly. The nervousness in his stomach eased up. Miriam had taught him several techniques for dealing with fear, for calming his anxiety and sharpening his mind. He would forever be grateful to be married to a counselor, a therapist, a wise wizard of the brain's complications.
"Ready?" Moran asked.
They both walked slowly toward Bethany's position, their eyes locked on the trees where Tobias saw the four animals.
"Eight," Bethany whispered as they approached. "Four more in a cluster of trees to the right of the others."
"Typical pack. Haven't heard the growl, yet," Moran said. "Maybe they didn't see us."
"Oh, they did." Tobias pointed to the tree with the first rychat he spotted. "I swear I saw that one lick its lips."
"Well, we'll have to take care of that."
Moran raised his crossbow and took aim at the one Tobias pointed out. In tandem, both Tobias and Bethany raised their own weapons.
"One on the trunk," Tobias whispered.
Bethany responded. "The big one to the right."
The three were silent as they steadied themselves.
About the Author
Benjamin, a speculative fiction author, ran with scissors when he was five. He now writes, paints, uses sharp woodworking tools and plays with glue. Sometimes he does these things at the same time.
Benjamin lives with his wife Jesse in Colorado.
Website | Twitter | Facebook | Instagram | Goodreads | BookBub
Buy the book at
Amazon
.