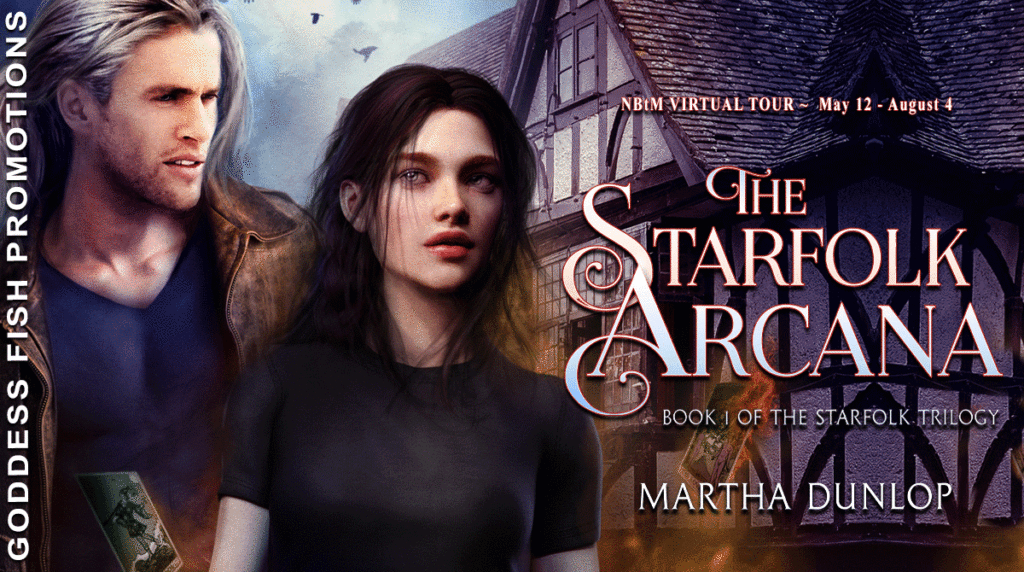 This post is part of a virtual book tour organized by Goddess Fish promotions. Martha Dunlop will be awarding a $25 Amazon or Barnes and Noble GC to a randomly drawn winner via rafflecopter during the tour. Click on the tour banner to see the other stops on the tour.
Tarot in The Starfolk Arcana and Starfolk Falling
I have long been considering writing a book using tarot. I learned to read the cards years ago, and I'm always inspired by their rich imagery.
Although tarot is largely known as a divination tool, it is more helpful for personal development than for telling you what's going to happen next week. It can help you get a feel for what's coming, and which path is likely to work out best for you, but specifics tend to come from the reader rather than the actual cards.
I considered writing a book where I allowed card pulls to dictate the story, but who know where that would have ended up? I can hear my structural editor gasp as I write this, and I'm sure she'll be grateful I haven't followed this idea through … yet!
In the end, I decided to use the tarot archetypes different characters. This starts simply, with the main characters each personifying one card, but becomes more complicated as some of them start to switch.
Beth, my main character, is the first card in the deck, The Fool in traditional tarot, or Potential in The Starfolk Tarot, the deck in the book. Beth comes across The Starfolk Tarot in a local bookshop, and is drawn to the deck even though she doesn't know how to read the cards. She buys it on a whim, and when she opens the box she finds that one of the cards, Intention, or The Chariot in traditional tarot, has a picture of someone she knows.
Just before she bought the deck, she was in a TV studio and was challenged by the guest on stage, Amelia, who was trying to frighten her audience with stories of paranormal attack. Beth could see through the stories. She knew they weren't real, but the rest of the audience were pulled along by Amelia's charisma and drawn into the trap. Amelia started off with the same Tarot card as Beth, Potential, but by the time the book begins she has already changed card. She is now represented by Fear, or The Devil, which asks us to face our own fears and learn through them. Amelia tries to build a following by inspiring fear in others, but will they learn through the experience or will they get drawn in by the hype over and over again?
Also in the TV studio is Jonan, the mysterious man with the violet eyes, the man on the Intention tarot card. Beth feels instantly drawn to him. She feels a connection she can't explain, and although he looks completely normal, she knows he is different in ways most people can't understand. His role is to help Beth wake up to the path she incarnated for, and to help her realise the importance of her own intention in life.
As Beth becomes more involved, and meets other members of Jonan's family, the mystery of the tarot deck deepens. At the beginning of the book Jonan explains that he knew the deck's illustrator and she used his family as models. But how did Beth's own image end up in the deck as Potential? As the story progresses, more characters from the deck arrive in their lives, and even Jonan can't explain it.
As characters change and decisions are made, some of them change their card allegiance. Amelia changes from Potential to Fear, but this has a domino effect and other characters shift then and in the future.
The deck doesn't tell all, but it does give an insight into the energy of the character experience and a roadmap of their journey.
Do you know the tarot? Which card would represent you and your journey right now? And how do you think that knowledge might help you to make the best decisions in your life?
Destiny calls. Soulmates draw closer. One woman stands in the way.

Beth trusts her psychic senses. So when her birthday visit to a daytime TV talk show takes a weird turn, she knows something is wrong. Amelia, the celebrity on stage, is oddly fixated on Beth and the man with the microphone is hauntingly familiar. Things become even stranger when she buys a tarot deck, and they are all pictured in the cards.

Jonan has waited an eternity to be with the woman who haunts his dreams. When he finally sees her at the TV studio, he hopes life with his soulmate is within reach. But as Amelia refuses to let go of their past together, his hopes fade.

Amelia stands between Beth and Jonan. Spinning tales of supernatural threats to her adoring fan base, she builds a personality cult through fear of the paranormal. As her power grows, she does her best to scare Beth away from Jonan and plans to reclaim him for herself.

United by a destiny that spans lifetimes, Beth and Jonan are determined to stop Amelia's fear-mongering. But Amelia has more than one card to play. Even though they are fated to be together, Amelia's destructive nature may once again tear them apart.
Enjoy an Excerpt
Beth sighed and slouched down in her front row seat at the TV studio. If she'd known she was going to be subjected to this drivel, she wouldn't have come. She'd been here for two hours already, and not one of the stories had been genuine. Her so-called friend and flatmate had a lot to answer for. She was pleased Laura loved her new job, and it had been obvious her friend's enthusiasm about the chat show was overblown, but this was worse than she'd expected.
She caught a movement out of the corner of her eye and turned. Laura was standing off to the side of the set, waving her clipboard at Beth. She shifted on her mile-high spikes. Her feet must have been so uncomfortable, but Laura had been determined to make an impression today. Her eyes were bright as she scanned the set, drinking in her world. This job was her triumph. Beth couldn't fault her enthusiasm, she just wished Laura had left her out of today's charade.
Seated on the dais, Katherine Haversham waited for a moment, eyebrows raised, bright red lips pursed.
'Thank you for staying with us over the break. I know this is the moment you've been waiting for. Model and It girl Amelia Faustus is here, live, on Deep and Dark to break her silence over the horrific out-of-body attack that took her from the media spotlight. After weeks of fear and soul-searching, she has decided to step back into the public eye. Amelia, welcome. Tell us what happened.' Katherine leaned forward. 'Start from the beginning.'
About the Author: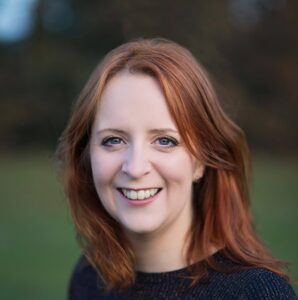 Martha is a dreamer and lover of stories who likes nothing better than spending her days getting to know the characters in her head.
She is a tarot card reader and reiki master, and loves to chat reading, writing and all things mystical on social media, as well as posting pictures of her fellow pack-member, Bertie the Cavalier.
A fiddle player, Martha fell in love with traditional music, particularly Irish, and is also teaching herself to play the Irish Bouzouki. She played her way through her English degree at York and remembers that time as much for the music as the books.
Martha is the author of three books: The Starfolk Arcana, Starfolk Falling, and standalone Wild Shadow. She is currently working on Book 3 of The Starfolk Trilogy, Starfolk Rising.
You can keep up with Martha's news, book releases and extra content at www.marthadunlop.com, or on her Amazon page.
Amazon Author Page | Twitter | Facebook | Instagram
Head shot by Gene Genie Photography, www.genegenie.photography
The first two books of the trilogy are on sale for only $0.99 for a limited time at Amazon.