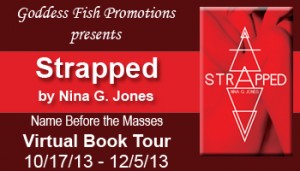 This post is part of a virtual book tour organized by
Goddess Fish Promotions
. Nina will be awarding a $50 Victoria's Secret Gift Card to a randomly drawn commenter during the tour. Click on the tour banner to see the other stops on the tour–and get more chances to win!
My Advice to a New Author
As a debut author, I feel I am fresh enough off of the starting line to provide some perspective to someone who is considering embarking on writing a novel. I learned a lot while writing
Strapped
, and I hope this article can help an aspiring novelist on his or her quest. Much of the journey begins before the world even gets a chance to see your work, and so I will focus on that part of the journey, getting from an idea to a completed work.
Here are some observations and tips based on my experience:
1) Do you want to self-publish or trade publish?
Both are viable routes and you should think long and hard about what you want to do here as you write your novel. Self publishing gives an author great freedom to write about practically any subject they would like and get it out to the world much faster than looking for an agent and submitting manuscripts. That being said, you are your own publisher and this means you are responsible for editing, artwork, and marketing. This usually means money going out of your own pocket before you see a single penny from your work. Self publishing is NOT a license to put out unfinished crap or use your audience as beta readers. It is your responsibility to put out a well-written and edited version of your work if you are going to accept money for it.
Trade publishing comes with an advance, distribution, resources for editing and artwork, and some help with marketing. The journey will likely be longer as you will vie for your work to be noticed among other submissions, but the payoff if you are published is no doubt rewarding.
I chose to self publish because I knew the genre in which I was writing has a track record of success for indie authors along with a great network of fans who make marketing more feasible than say, a work of literary fiction. I have years of marketing and business experience, so I am no stranger to running my own company. Frankly, I was too excited to get my work out into the world, and I didn't want to go through the constant grind of submitting MS after MS.
Most of my advice moving forward will be applicable to indie authors as that has been my experience thus far, but it can also work for those getting an MS ready for submission.
2) Beta-reading and Editing
Write your book. Let it marinate. Read it and look for errors in grammar, spelling, character development, and continuity. Do it again. When you think it's perfect, hand it off to people you trust to rip it to shreds.
Something that may be clear as day to you might leave a reader bewildered. You want fresh eyes, and you want them to tear it apart because when you put it back together, your book will be so much better than the "perfect" version you thought you had. Sure, it might hurt at first, but it will be worth it when you read it AGAIN, and find a much richer story.
3) Grammar and Copyediting
This can get expensive, I know. I really recommend finding someone to do this for you, but if you absolutely cannot then you must do this on your own. In which case, if you are not a grammar wiz, the internet is a great resource to brush up on tenses, subject/verb agreement, passive voice, etc. Be a student of the written word. This includes the proper usage of the English language. A reader may forgive you for small grammatical errors or a typo (I have read plenty of trade published works with a missed typo or two), but if your writing shows that you didn't bother to check, they will not be so forgiving.
4) Artwork
People click through attractive covers. They also might pass on a horrendous one. That whole "don't judge a book…" saying unfortunately doesn't apply to real books. There are wonderful pre-made covers online that are affordable.
If you follow those steps above, you will have a work you can be proud of, but this will only get you to the starting line! Best of luck to you as you become an author.
a Rafflecopter giveaway
About the Author: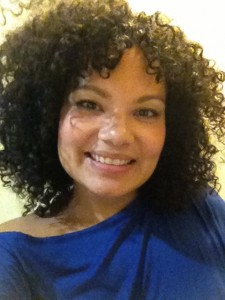 Nina G. Jones was born and raised in Bronx, NY and currently resides in Milwaukee, WI with her husband and two crazy Boxers.
She is the author of Strapped, and is currently working on the sequel for Strapped, slated to be released in early 2014.
Nina lives a pretty wholesome life, but is fascinated with the dark side of things. She loves watching true crime TV shows and it creeps her husband out to no end. Nina has a degree in Psychology and uses her characters as a vehicle to explore the human psyche.
She also totally gets it if you want to throw your Kindle at her when you reach the end of Strapped, but please let her know so she has a chance to duck.
Website ~ Facebook ~ Twitter
By all appearances, Shyla Ball has an enviable life: a loyal boyfriend, a great job, and family that loves her. She doesn't realize how deeply unsatisfied she is until she has an embarrassing encounter with a handsome stranger at a coffee shop.

Taylor Holden, a successful businessman, takes a sudden special interest in her and offers her a job she cannot refuse. Soon after, she learns there is much more to this intensely private man than meets the eye. He is hiding many painful secrets, including why it is that he has seemingly plucked her out of obscurity for such a lucrative position. Her "perfect" world is turned upside down by her infatuation towards Taylor and in just a couple of months, her life looks nothing like it did before. While she is frightened by the changes she sees in herself, she cannot resist the lure of Taylor Holden.

As Shyla slowly gains Taylor's trust, she learns of his complex history and how it has molded him into the person he has become. When elements of Taylor's secret past resurface and threaten to destroy them, Shyla finds out there may be more to Taylor's story than even he is aware of.

Strapped is a story of passion, manipulation, obsession, and family secrets.
Buy the book at Amazon, Barnes and Noble, All Romance eBooks, or Kobo.